Visit Wichita has added Brandy Evans to their organization as Vice President of Marketing. No stranger to the hospitality industry, Evans comes to Visit Wichita from the Shreveport-Bossier Convention and Tourist Bureau, where she has spent 20-plus years as the organization's Vice President of Communications.
"I'm looking forward to getting to know my team and serving this community," said Evans. "I have energetically worked in tourism for two decades building local, regional and statewide partnerships. I want to take that experience and integrate it here where it fits and build upon the existing positive marketing initiatives that already exist."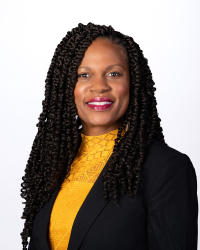 In this role, Evans will bring economic impact to Wichita by effectively marketing the area as a must-visit Midwest destination. She will oversee the marketing team and will lead strategy development, planning, coordination and implementation of all marketing activities.
Prior to joining Visit Wichita, Evans was the vice president of communications at Shreveport-Bossier Convention and Tourist Bureau, where she was responsible for marketing the area as a destination to potential leisure, business, convention and group visitors. For the past two years, she also taught Social Media Marketing 101 and Principals of Marketing as an adjunct professor at Centenary College of Louisiana.
"I have been so blown away by the hospitality and warm welcome that I have received coming into Wichita – the Heart of the Country. I can't wait to share that energy with the region, nation and world, and believe my 20-year tourism career will allow me to add value to this amazing city and organization," said Evans.
Evans received a bachelor's of arts degree in Mass Communication from LSU Shreveport and her Master of Business Administration from Centenary College of Louisiana. Additionally, she is the recipient of a Top Women in Travel Award from Women in Travel + Tourism International (WITTI) in 2020 and her team at Shreveport-Bossier Convention and Tourist Bureau won several Addy Awards and Davey Awards throughout her career. She was also an Athena International Leadership Award Honoree Finalist in 2012.
"We are thrilled to welcome Brandy to our organization as the Vice President of Marketing," said Susie Santo, President and CEO of Visit Wichita. "With her decades of marketing, hospitality and tourism experience, we are excited to put her expertise to work, shining a light on the many ways Wichita is a must-visit destination in the Midwest."
# # #
About Visit Wichita
Visit Wichita markets the greater Wichita area as a major convention and tourism destination, thereby enhancing the economic development of the city, county, region and state. Visit Wichita is led by President and CEO Susie Santo, and in 2019 travel and tourism contributed more than $1.1 billion in economic impact to the greater Wichita area.