Construction is underway in Wichita on the newest baseball stadium and there has been a considerable amount of thought put into making the facility not only a great location for American's favorite pastime, but also meeting space.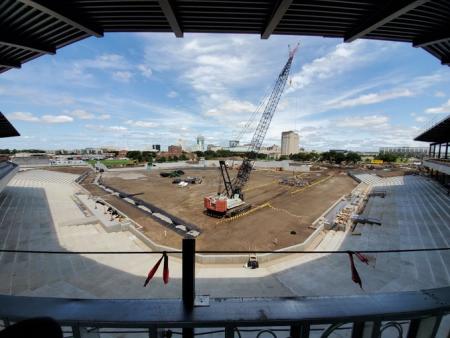 "I think the excitement is not just the stadium, but what the stadium and the riverfront project really means to the city," Wichita Wind Surge Assistant General Manager Bob Moulette said. "Obviously new help sell everything, but I hope it is not just a new thing, it's the amenities you get inside that space."
That excitement is building in Wichita with rapid speed as the stadium starts to take shape. Just last week, the baseball team released their new name to a crowd of several hundred people, the Wichita Wind Surge.
Wichita Wind Surge staff know that having unique meeting spaces incorporated into the stadium will be a major draw, bringing in everything from board room meetings to weddings. 
---
 "We want to utilize the meeting space that we have so people can have the environment they want." -  Bob Moulette, Assistant General Manager, Wichita Wind Surge

---

This new stadium is replacing the old Lawrence Dumont Stadium, and while being one of the oldest stadiums in the country, city leaders moved forward and approved replacing the aging facility with something more modern and functional. 
"The addition of these unique meeting facilities bolsters the hosting capacity and variety of venue options in downtown Wichita.  Meeting planners often seek venues that will offer their attendees unique experiences and the variety offered by the new stadium will help to position Wichita as a must-visit Midwest destination to host successful events." - Moji Rosson, Vice President of Sales, Visit Wichita

---

"We are always meeting with groups looking for meeting space or places to do some offsite events. The meeting space at the baseball park would be ideal for offsite entertainment. This adds a new element to the city we have never had before." - Brian Hargrove, Executive Sports Director, Visit Wichita
The addition of meeting spaces to the Wichita Wind Surge facility will add not only room for unique offsite meetings but also larger events.
"We want to utilize this facility 200 times a season not only for our own events, but one-off events as well," says Moulette.
Quick List of Expected Meeting Spaces
Fidelity Bank Club: 250 Person Capacity | 5,478 sq. ft.
Miller Lite Party Deck: 250 Person Capacity | 3,566 sq. ft.
Emprise Pavilion: (estimated) 175 Person Capacity | 4,577 sq. ft.
2 Private Suites: 30 Person Capacity | 645 sq. ft. & 443 sq. ft.
Outdoor Picnic Area: 450 Person Capacity | 645 sq. ft. (seating area not included)
Moulette sees the meetings spaces inside the facility holding everything from team building exercise to weddings and more.  "There is a bunch of different places you can go to have meetings on non-game day events," he said. "Obviously new help sell everything, but I hope it is not just a new thing, it's the amenities you get inside that space."
On games days, the two suites and the Fidelity Bank Club are suitable for private meetings. For those looking for meeting space on non-game days, the Fidelity Bank Club would work well; this space comes with A/V hookups. As for internet, there will be WiFi access throughout the building and ongoing conversations are considering pricing or if the access will be free.
First pitch is expected in April 2020 with the finishing touches on the stadium completed by mid-May 2020. In addition to baseball, the facility will be able to hold football and other sporting events.
Learn more about meetings spaces in Wichita here.