We thank Whitney Jensen for taking the photos used in this blog.
Located in a state with plenty of farmland and cattle ranches, it's no surprise that Wichitans take their burgers seriously. One of the best ways to try a variety of burgers in Wichita? Attend the 2023 ICT Burger Battle. Now in its 11th year, this indulgent culinary event will take place from 5 to 9 p.m. Saturday, Aug. 5 at the Capitol Federal Amphitheater in Andover Central Park, located just east of Wichita.  
The family-friendly event in the Heart of the Country is a great way to sample the variety of burgers served in the Wichita area. Consistently drawing hundreds of attendees, organizers expect another well-attended event, so we've assembled some tips for attending this year's Burger Battle.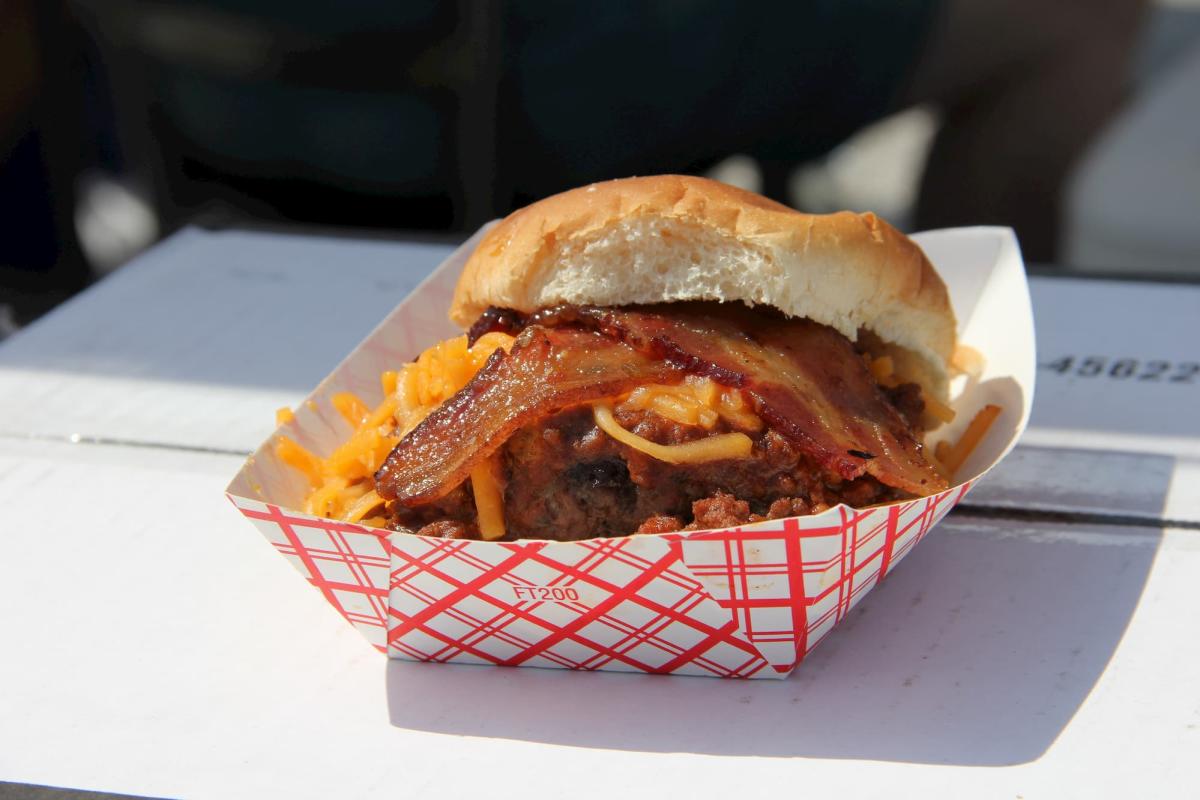 1. You get to be the judge. 
Restaurants from all over the Wichita area will come together to battle it out for the people's choice champion title. That's where your taste buds come in. Not only do you get to sample all the mouth-watering burgers, but you help decide who makes the best burger in Wichita. Some of this year's participants include Fizz Burgers & Bottles, Jumbo's Beef & Brew, Red Robin and Southeast Carryout – the second-place finisher in 2022's battle. Contenders are still being added so stay tuned for even more restaurants to compete.
2. There will be live music. 
Nashville Recording Artist Brock Wagoner will provide live music from 5:30 to 8:30 p.m. From Colby, Kan., he was runner-up of the National Finalists for Season 35 of the Country Showdown. There were roughly 50,000 entries for season 35 and Brock ended up in the top two. Brock has shared the stage with big acts including Phil Vassar, Shenandoah, Ricochet, Logan Mize and many others. Other activities include the LampHouse Lampy Camper photo booth, yard games from Bluestem Rentals and more.
3. Don't miss the car show. 
You'll get through the lines much faster if you bring cash (there's an ATM on-site). Here's how it works: once you've paid to get into the amphitheater area, you can visit any of the vendors. There also will be options to buy water, soft drinks and iced coffee, and for those 21 & older beer, margaritas and sangria.
4. It's for a good cause.
Proceeds will benefit KETCH and individuals with intellectual and developmental disabilities. Funds raised support KETCH's work, day and residential programs. You can make a donation even if you aren't attending the event.
5. Bring an appetite ... and some cash. 
Participating restaurants are able to sell food and drink items, so bring cash if you are wanting to sample more than burgers. Other snacks and beverages will be available for attendees to purchase, and there will be a raffle for a variety of items, such as a Walton's BBQ basket and gift cards to participating restaurants. It's also recommended to bring a lawn chair for additional seating.
Tickets are $30 per person. Ages 6 and under are free. If you are planning to attend with a group of friends, take advantage of the event's deal – buy three tickets and get the fourth for free.  
Don't miss out on this unique experience in the Heart of the Country. Visit our calendar of events to see what else is going on during your stay.