The Wichita Force brings professional indoor football to Wichita with six home games at INTRUST Bank Arena during the regular season from March through June.
The 2018 season is the fourth for the Champions Indoor Football league, which formed with the merger of the Champions Professional Indoor Football League and the Lone Star Football League. The Force is an original member of the CIF and has finished with a winning record every season, including taking the league title in 2016 with a 48-45 win against Amarillo.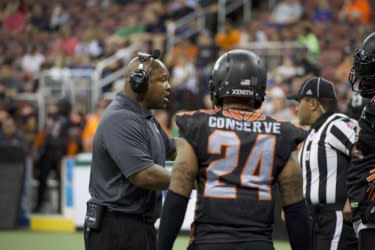 This season, 11 teams will compete in the CIF, separated into two conferences. The southern conference includes the Wichita Force, Texas Revolution, Amarillo Venom, Duke City Gladiators and Dallas Marshals. The northern conference consists of Sioux City Bandits, Omaha Beef, Salina Liberty, Bismarck Bucks, Kansas City Phantoms and Quad City Steamwheelers.
If you've not yet experienced arena football games, be prepared to be close to the hard-hitting, high-scoring and fast-paced action. With Wichita Force tickets as low as $5, you can enjoy a night of affordable family fun.
The Wichita Force roster is a mix of local talent and players from across the country. The first player signed for the 2018 roster was former Kansas State University quarterback Joe Hubener. Hubener was a walk-on at Kansas State and later earned a scholarship. After his collegiate career, Hubener took a job in Clearwater, Kansas, as an assistant football coach and world history teacher.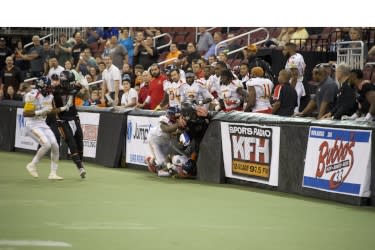 "I spent most of my life in the Wichita area, so it is exciting to be able to continue playing football so close to home," he said. "Football is something I have always had a passion for. I look forward to continuing to grow as a player with the Force and helping them continue to compete at high level in the CIF."
The Force will also have veteran defensive star Chris Hemphill on the roster. The Los Angeles native was recruited as a scholarship player at the University of Washington. After his collegiate career, he signed as a free agent with the Buffalo Bills. Since his time with the Bills, Hemphill has played indoor football, including being a part of three indoor football championship teams in Wichita (2013 and 2014 with the Wichita Wild in the CPIFL and 2016 with the Wichita Force).
Plan now to get in on the action at a Wichita Force football game this season!
2018 Wichita Force schedule
March 3: Wichita @ Salina
March 10: Wichita @ Dallas
March 24: Wichita @ Duke City
March 31: Amarillo @ Wichita
April 7: Wichita @ Texas
April 14: Sioux City @ Wichita
April 28: Wichita @ Amarillo
May 5: Duke City @ Wichita
May 12: Wichita @ Quad City
May 19: Bismarck @ Wichita
June 2: Salina @ Wichita
June 9: Duke City @ Wichita