For the past year, uncertainly has been around every corner. But one thing IS certain – and that is Wichita's Flexibility Promise. It's our promise to make it easy for you, so you can book with peace of mind by choosing to host your next meeting in Wichita, the Heart of the Country. 
Not certain about attendance? Up in the air on food and beverage needs or final room block numbers? No worries. We make planning easy and risk free with this promise:
No cancellation penalty

Zero Food & Beverage minimums

No attrition
"With all of the uncertainty around future meetings, it's important to us to be able to provide planners with as much peace of mind as possible. Visit Wichita wants meeting planners to be able to proceed with future plans knowing we will be flexible and work with them if COVID-19 challenges arise," said Jessica Viramontez, Sales Manager at Visit Wichita.
Sales Manager Lindsay Gulley added, "We know no one wants to cancel so the Flexibility Promise eases planners' worries. They can take that first step in planning in-person meetings again without worrying about financial impacts to their organization if they are unfortunately no longer able to meet in person closer to meeting time."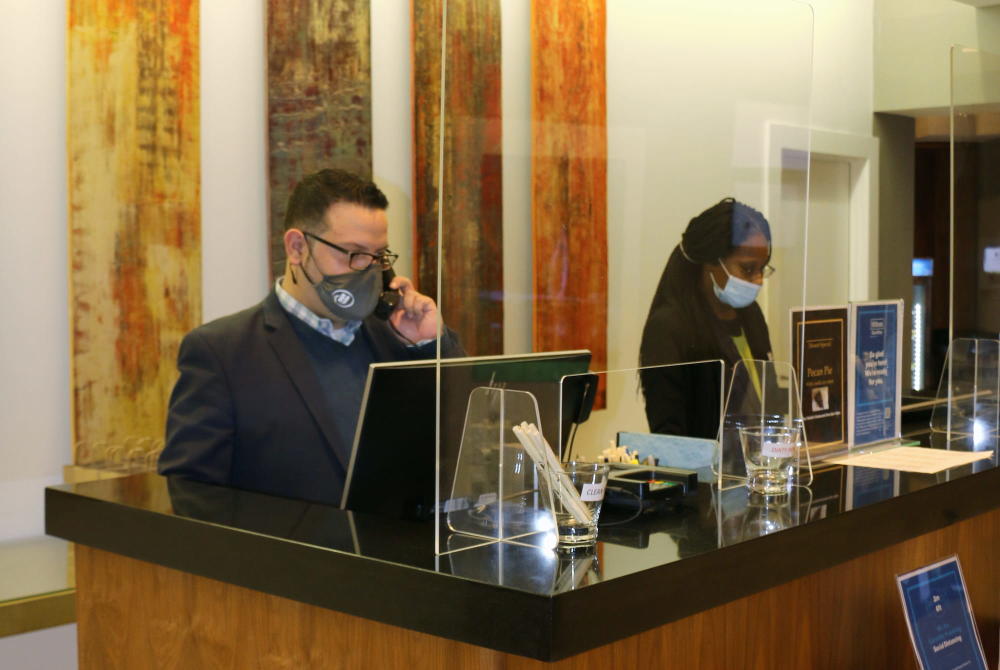 Book with Peace of Mind
In these challenging times, Wichita's convention facilities and meeting hotels have embraced safety measures to ensure best health practices and are ready for you and your event.
With safety protocols like social distancing and enhanced sanitization in place to help prevent the spread of COVID-19, your group can meet feeling safe and comfortable. Wichita's top attractions, shops, museums and restaurants are doing their part to adhere to safety guidelines to stop the spread of the virus. A county-wide mask ordinance is currently in place and businesses are adhering to safety guidelines outlined for reopening.
"Most of the 2020-2021 meetings were planned more than two years ago – long before the thought of a pandemic crossed anyone's minds," said Convention Sales Coordinator Marisa Pechanec. "When the pandemic hit, planners were forced to figure out what happens next contractually in terms of cancellations or reschedules. It was an added stressor in an already stressful situation. The Flexibility Promise eliminates that stressor."
Pechanec said Visit Wichita's Flexibility Promise allows meeting planners to worry a little less about "what happens next" if they're forced to cancel. "Our promise also gives meeting planners the freedom to focus on other elements in the planning phase, such as creating plans to safely bring attendees back in person or to transition to a virtual/hybrid model."
Get to Know our Heart
It's not just the venue you meet in that makes all the difference, it's a destination's heart. From a vibrant and revitalizing downtown, to countless parks and trails, to eateries and breweries overflowing with unique flavors, to an abundance of public and urban art, Wichita has it all.
Looking for open-air options? Wichita has those too. Whether you're looking for an open-air off-site venue or a sprawling patio to enjoy drinks after a long day of meetings, you'll find what you need in Wichita. Choose from unique experiences like:
Let Jessica show you how you can have an unforgettable aviation experience in Wichita.
Check out some of Jessica's favorite things to do in Wichita.
Start Making Plans to Visit Wichita
When you're ready, Wichita is ready to warmly welcome you. We can't wait to show you what makes us special. Dive into what Wichita has to offer in our 2021 Spring/Summer Visitors Guide or contact us to find out more about the Flexibility Promise, social distanced floor plan options, health & safety meeting protocol, how we can help you reach a larger audience through hybrid meetings from Wichita and other ways we can help you secure your meeting's bottom line.
"We believe planners are looking for as much flexibility as possible while looking ahead to future meetings. It's important they feel the support from host cities – both at the facilities and the destination marketing organization like Visit Wichita," said Viramontez.