Just 15 minutes outside the largest city in Kansas, you'll feel immersed in country life on Elderslie Farm. From the friendly welcome by mom and baby goats to the genuine hospitality extended by the Elder family and their team, the most authentic farm-to-table experience in Wichita has now become a farm-to-scoop destination, too.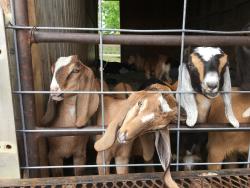 In May 2019, the farm opened Elderslie Creamery in a newly constructed 4,000-square-foot facility modeled after what you'd see in an English farmyard. There's a small animal barn on one end, where the public can see the herd of Nubian and Saanen goats that includes about 30 milking does, and at the other end of the brick building you can pop in to purchase fresh goat cheese, goat milk gelato, charcuterie and accompaniments. In between, there's a long hallway with windows accessible to anyone who wants a peek into the milking parlor or the rooms where the artisan cheese is made.
Don't miss the wood elements throughout, done on the farm at Elderslie Woodworks. You'll see hackberry elements, walnut doors – and a goat carved into the creamery's front door by George Elder, who owns the farm with his wife and chef Katharine Elder.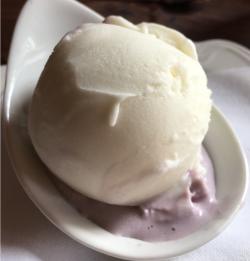 Expect at least four flavors of gelato including a seasonal floral option. The opening day menu: blackberry, stracciatella (chocolate chip), cajeta (caramel) and black locust blossom. On busy summer days, the Elders will serve gelato from an outdoor stand as well.
The creamery is producing five goat milk cheeses: chevre, feta and aged gouda that are often found on the farm-to-table dinner menu plus seasonal flavor. They are working with local partners to offer several cow milk cheeses.
You can enjoy an on-site picnic or take your treats home. The creamery's hours are Tuesday 10 a.m.-noon, Wednesday-Saturday 10 a.m.-8 p.m. and Sunday noon-5 p.m. The best time to catch milking in progress is 7 p.m. Watch the farm's website for public tour opportunities.
There's no charge to visit Elderslie Farm, and it's a popular spot to ride bikes to during the summer months.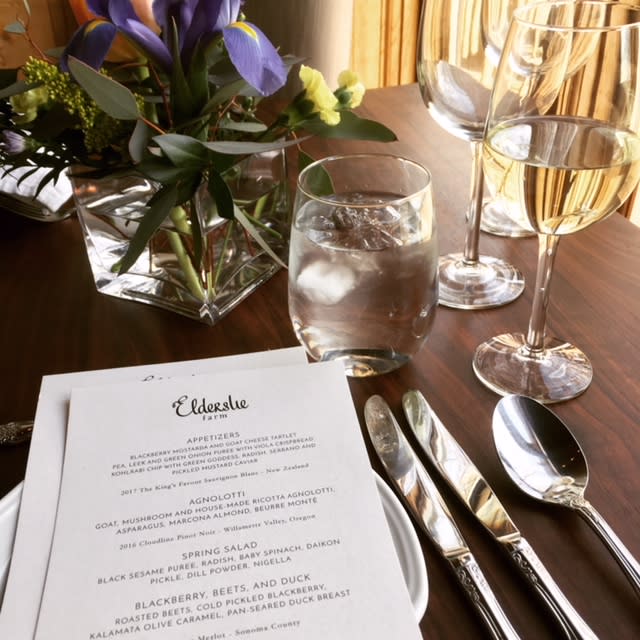 Other ways to enjoy Elderslie Farm:
Formal multi-course farm dinners with optional wine pairing are served year-round on Thursday, Friday and Saturday evenings, reservations required.
Bramble Café offers breakfast and lunch on the patio. Don't pass up the blackberry scone! The café is open weekends only until May 26, then will be open Tuesday-Thursday 8-11 a.m., Friday-Saturday 8 a.m.-1:30 p.m. and Sunday noon-5 p.m. for the summer.
Blackberry You-Picks begin mid-June and include a ride to the bramble on the Berry Ferry.
Private group events are available. Elderslie Farm offers space and catering for every meal of the day. They also can arrange grand cheese and wine tastings or creamery tours and tastings.