To assist with public safety, please remain diligent in adhering to safe practices outlined by the CDC like wearing a face covering and social distancing, when out in the community and stay home if you feel ill. We recommend confirming details and verifying requirements and/or safety procedures for guests before visiting a local shop, attraction, eatery or other business. 
 
With all the extra time together at home this year, chances are couples itching to (carefully) get out for a date night or stay in and switch things up. And while date nights in 2020 certainly look different, they are still possible – whether you decide to stay in or venture out. If you're ready for some special time with your sweetie, we have some ideas to light up your hearts in a safe way this holiday season.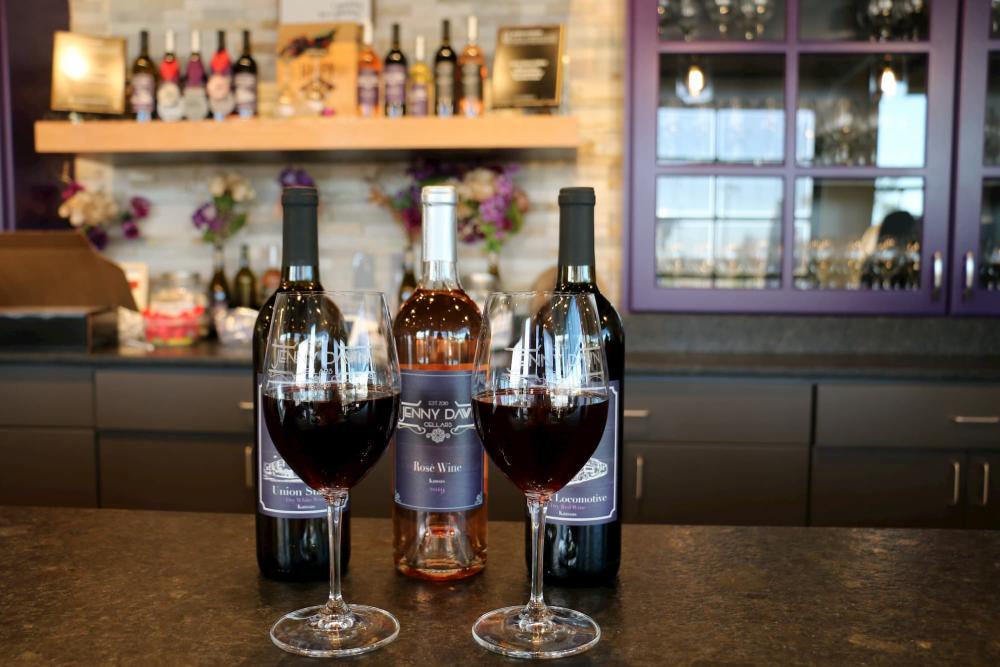 Romantic Evenings
Getting Out
Kick-off date night with dinner and a holiday show at one of Wichita's live entertainment venues. Mosley Street Melodrama will be performing "The Tinsel Tale of Tori" through Dec. 26 and Roxy's Downtown, a cabaret-style theater will have "The Kyle and Monte Christmas Musical 4" available through Dec. 27. Both venues have limited capacity and implemented a number of safety measures and are adhering to the guidelines and standards set by the CDC for the hospitality industry. While each venue has the option to enjoy dinner and a show, it's also possible to purchase show-only tickets so you can dine prior to arriving. If you want to eat dinner prior to attending a performance, visit a nearby restaurant with a heated patio like Larkspur Bistro and Bar, Meddy's, Tanya's Soup Kitchen, Homegrown, Pumphouse, PourHouse by Walnut River Brewing Company.
Or, surprise your date by renting an outdoor dining bubble at Nortons Brewing Co. to cozy up in. Nortons plans to have four "igloos" available to rent in December. For $25, you can have the igloo all to yourself for an hour and a half. Each one will be sanitized in between parties. The brewery also has several heaters in their large outdoor beer garden.
Head to Revolutsia to find plenty of cozy outdoor spaces to safely spend time together. You and your date can try cheese and toast boards at Fleur De Vin and authentic German fare and imported beer from Prost. For dessert, treat your taste buds to bundt cakes and cupcakes from Monica's Bundt Cake and more tasty sweets made from scratch at Little Lion Café (Little Lion will be open the 12th and 13th before closing for the winter). Order your food and snuggle up by Revolutsia's fire pit to dine outdoors while staying warm next to the glow of the flames.
Date night is the perfect time to get in the holiday spirit, and Wichita has amazing holiday light displays to spark up the romance. Pick up coffee at one of Wichita's local coffee shops offering exclusive flavors, delicious roasts and unique specialty drinks. Then, explore different Wichita neighborhoods with this list of the best Christmas light displays in Wichita. Or, book a private holiday light helicopter tour with DWTA and enjoy the views and quality time with your date. Fill-up the tank before the tour on a heated patio at 6S Steakhouse or Hurricane Sports Grill, then stock-up on treats for the road from Cocoa Dolce at New Market Square.
Staying In
Want to stay home and enjoy a fancy meal? Get dressed up for a candlelight dinner from your favorite upscale takeout place like Larkspur Bistro & Bar, Lola's Bistro, Scotch & Sirloin, Siena Tuscan Steakhouse, Wine Dive or any other fine dining restaurants in Wichita. Then, cuddle up and watch a movie from mama.film with delicious and unique popcorn from Kernel's Popcorn Express and The Popcorner (east or west).
Pick up craft brews from a Wichita brewery and have an at-home tasting party. Wichita is home to 9 breweries offering unique local flavors and seasonal beer options for any palate. Looking for something light and hoppy? Dark and stouty? Wichita's breweries offer up all flavors of the beer rainbow with light to dark flavors unique to Wichita.
Maybe you and your partner are into wine or sweets, buy a sampling of new things to try. Try wine from local wineries, Grace Hill Winery and Jenny Dawn Cellars. Pick up chocolates to try from any Wichita-area Cocoa Dolce location (downtown, west and east). Or pick from tons of goodies like nuts and candy at Nifty Nut House or The Farris Wheel.
As you're tasting, catch the virtual Music Theatre Wichita Holiday Special on Dec. 17, 21 or 24 or enjoy a virtual concert from the Orpheum Theatre Dec. 17 and 18 as they present "The Hip Hop Nutcracker". Or, join a Zoom class with Mark Arts and choose from a variety of classes for you both to discover a new skill.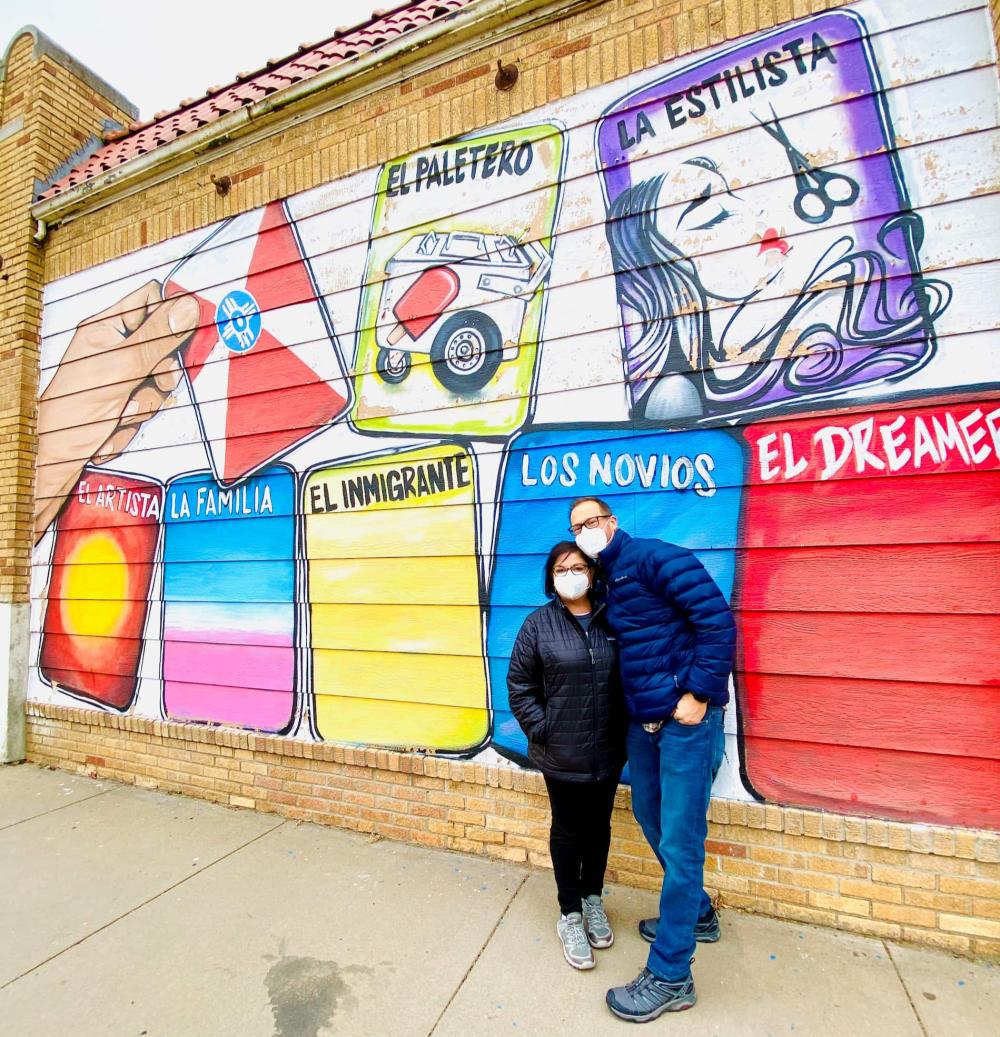 Photo: Postcard Jar
Day Dates
Whether you're an active couple looking for your next adventure or one that enjoys a more leisurely afternoon, Wichita has plenty of options for a romantic day date.
Getting Out
Maybe a holiday shopping day date with your mate to knock out some early (or last-minute) Christmas shopping at Wichita's local retailers is more suiting. Not only will you find shopping choices galore at Bradley Fair, you can take part in a Bradley Fair Holiday Stroll on Sundays. From 1 to 7 p.m., enjoy free horse-drawn carriage rides through Dec. 20. While you're there, grab a bit on a heated patio at Homegrown, Bella Luna Cafe, YaYa's Eurobistro, Newport Grill, Chester's Chophouse, or Meddy's. Or jump over to one of Wichita's most unique open-air entertainment spots – Chicken N Pickle. Not only can you sink your teeth into delicious chicken dishes, you can reserve a fireside table and test your ice-skating skills at their Ice Pond at the Plazzio.
For more local shopping, downtown Wichita and Old Town have great spots for unique gifts like Lucinda's, Uniquities Home, and Urban Interiors. Head to the Historic Delano District for eclectic buys at Bungalow 26, Hatman Jack's and The Health Connection. The Douglas Design District is great for holiday gift items like exclusive coffee and tea blends at The Spice Merchant & Company, handcrafted bath and body care at Zeep and Wichita flag swag at The Workroom.
The first three Saturdays in December, you and your date can stroll hand-in-hand to find artisan goods at the Old Town Farm and Art Market - Holiday Season at the Farm & Art Plaza, (1st and Mosley) north of the Museum of World Treasures. Don't forget Saturday, Dec. 12 is Second Saturday!
Classes vary from glass blowing and fusing to photography and photo editing at CityArts. Masks are required, social distancing measures have been implemented and each studio is sanitized between each class. After your class, pick up an artisan pizza to go from Public at Old Town. Four of the restaurant's popular pizzas come in frozen form, par-baked, sealed and ready to take home and pop in the oven. Choose from margherita, pepperoni, "bar bleu que" or salami and pepper.
If adventure is what gets your heart racing, try axe throwing together and see who can hit the bullseye. At Axe to Grind, you can have your throwing own lane for 90 minutes to test your axe-throwing skills. They have a VIP package, which includes one beverage (beer, sparkling water, soda) and one complimentary snack item, a private lane for you and date, a professional axe coach, unlimited free axe throwing for 30 days and two hours of throwing. While they aren't serving a full menu at this time, you can bring in your own. Private lanes can also be booked at Blade & Timber. You can bring your own food, snacks and non-alcoholic beverages, and adult beverages are sold on-site. Pick up specialty espresso-based drinks, teas, house-made pastries and more from nearby Leslie Coffee Co.
If you've found yourself in need of a little rest and restoration, Bohemia Healing Spa is the perfect place for a couples massage and overall pampering. Get the full details on what the spa is doing to ensure you feel safe while being pampered here. Afterwards, pick up dinner to take home from Monarch. Their tomato soup is warm, creamy and made in-house daily. It's perfect as a meal or a side to one of Monarch's delicious sandwiches.
If you happen upon a mild day during the winter months, it's an unwritten rule that you must go out and enjoy it! And who better to explore with than your significant other. Whether you decide to hike a new walking patch or find Wichita flag murals, there are lots of safe outdoor activities in Wichita. If you're out on a mural tour in the Douglas Design District, be sure to take plenty of selfies and grab some coffee and donuts to go from The Donut Whole to take home to enjoy together.
Staying In
Pick a day that works for you and your honey and enjoy the artistic experience of Board & Brush from the comfort of your own home. This DIY wood-making shop is offering Take Home Kits, which come complete with paint, brushes, a pre-stained board and stencil and instruction sheet. Once complete, keep your hand made item as a keepsake or gift it to a loved one for the holidays. After picking up your kits, head over to Reverie Coffee Roasters & Founders Bakery where you can grab piping hot espresso beverages, ciders, assorted pastries and more to warm you up while working on your new project.
Paint the Towne has $8 to-go kits that you can take home and create your own masterpiece. Pair the kit with wine from Wichita's only urban winery, Jenny Dawn Cellars, and watch the creative juices flow. Not only is this a fun way to spend time together, it also ends in a great gift to give away for Christmas. 
If you are looking for more date-night ideas or ways to enjoy the holidays, see what holiday events are happening in Wichita.