Let's face it – after the last couple of years we've had, we could all use a getaway. Between canceled plans and countless time spent at home, people are yearning for a vacation or just some time off to decompress.
After nearly two years of pandemic stress and fatigue, National Plan Your Vacation Day (Jan. 25)
is an opportunity for Americans to look ahead to brighter days and make plans for a vacation in the future. The day is powered by U.S. Travel Association and celebrated on the last Tuesday of January as a way to encourage Americans to take their time off.
We encourage you to still plan - or even book - future vacations, or to simply keep your travel flame lit and dream of their next getaway. While it might take more than a day to sort through all the options Wichita has to offer, it marks the perfect occasion to get started! Missed the day? Not a problem, our website has all the information you need to begin planning your time in the heart of the country.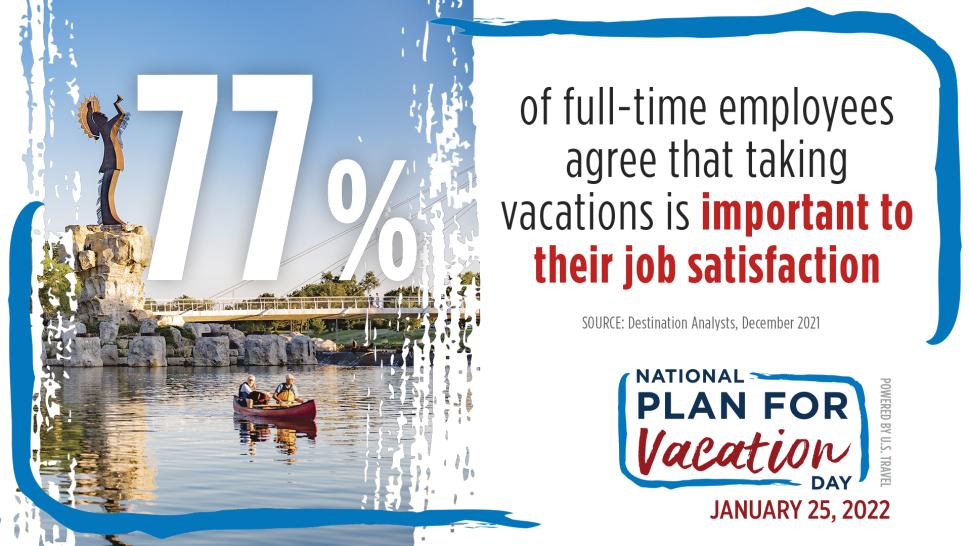 What the data says
A new study from Destination Analysts, commissioned by U.S. Travel Association, reveals that Americans who plan out paid time off take more time off to travel, but nearly one-quarter (24%) of American households don't take this simple step.
National Plan for Vacation Day comes at a time when workers report feeling extreme levels of burnout. According to Destination Analysts, more than two-thirds (68%) of American workers feel at least moderately burned out and 13% are extremely burned out. "The research reflects what so many have known for quite a while—that the stresses of the past couple of years can, at least in part, be lifted by thinking about and planning time away to recharge and experience something new," said U.S. Travel President and CEO Roger Dow. "There are real benefits to getting vacation plans on the calendar at the start of the year which include the happiness associated with travel and committing to take off all the time that is earned for a well-deserved break."
Data also shows that while vacation is essential to Americans' mental health and well-being, it is also a crucial benefit for American workers. Nearly 70% of U.S. workers agree that their ability to take vacations is an important factor in keeping them in the workforce. In fact, paid time off is the second most important employee benefit an employer could offer after health insurance benefits.
"From the newest U.S. Travel data, it's clear Americans think it is important to use their paid time off," said Susie Santo, president and CEO of Visit Wichita. "By committing to the first step of planning on January 25, people can enjoy the many benefits of taking a break while giving themselves something to look forward to."
Power of Planning Ahead
One step we can all take is to plan ahead. U.S. Travel Association says those who plan are far more likely to use all of their time off, take more vacation days for travel and report greater levels of happiness at work and at home.
"If people start thinking about their vacation time now and formulate a plan, that could make a big difference. This National Plan for Vacation Day, schedule time to plan your vacation. Whether the plan is to stay in the area or to travel to eventually places far away, it's important to take the time you've earned to recharge." Santo added.
Take the time to start planning and be inspired by what you can do with all your time off. Then, when you are ready, choose to travel to Wichita for fun and exciting attractions, shopping, delicious dining and one-of-a-kind experiences. You'll be glad you did!
Source: Destination Analysts, 2021. Methodology: This research is based on an online survey of employed Americans distributed to the Dynata Business Professionals Panel, one of the largest in the world. Survey respondents must have worked at least 20 hours a week at a company that employed at least two people and earned paid time off in 2021. The survey was fielded December 6–December 17, 2021. In total, 1,200 completed surveys were collected.