The corner of 1st Street and Cleveland Avenue has emerged as one of the top spots in Wichita to support local businesses and artists. You'll want to add Cleveland Corner in the Douglas Design District to your itinerary if you're looking for a place in Wichita to do some local shopping, discover local artists or just want a cool space to hang out.
Here's what to expect when visiting Cleveland Corner, which currently features all female-owned businesses:

The Workroom
The anchor of Cleveland Corner is The Workroom, a local favorite and must-stop for visitors to Wichita. They offer interior design and custom sewing services, home furnishings, fine art, accessories and gifts. This is one of the top spots to get Wichita-centric merchandise and they carry products made by about 100 local artists and makers.
Owner Janelle King invited artists to sell their goods in the extra space she had when she first opened The Workroom in 2013. She is an advocate for the arts and leads a number of social movements and collaborations, including sharing her space and entrepreneurial spirit while helping lift other creators and aspiring business owners.
In 2022, King reconfigured the space inside The Workroom to make room for two additional businesses.'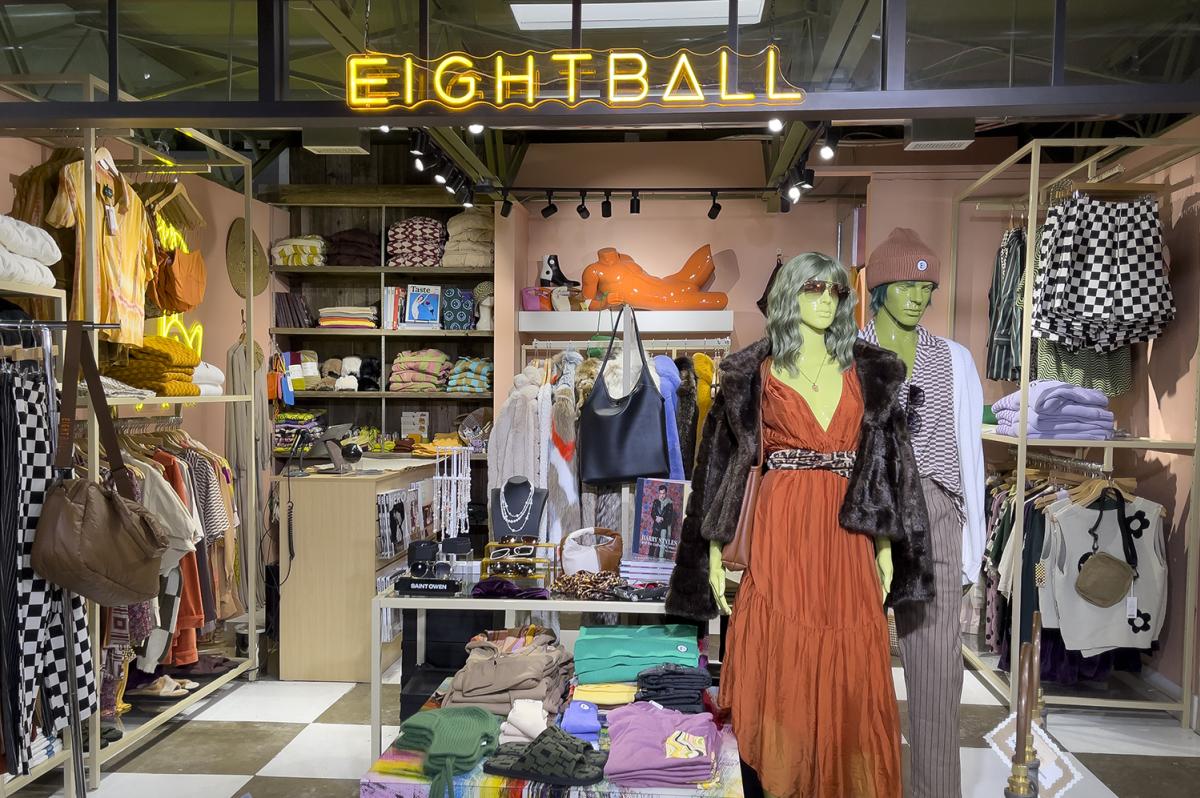 Eightball Fashion Boutique
King calls this her "personal passion project" – a boutique with inclusive sizing as well as clothing in men's, women's and gender-neutral styles. Shop here if you're looking for modern, bold and fluid apparel. Be sure to ask to see the Magic 8 Ball to find answers to your questions, including "Should I buy this?"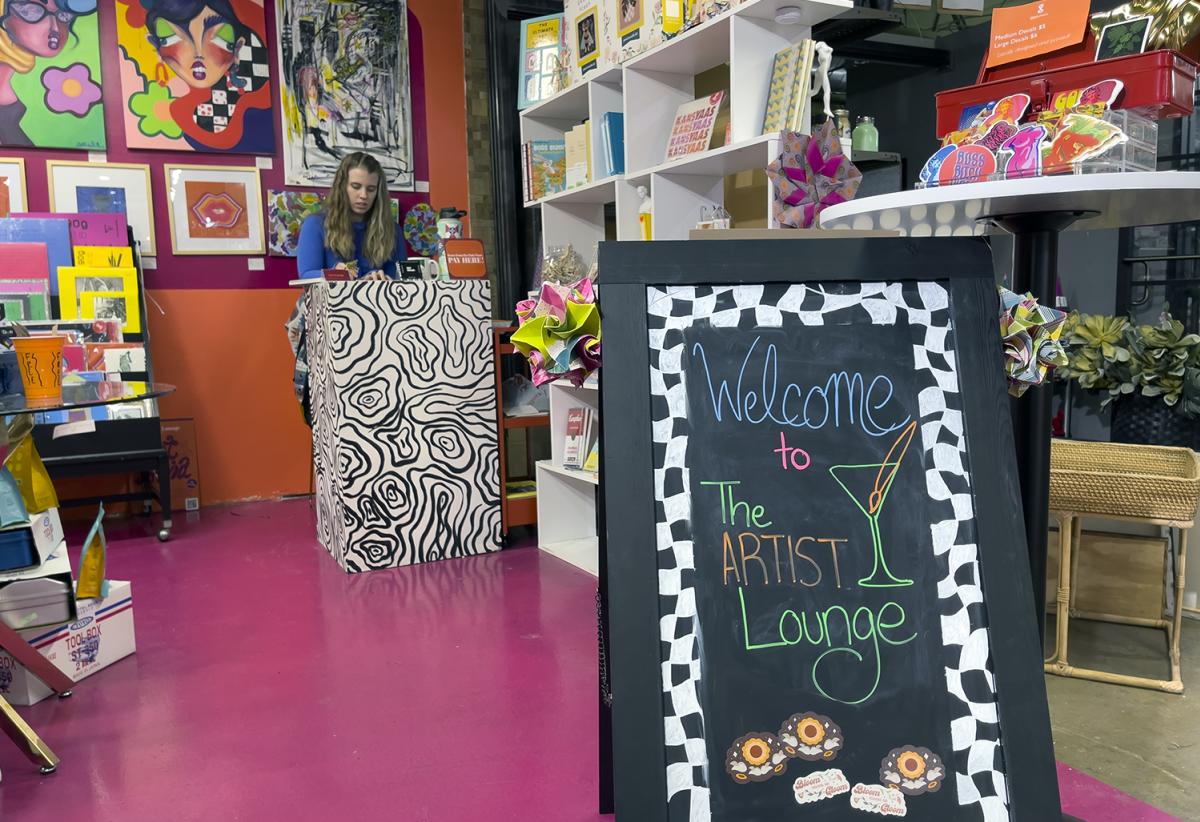 The Artist Lounge
Artists Rachel McDaniel and Geli Chavez created The Artist Lounge as a place where art is sold, produced and experienced. Stop in for art or art supplies, including sketchbooks, brushes, paints and more. Or sign up for an experience, which range from paint and sips to figure drawing classes, block printing instruction or making watercolor greeting cards. This is a colorful, fun, immersive space open to all art levels.

The Garage at Cleveland Corner
King created a retail incubator program housed in this space attached to The Workroom with money from the Knight Foundation and with help from the Wichita Community Foundation. As soon as you walk in, you'll see that the space is named for its former life.
The Garage is a rotating lineup of the city's up-and-coming retail concepts, allowing entrepreneurs to develop and grow new retail ideas in a low-risk, supportive space that fosters learning, growth and mentorship. One of the most successful of the businesses that launched at The Garage is GROW Giesen Plant Shop and Botanic, a boutique plant shop with a DIY plant bar as well as a botanical-themed martini bar that expanded to its own space at RISE Car Park, Fidelity Bank's five-story parking garage and retail development at Waterman and Market streets in Downtown Wichita.
The current incubator tenant in The Garage is MiNi Co., a collective of apparel, accessories, giftable items and everyday items for kids and babies. This is the place to find baby's first toys and everyday outfits, or that special occasion mom/mini matching look.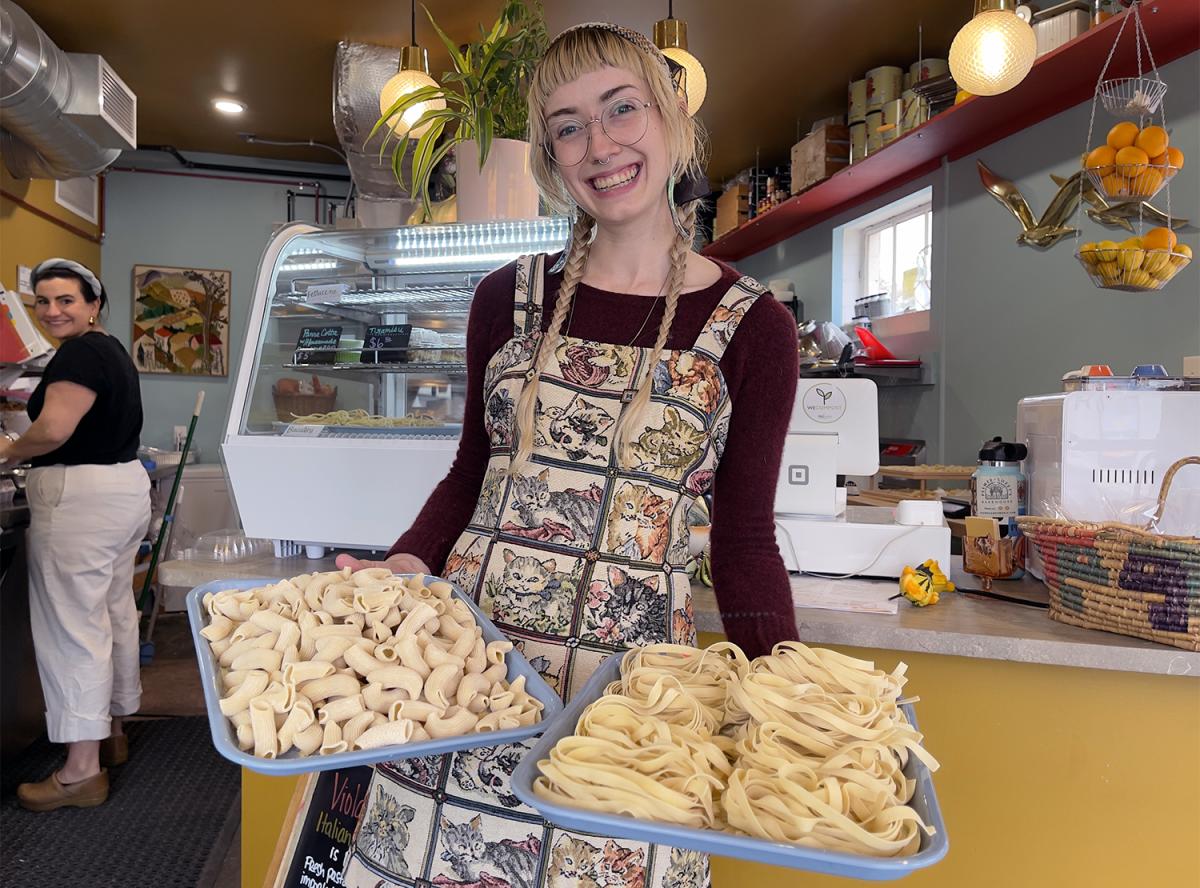 Also, there is Viola's Pantry, which moved to the space in 2021 after head chef and owner Kristina Grappo used a commercial kitchen and sold at farmers markets for her first year of operation. Part Italian market and part scratch Italian kitchen, Viola's serves lunch five days a week and has a small indoor dining area amongst the market as well as seasonal outdoor seating. They also sell take-and-bake pastas, fresh sauces, house-made cheeses and desserts. You can even sign up for an Italian-centric cooking class.
Watch the Visit Wichita calendar of events for special events at Cleveland Corner, including their popular Artisan Markets featuring local music, food and makers selling handmade goods and art.