This December, a new event is coming to Wichita, Kansas, promising to unite people for the holidays with influences from all around the world. The Kansas Global Holiday Market is the brainchild of Anne Dewvall and Laura Lombard, and will take place, Dec. 8-10, 2023, at Riverfront Stadium.
So, what is the Kansas Global Holiday Market? "As a Wichitian, I want to highlight my city," said Laura Lombard. She said this new event highlights the diversity of Wichita, the state of Kansas and more than 40 different countries. It is inspired by popular European Christmas markets that bring together the warm glow of twinkling lights, regional foods, shopping and a festive spirit. And that is exactly what you will experience at the three-day event.
In a world often divided, this holiday market celebrates inclusive traditions including Christmas, Hanukkah, Kwanzaa and several other cultural customs. It strives to intertwine traditions, holiday food specialties, artisanal gifts, performances and fun activities for all ages, at an affordable price of course. "We're giving people a chance to explore the world without actually having to travel far," Laura says.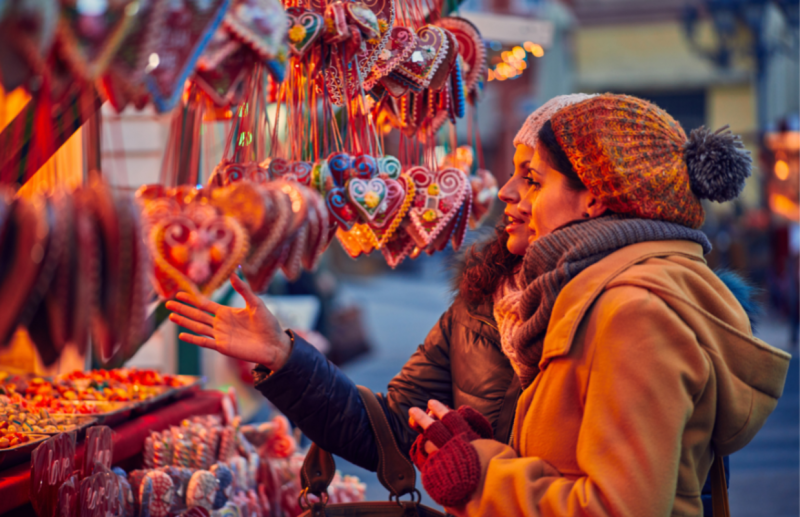 The idea is that it's accessible all weekend. Starting at $15, you can get an all-access pass that gets you in all three days. "So, when you're paying that $15, you can be there the entire weekend if you want." But there's more in store for one lucky family. Enter below for a chance to win a family four-pack for this special weekend. Fill out the contest entry form below, which will run from Nov. 6-24, and the winner will be selected on Nov. 27 and notified by email.
"There are performers you can sometimes enjoy in Wichita, like Daniel Baird, Tuba Christmas, or Amira's Dance Productions," said Anne Dewvall. "But there are also going to be performers that don't normally share their talent in Wichita, like many of the African dancers."
Make plans now to attend and experience local and international groups sharing dance, instrumental and choral performances, as well as storytelling. Kicking off at 6 p.m., Friday, Dec. 8, don't miss Mexican dancing, a Switzerland steel drum performance and stories about African culture by Dr. Daisy Kabagarma. But that's not all you can experience, view the full list of the Kansas Global Market performance schedule.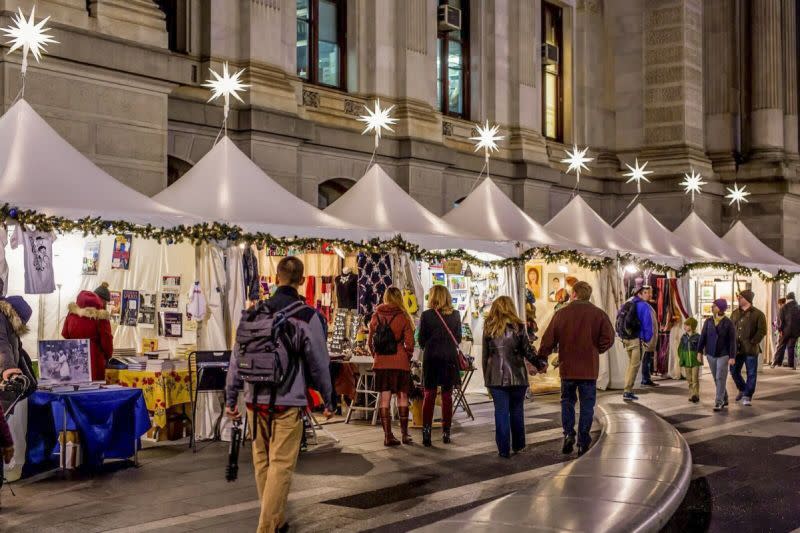 Taste dishes from around the world including German hot spiced wine called Glühwein, Chinese candied fruits called Tanghulu, Mexican chocolate-covered churros and familiar favorites such as boba tea and fried rice. "You won't get another chance this year to have all these different kinds of foods in one place," Anne says. You can purchase and try foods that restaurants don't sell in-store, including Bánh Mì sandwiches from Crafted.
Rethink your Christmas shopping list this year. The shopping market allows you to buy unique gifts for family and friends – items you can't find anywhere else such as artisanal goods from Ghana. Check out clothing, beaded necklaces, fine art, packaged sweets and leather goods. For the children, don't miss out on meeting Santa Claus, and Mrs. Claus will be reading cultural stories.
Things to consider:
This event starts at 4 p.m. on Friday, Dec. 8. Saturday's hours are 10 a.m. to 9 p.m. and noon to 6 p.m. on Sunday, all at Riverfront Stadium in Wichita, Kansas.
General admission tickets start at $15, $7.50 for children ages 5 to 12 and free for infants to age 4. The $15 ticket gives you access all weekend.
The average temperature in December in Wichita is a high of 47 degrees and a low of 23 degrees. Dress accordingly.
If you are traveling to Wichita, make the most of your weekend. Walk through Botanica Wichita Illuminations, an annual event that displays hundreds of thousands of Christmas lights, the Holly Jolly Jurassic Holiday at Field Station: Dinosaurs, located in Derby, or other Christmas fairs. Since there is so much holiday spirit in Wichita, it is encouraged to extend your weekend exploring local attractions, dining at the 1,200-plus local restaurants or taking in other holiday events.
The Kansas Global Holiday Market is an opportunity to "enjoy the different traditions and generally just have fun." Laura says.
Remember to explore other popular holiday festivities in Wichita and be sure to visit the Kansas Global Holiday Market's website to stay up to date on everything happening during the weekend.