Hosting the first and second rounds of the 2018 NCAA Men's Basketball Championship was a blast, and we're grateful for the opportunity to do it again in 2021!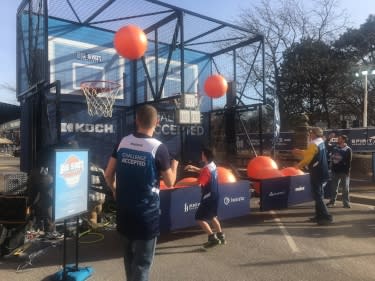 Wichita organizers, INTRUST Bank Arena and local businesses put on a great event for the teams and fans in 2018. Family-friendly activities, pop-up bars, tailgates and fan events surrounded the downtown arena, restaurants extended their hours and offered specials, and attractions across the city welcomed basketball fans.
Being in the middle of the country meant the Wichita site of the NCAA basketball tournament drew fans from all eight teams: University of Houston, San Diego State University, University of Michigan, Seton Hall University, University of Pennsylvania, University of Montana, N.C. State University and the University of Kansas.
Attendance at the March Madness sessions was excellent. The 15,000-seat INTRUST Bank Arena welcomed 14,400 in the first session and over 14,000 for the second session on Thursday, the first day of the tournament. Visitors reported ease of getting to and from the arena and their hotels, fun activities within walking distance of the arena and plenty to do in the community when they weren't at the games.
As one visitor from San Diego told a local television reporter: "There's so much going on. The atmosphere is great, everyone has been really welcoming."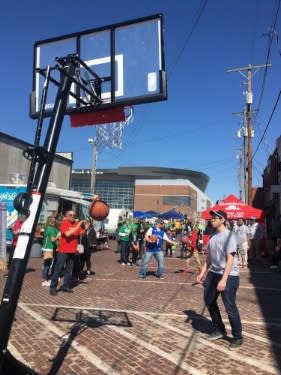 Seton Hall University students hung out at The Donut Whole, a funky coffeehouse, donut shop, art gallery and live music venue in our Douglas Design District.
Alumni groups had plenty of downtown restaurant and special events spaces to hold pep rallies and gatherings, from the loft at River City Brewing Co. to the unique open-air courtyard at Public at the Brickyard.
The University of Michigan pep band said their from-scratch comfort food at Doo-Dah Diner was excellent. They also said they had a great time walking along the Arkansas River to explore the 44-foot tall Keeper of the Plains, the most photographed spot in Wichita.
Before the games started, the Kansas Jayhawks coaches and players enjoyed waterfront dining at Chester's Chophouse & Wine Bar, one of the city's fine dining options, and KU Coach Bill Self called it one of the best restaurants he's ever dined in. He also said the team loved staying at the Ambassador Hotel Wichita just blocks from INTRUST Bank Arena, site of the games.
Mark your calendars now, basketball fans! Wichita and INTRUST Bank Arena will be hosting the first and second rounds of the 2021 NCAA Men's Basketball Championship and we invite you to join us.