Wichita has a rich history in the aviation industry, and National Travel and Tourism Week is the perfect time to explore the city to find out how it earned this title.
Celebrated annually the first full week in May, NTTW was created by Congress in 1983 to elevate the economic power of travel in the U.S. The 39th annual NTTW (May 1-7, 2022) arrives as the industry looks ahead to future growth and success following the challenges of the past two years. To recognize the week, Visit Wichita is encouraging locals to explore Wichita like a visitor to discover the city's many gems.
Why is Wichita the Air Capital of the World?
With a boom of commercial aviation manufacturing in the city during World World II, the city's population increased dramatically thanks to an influx of jobs at Boeing. Wichita continues to be an economic driver of aviation manufacturing. When you visit the city, you're likely to meet someone who works in the aircraft industry or who loves aviation.
Iconic aviation brands Beechcraft, Cessna and Stearman were born in Wichita; and modern-day Airbus Americas, Bombardier, Spirit Aerosystems and Textron Aviation now design and manufacture aircraft and aircraft parts in this city. Wichita State University's National Institute for Aviation Research and Wichita Area Technical College's National Center for Aviation Training turn students into designers, mechanics, machinists and more, with specialized training from Wichita's expert sources of aviation and aerospace technology.
ICT
Pilots use airport codes as identifiers. "ICT" is Wichita's three-letter designation by the International Air Transport Association, which also explains why you see it used so often in Wichita and on social media. Wichita's Dwight D. Eisenhower National Airport was voted as 3rd Best Small Airport in USA Today's national Reader's Choice poll in 2020. It serves six airlines – Alaska Airlines, Allegiant, American Airlines, Southwest and United.
Traveling to or from Wichita? Level 2 of the airport, a lounge and gallery devoted to aviation history, is a great place to view elements highlighting the city's impact on the industry.
If arriving via general aviation at Colonel James Jabara Airport, give yourself a few minutes to tour their visitor's lounge. The walls are covered with historic photos that pay homage to the war hero and Wichita High School North graduate for which the airport is named.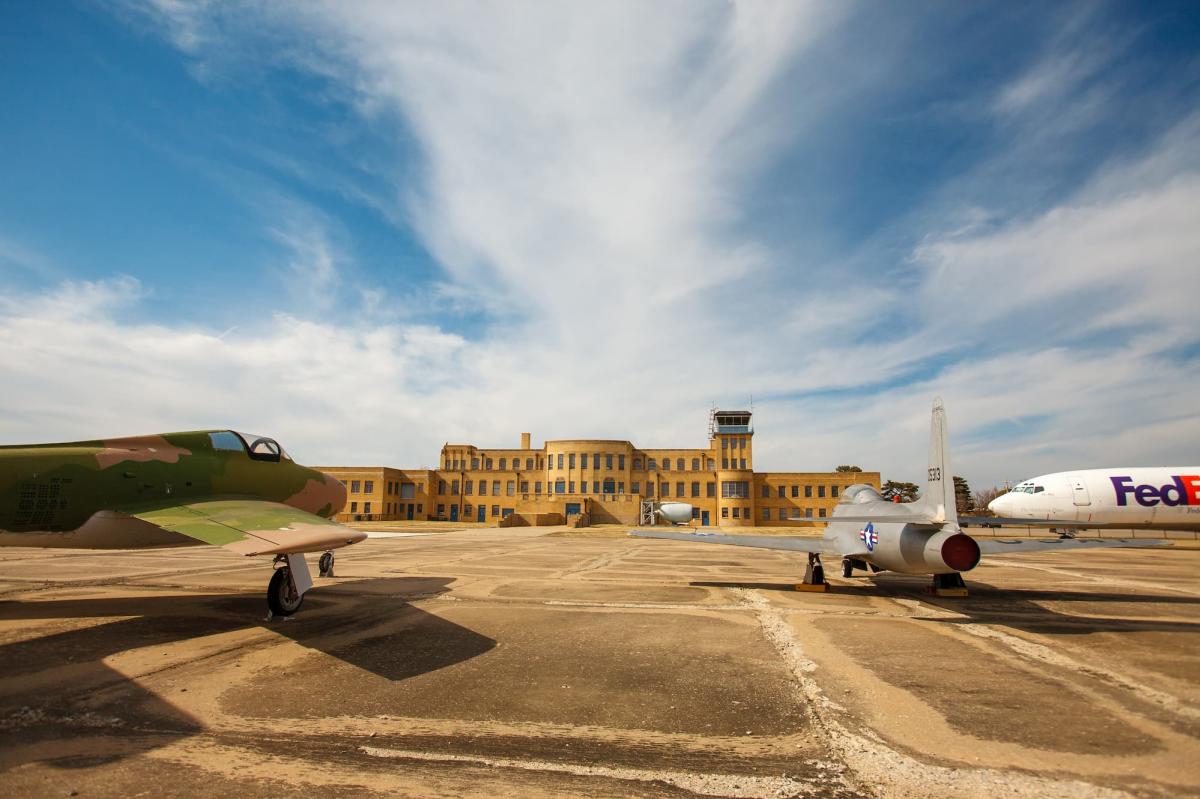 Photo by Darrin Hackney
Journey through history
The Kansas Aviation Museum takes aviation history to new heights. The museum is housed in what was the city's first municipal airport. Today, the museum honors the legacy of air travel by showcasing Kansas aviation history with a focus on Wichita's influence.
Museum-goers can expect to see a collection of restored aircraft and aviation-related artifacts. It proudly displays a 1920 Laird Swallow (the first production aircraft built in Wichita!), a 1945 Beech Bonanza B-35, a Cessna T-37B, and a Model 73 Stearman. The museum's outdoor "ramp" is home to retired aircraft. When touring the museum, make time to enjoy 360 views of the city from the airport tower and listen to air traffic control.
Continue your journey through history by making a visit to B-29 Doc Hanger, Education and Visitors Center to get an up close look at one of only two airworthy Boeing B-29 Superfortess aircraft left in the world, Doc. The resorted warbird attracts visitors to the permanent hangar who are eagle to learn about the history of aviation engineering and design. Volunteers, referred to as Doc's Friends, spent over 40,000 hours restoring her to pristine condition. They are often on-site to answer questions.
When not at home in the hangar, Doc and its crew take to the skies to make fly-in appearances at air shows. Make sure to check to see if Doc is in the hangar prior to your arrival here.
One Wichita aviator who deserves credit is Erwin Bleckley, the city's forgotten Medal of Honor hero. In 1918, his mission was to deliver supplies to the Lost Battalion while his DH-4 took on enemy fire. The brave pilot will be honored by the BAM Foundation with a memorial at Eisenhower National Airport to recognize his inspirational WWI efforts.
To fully appreciate the advancement of Wichita's aviation industry, you should visit the Mid-America All-Indian Museum. From 1930-1940, Chilocco Indian School provided Native American students a trade, which often included aircraft mechanics and parts manufacturing. Many of these students went on to work for local aircraft companies.
National Aviation Day is also an opportunity to honor the Wichita State University football players, administrators and supporters who lost their lives in a plane crash in 1970. History of Memorial 70 is a place of remembrance on the WSU campus and is open to visitors year-round.

Cleared for takeoff
Keep your eyes peeled for airplanes! Much of Wichita's street art references the city's love of flying. The mural located west of the Garvey Center displays a massive aircraft, Rosie the Riveter is the star of the Moler's Camera mural, and "Fly In For Fun" at 1824 E. Douglas celebrates flight. Plan a self-guided mural tour here. While downtown, stop by Naftzger Park to take your picture in front of an actual airplane wing on display.
Controls at your fingertips
If you're in search of a hands-on learning experience, then Exploration Place is where you should land. The award-wining Design Build Fly exhibit takes visitors behind the scenes of Wichita's aircraft plants. Run a rivet gun. Prove your paper airplane skills. Step inside a jet's cockpit.
Descend to dining
For aviation enthusiasts, there is no place better to enjoy a meal than Stearman Field Bar & Grill. The open-air patio draws a crowd excited to watch the traffic of the private airport while dining on menu times such as Kickin' Pilot Potatoes or the Flyover Philly Cheesesteak. Sit back, relax, and enjoy the Happy Hour drink specials as bi-planes and Cessnas take off and land.
It's not every day that you get to taste a delicious meal and have a cocktail with aviation artwork as the backdrop, unless you're dining at 6S Steakhouse. The memorable dining room gives honors the city's heritage with aviation-inspired decor. For those looking to experience fine dining on the city's east side, the Scotch & Sirloin impresses with its world-class interior featuring aviation references.
Shopping in range
The Aviator's Attic at Yingling Aviation is the best place to shop for pilot perfect gifts. Not only does the store carry clothing and home decor, but they sell everything a pilot needs to be flight-ready from instructional books to headsets. They also sell sunglasses, clothing, and home decor perfect for airplane lovers.
Smooth landing
When you're ready to call it a day and retreat to your hotel, even lodging in Wichita reflects the city's love for aviation. Impressive artwork donning aircraft can be found at the Homewood Suites by Hilton @ The Waterfront in east Wichita and the Wingate by Wyndham Wichita Airport.
As Wichitans, we're proud of our aviation history and the many places around the city that preserve it. Enjoy exploring in the Air Capital of the World!