After two years playing at Eck Stadium on the Wichita State University campus, the National Baseball Congress World Series will again be played this summer in downtown Wichita, where the annual event has been played for nine decades.
Over that time, the annual event has built a national reputation while becoming one of the longest-running sporting events in the United States. The 87th NBC World Series, powered by Evergy, runs Aug. 4-14. The first five days (Aug. 4-8) will be played at Hobart-Detter Field in Hutchinson, about 50 miles northwest of Wichita, and championship week, Aug. 9-14, will be at Wichita's new Riverfront Stadium.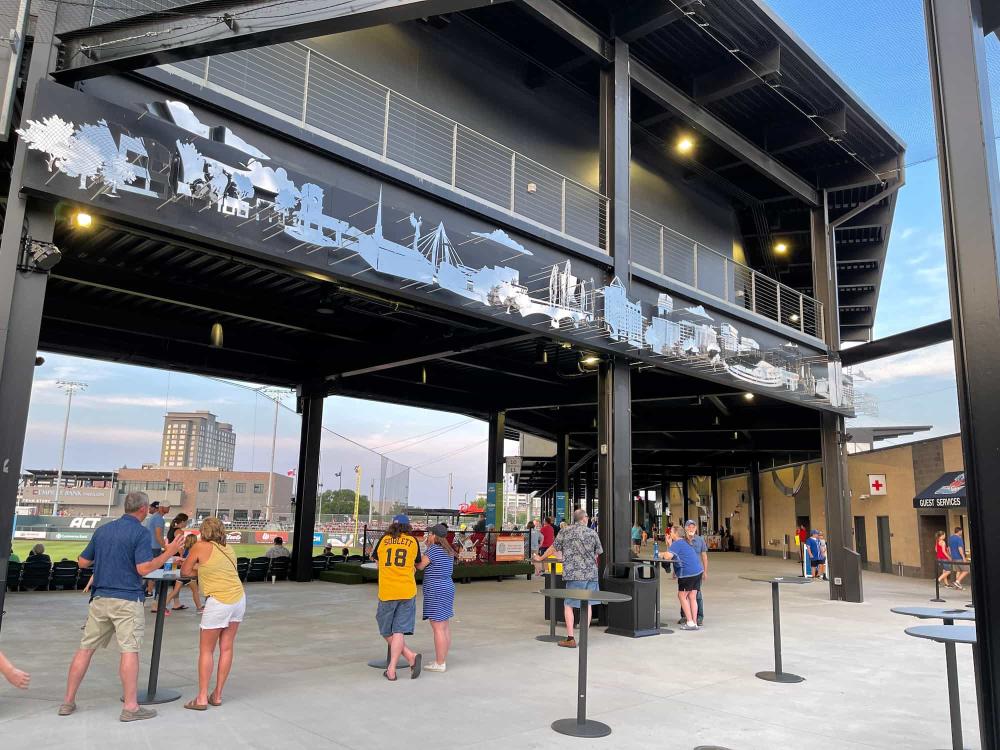 Baseball fans enjoy concessions in the concourse at Riverfront Stadium
Construction of the new stadium and the global pandemic caused the World Series to be played at venues away from downtown in 2019 and 2020. Lawrence-Dumont Stadium was demolished in late 2018 after 84 years to make way for a new minor league ballpark, which was built to Triple-A Minor League Baseball standards and is home to the Wichita Wind Surge, the Double-A affiliate of the Minnesota Twins.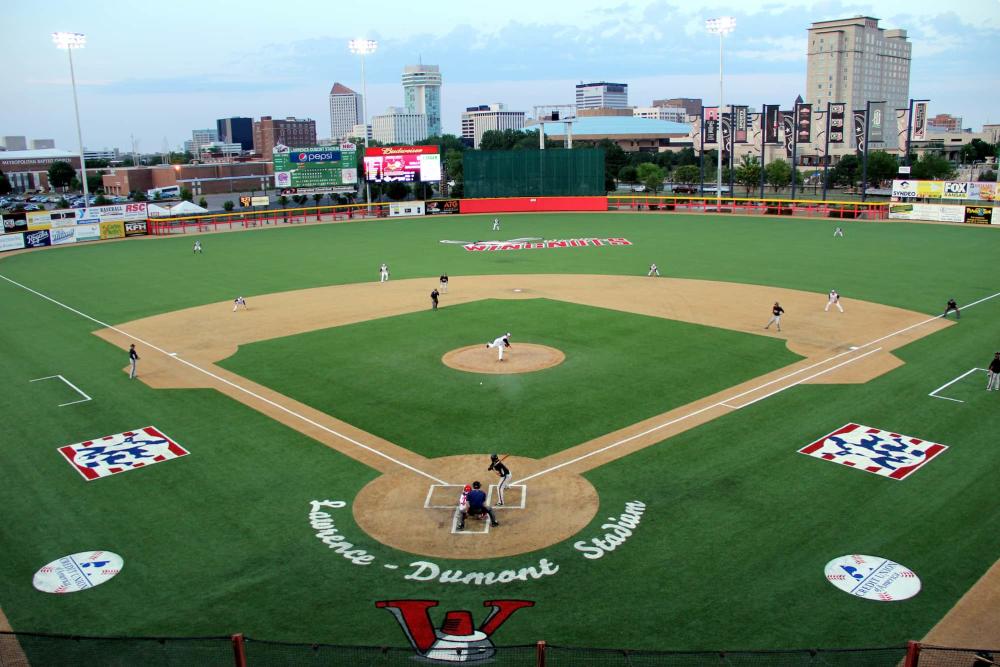 NBC World Series at Lawrence-Dumont Stadium in Wichita
In 1934, sporting goods salesman Raymond "Hap" Dumont convinced the city of Wichita to build a new stadium (which later was named after him) in order to host a national baseball tournament. The first NBC tournament was a huge risk on his part, as similar tournaments had failed on both coasts. Securing Satchel Paige – considered the greatest pitcher of the day – that first year helped make the tournament an instant success. Paige struck out 60 batters and won four games, garnering national media coverage for the tournament.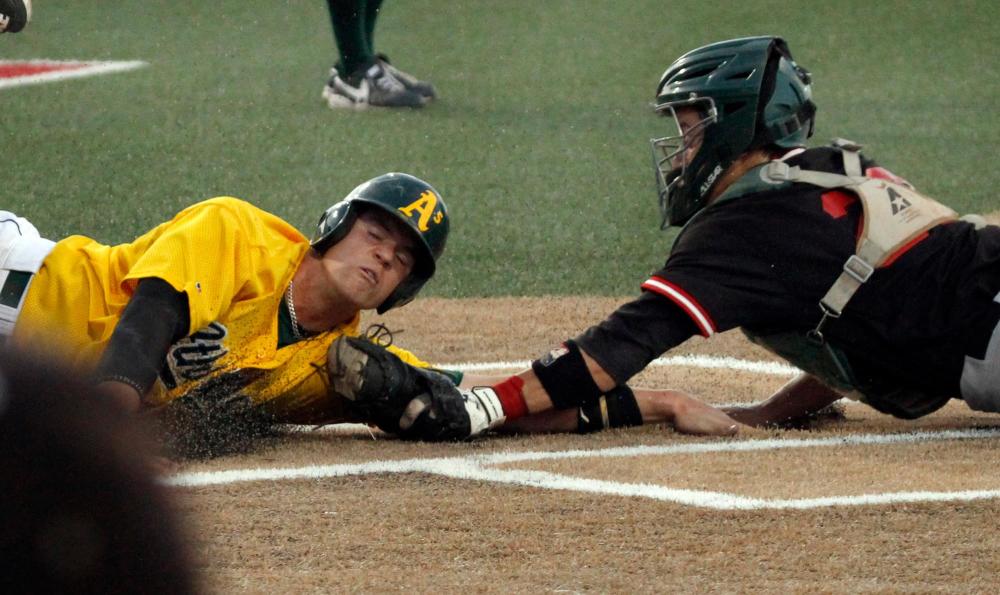 An Arvada player slides home while a Dodge City catcher tries to tag during the NBC World Series
Elite amateur, collegiate and semi-pro teams have come to Wichita every year since then for what regulars simply call the NBC. The event showcases the best of the best competing for a national championship. More than 800 NBC World Series players have gone on to play Major League Baseball, including current stars Tim Anderson, Paul Goldschmidt, Aaron Judge and Albert Pujols.
Here's a primer that will help you enjoy the nation's premier amateur baseball event in Wichita this summer:
2021 NBC Format
Organizers are planning on a field of 16 teams, including league champions and independent at-large teams invited from across the country. The eight teams who win two games in Hutchinson will advance to championship week in Wichita, where game times are 6 p.m. and 8:30 p.m.
Tickets
During championship week, one ticket allows admission to each night's double-header. You can purchase season tickets for both NBC sites or individual game tickets. Prices range from $12-$15 for individual tickets and season passes for games at Riverfront Stadium start at $70 per person. These prices are inclusive of all fees and taxes. Tickets are on sale now.

There are three levels of seating: open seating (Sections 1-8 and 14-21 as well as the berm areas), premium reserved (dugout to dugout, or Sections 9-13) and premium hospitality areas with extra amenities: loge boxes for four, suites, seats in the Fidelity Bank Bravely Onward Club, Dillon's Picnic Patio, Coors Light Party Porch and Emprise Bank Pavilion.
Promotions
Watch for six days of fun promotions at Riverfront Stadium. Kevin Jenks, NBC World Series Director and Director of Community Partnerships for the Greater Wichita Area Sports Commission, said his team will soon announce on social media and the NBC website details of nightly promotions and in-game giveaways.

One tradition that has already been renewed: Any youth player wearing a little league jersey receives free admission with an adult paid admission at both sites.
Riverfront Stadium Protocols
Riverfront Stadium is a cashless venue – credit/debit and mobile payments are accepted, and there are two cash-to-card kiosks in the ballpark where fans can exchange their cash for a prepaid debit card for no fee.

The stadium has a clear bag policy. There are exceptions for clutches under 6.5" x 4.5", diaper bags and medical bags.

No outside food and beverage is allowed with the exception of one 16 ounce or smaller factory sealed water bottle per person.
Parking
With more than 9,000 parking spaces near Riverfront Stadium and along public transportation routes such as the downtown Q-Line, visitors can find plenty of parking for events. The stadium is conveniently located and accessible by walking from Delano and Downtown via two bridges with pedestrian lanes over the Arkansas River. Use this map to locate parking options and to see which are free and which have a fee.
Make plans now to attend the NBC World Series and spend time in the neighboring Historic Delano District before and after the games. Learn more about the stadium by reading our Guide to Riverfront Stadium and the Wichita Wind Surge.