With more than 30 museums in Wichita, there is always an amazing array of new exhibits to explore in the largest city in Kansas. All of our museums are affordable and several Wichita museums offer free admission, including the Ulrich Museum of Art (free daily) and Wichita Art Museum (free on Saturdays).
Here's a look at new and upcoming exhibitions that will open during the first quarter of 2018:
Wichita Art Museum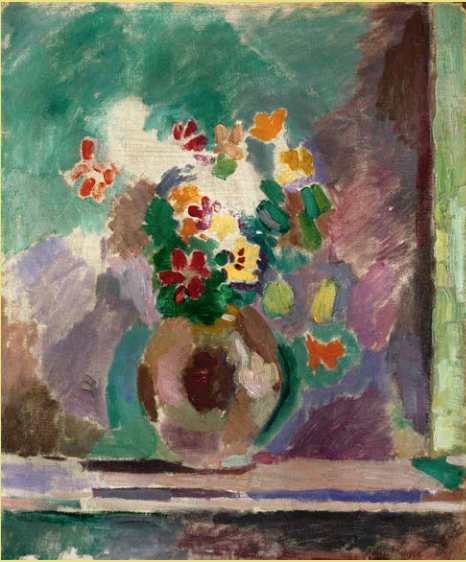 The Wichita Art Museum's major spring exhibit offers visitors a rare treat: the chance for firsthand encounters with the artists who pioneered modernism. "Monet to Matisse: French Moderns from the Brooklyn Museum, 1850–1950" runs Feb. 24 through May 20.
In the 19th century through World War II, ​Paris was the center of the art world. The revolution of artistic modernism was consequently centered in France, with artists of many countries active and contributing to dynamic change. "Monet to Matisse" showcases 59 masterworks from the distinguished Brooklyn Museum collection of French modernism.
"Monet to Matisse" will reflect the key artistic movements that emerged in Paris during 1850 to 1950 and wholly transformed the Western art world. Impressionism, symbolism, fauvism, cubism and surrealism are explored in the work of such leading artists as Paul Cézanne, Marc Chagall, Edgar Degas, Henri Matisse, Claude Monet and Pierre-August Renoir.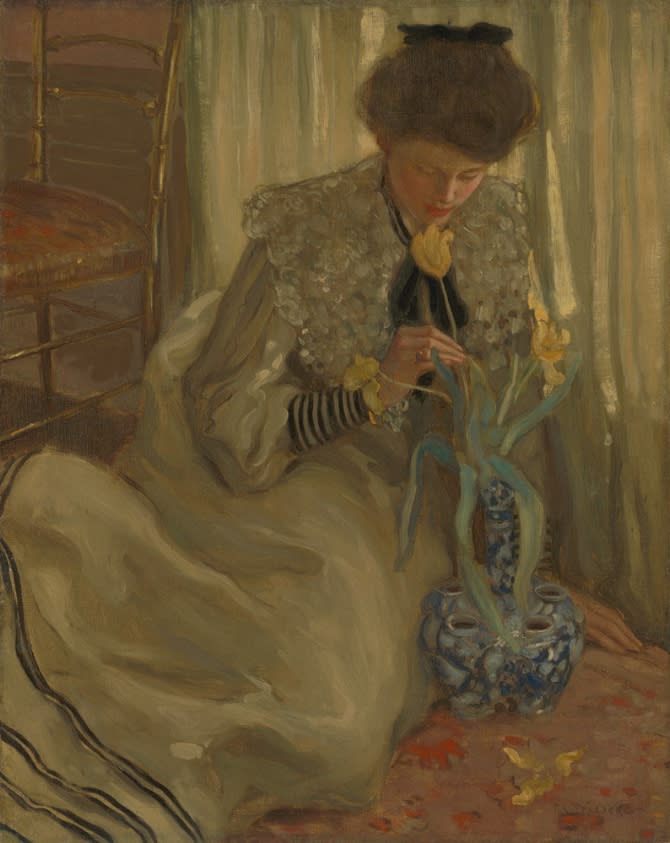 Complementing this traveling exhibit is an exhibit showcasing gems from Wichita Art Museum's prized American art collection to reflect the vital cultural phenomenon of Americans in Paris. "Americans in Paris: The French Connection from the Wichita Art Museum Collection" opened in December and will run through June 17.
Paris was the capital of the art world in the 19th century and any ambitious American artist needed to spend time in Europe. A period of residence on the continent was a simple requirement for worldly sophistication for Americans in the arts and upper class.
The experience of Paris transformed American art. Writer Henry James astutely observed in 1887, "When today we look for 'American art,' we find it mainly in Paris. When we find it out of Paris, we at least find a great deal of Paris in it."
Painter Mary Cassatt spent her adult life in the French capital and was fully accepted into the ranks of French impressionism. Theodore Robinson settled in Giverny and developed a close relationship with the older Claude Monet. Modernist Alfred Maurer spent years in Paris and became an intimate in the Paris scene, even taking private training with Henri Matisse.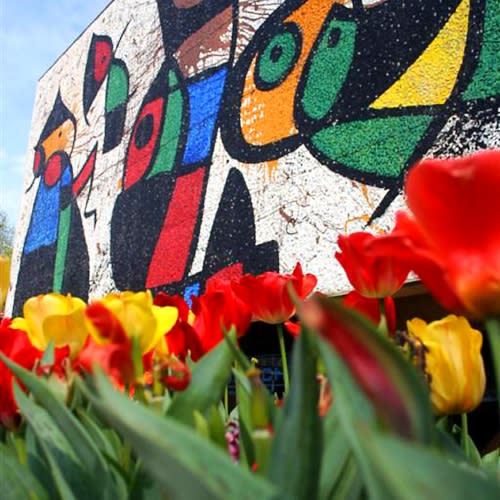 Ulrich Museum of Art at Wichita State University
The Ulrich Museum of Art at Wichita State University focuses on modern and contemporary art and has two exhibitions opening this month.
"We the People: American Art of Social Concern" runs Jan. 20-March 25 in the Polk/Wilson Gallery. We live in a time of heightened awareness of the broad injustices within our society. Despite the fact that the United States of America was founded on the principle of equal rights for all citizens, the definition of "all citizens" has shifted over our history. Race, gender and ownership of property have been some of the qualifiers used to deny people equal rights and protections under our Constitution.
Since the mid-19th century, artists have voiced the need for greater awareness and progress toward addressing social concerns such as sexism, economic inequality and political corruption. The works of art presented in "We the People" span from the McCarthy era of the 1950s and continue to the controversies of today. The exhibition is drawn from the extensive permanent collection of the Ulrich Museum—now numbering almost 7,000 works of art—and is collaboratively curated and presented by Ulrich Director Bob Workman, WSU School of Art, Design & Creative Industries Assistant Professor Dr. Brittany Lockard and the 11 students in the fall 2017 class "Realism/Activism/American Art."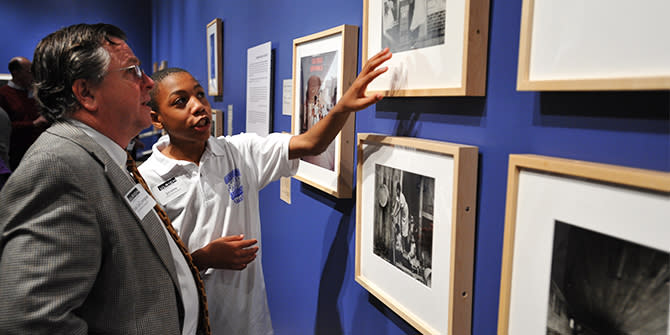 "Piero Golia: Solutions to Mortality" also opens Jan. 20 and runs through April 1 in the Grafly Gallery. The Ulrich Museum is home to more than 600 works by the artist Charles M. Grafly, including drawings on paper, paintings, plaster casts and bronzes. Beginning in the fall of 2016, the museum has invited artists to respond to this collection within the context of the Grafly residency, wherein they will produce works that will help to place Grafly's work in conversation with contemporary art.
Los Angeles-based artist Piero Golia engages with such themes as community, the absurd and the prospect of chance. Much of his work in sculpture, painting and installation is infused with humor and a lyrical romanticism. During his Grafly residency, he will respond to the namesake's practice while interrogating the site of the Grafly Gallery itself. The limits of the gallery's architecture, its proximity to both the Grafly Sculpture Garden and the School of Art, Design and Creative Industries, as well as its existence within an academic museum are all elements that will inform the artist's creation of a new, site-specific body of work while he considers the reactions to it by those who will be the main viewers of the work: the students of WSU.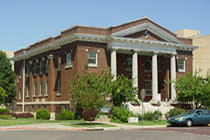 The Kansas African American Museum
The Kansas African American Museum recently unveiled its latest exhibit, "The Fine Art of Samella Lewis," which will run through May 5. Dr. Samella S. Lewis has devoted her career to art, its history and the African-American artist's relationship to it. She is an advocate, creating opportunities for under-served African-American artists to exhibit their work by curating art exhibits throughout the world. Lewis is also an artist, art educator and writer. This exhibition includes more than 50 works by Lewis that were inspired by African cultural heritage and executed beautifully in all drawing media: graphite, pen and ink, charcoal, acrylic, printmaking, oil and oil crayon.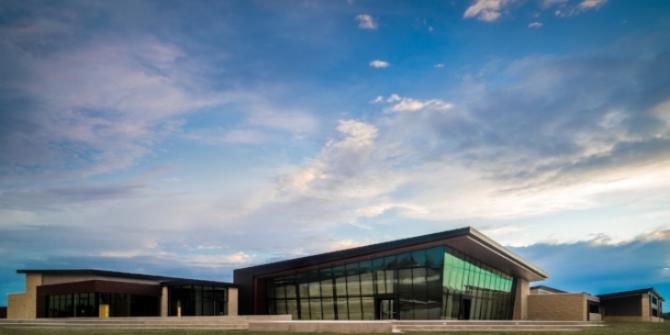 Mark Arts
Mark Arts' new $20 million Mary R. Koch Arts Center opened Jan. 6 and the inaugural exhibit in its centerpiece 5,800-square-foot Gladys and Karl T. Wiedemann Gallery is the "Mark Arts Kansas Invitational." The exhibit features works by prominent artists who have lived or worked in Kansas. More than 100 high-caliber pieces have arrived from as far away as New York City and Italy. The vast array of works include abstract, realism, landscape and portraits in a variety of mediums such as oil, acrylic, watercolor, photography, printmaking, mixed media, ceramics and sculpture. There is something for everyone's unique aesthetic in a variety of price ranges.
"Mark Arts Kansas Invitational" runs through March 25 and will be replaced on March 31 with the "Abstract National Exhibition" that will run through July 8.
Gallery admission will remain free at the new center, which opens for regular hours starting Jan. 8.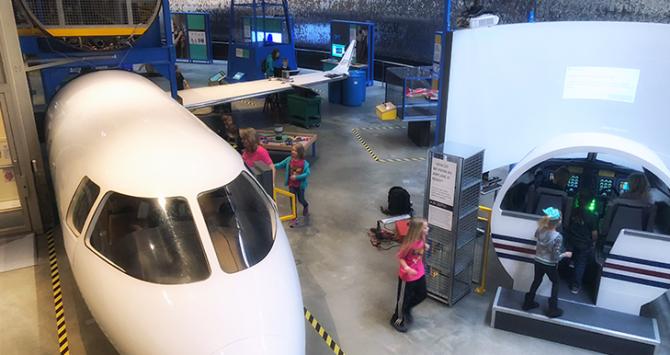 Exploration Place
In December 2017, Exploration Place opened the most dramatic exhibit renovation since the interactive science center opened in 2000. Click here to read all about Design Build Fly, a new 5,100-square-foot permanent exhibit that showcases Wichita's innovation and manufacturing aptitude in the aviation industry.

Each year, Exploration Place also hosts at least two national traveling exhibits, which are included with general admission. First up this year is "Rescue," which will run Jan. 20 through May 6. Created by the renowned Scitech in Perth, Australia, this exhibition answers the following questions: What does a rescue scenario really involve? Who are the teams who put themselves in these dangerous situations? And do we really know what to do if we find ourselves in need of rescuing?
Rescue operations require a high level of training and are undertaken by specialist rescue squads. "Rescue" delves into this world, exploring topics related to rescue techniques, emergency supplies and equipment. Visitors can engage with
simulated high-intensity rescue scenarios in air, on land and at sea. Fly a life-sized rescue helicopter simulator, escape a "burning" building, navigate obstacles on a jet ski to rescue a swimmer in trouble, and more.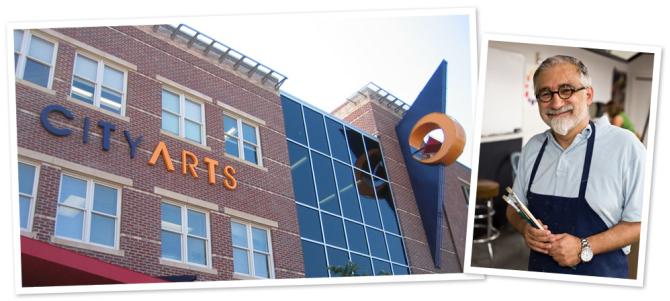 CityArts
CityArts, the city-run arts center, started its 20th year with a special exhibit: "20 artists/20 years" that runs through Jan. 20. The exhibit showcases work by 20 artists who exhibited at CityArts during its formative years. Artists include: Charles Baughman, Marc Bosworth, Chris Brunner, Curt Clonts, Judy Dove, Rosemary Dugan, Dan Gegen, Christopher Gulick, Brad Hart, Diane Lincoln (in memoriam), Kevin Mullins, Steve Murillo, Veronica Remaly, Ann Resnick, Linda Robinson, Gino Salerno, Jenny Wallace, Mary Werner, Martha Wherry and Kent Williams.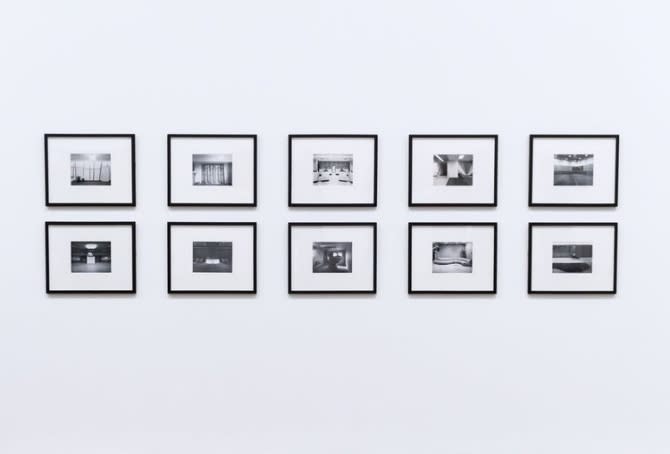 Also in honor of its 20th artiversary, CityArts is hosting a month-long gallery-style silent auction. The main gallery will be full of donated pieces from past exhibiting artists to be auctioned off, with proceeds funding CityArts' scholarship program. The "Off the Wall Silent Art Auction" will be on display March 30-April 21.
Other art on exhibit during the first quarter of 2018 includes:
From Jan. 27-Feb. 17: "Red Stripe" by William Counter, "Surface Tension: Tibbs Glass Art" by Chad Droegemeier, "Barns of the Kansas Prairie" by Clyde Engert and "Flowers, Sins, Dogs and Me" by Dan Kirchhefer.
From Feb. 23-March 24: "A Still Path" by Rob Compton, "In My Solitude" by Jan Klassen, "Active Imagination" by Lori Wright and "Nature Inspired" by Tracie Lyn Huskamp.
From March 30-April 21: "Trent's Views" by Trent Landreth, "USD 259 Instructor Art Show" and "Off the Wall Silent Art Auction" (see above).