When outdoors, it's important to remain diligent in practicing appropriate safety protocols to ensure public safety. As with all outdoor activities, practice social distancing and observe safe habits as outlined by the CDC. See more COVID-19 safety tips below.
We understand there is no better way to flatten the curve than to stay at home. However, we empathize with the need to get some fresh air every now and then. If you're looking to switch up your usual neighborhood stroll or get some exercise, consider these ideas the next time you're looking for a safe outdoor activity.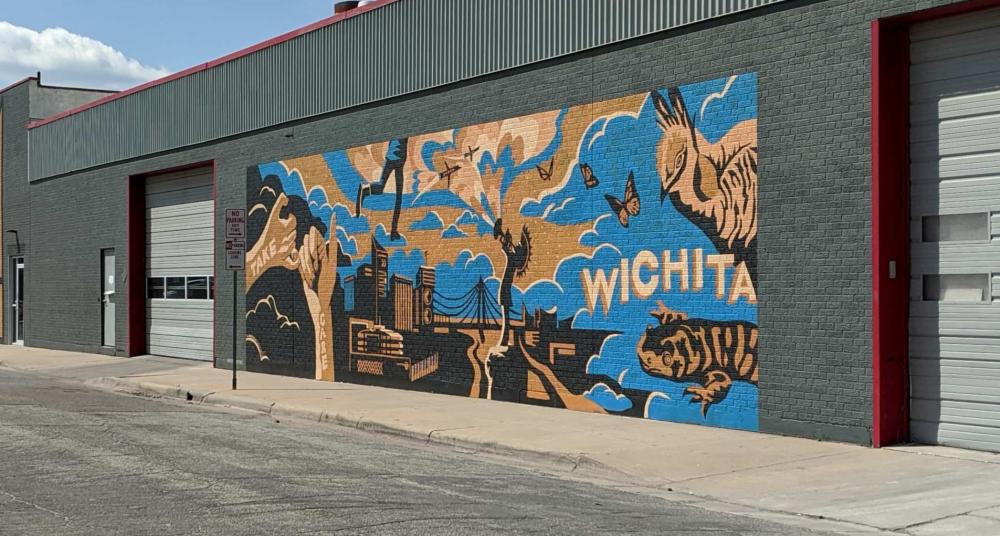 Self-guided Mural Driving Tours
Wichita has seen an influx of murals throughout the community over the last few years. Projects like Avenue Art Days and Horizontes have inspired local and traveling artists to enliven our neighborhoods with vibrant creations.
Explore our gallery of some of the most photogenic murals around Wichita, and visit your favorites with a driving tour using this map of over 100 murals that includes GLeo's largest mural in the world painted by a single artist and Personnages Oiseaux by Joan Miró.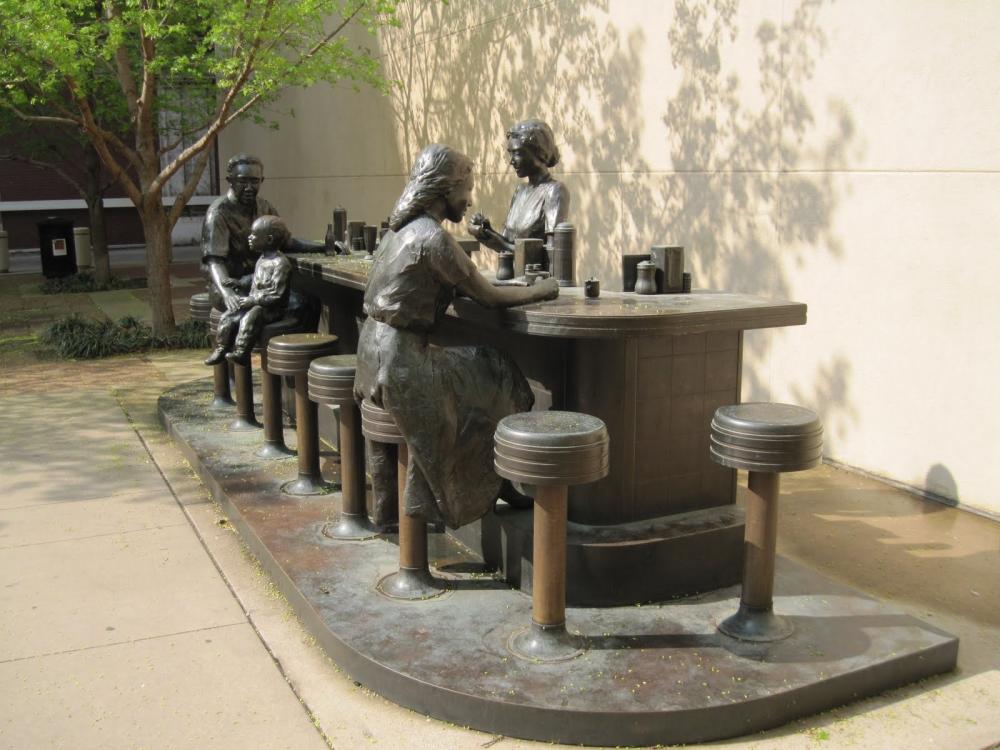 Public Art Installations
You can also explore Wichita's art scene by taking a driving tour of public art installations in Wichita. In a four-block area in the heart of downtown Wichita, you'll find a collection of 31 lifelike bronze sculptures by Washington artist Georgia Gerber. They range from animals to a street musician to a woman and boy pointing up at a building.
The largest sculpture is in Chester I. Lewis Reflection Square Park, on Douglas Avenue between Market and Broadway streets, where a Woolworth five-and-dime store once stood. The sculpture re-creates a soda fountain that might have been in the store, with a man and a boy sitting at two stools and a woman behind the counter. While the artist said the sculpture was not made to memorialize the 1958 anti-segregation lunch counter sit-ins that took place nearby, she did consider the events and "the black man and his grandson were placed at the counter as an intentional acknowledgment of the Dockum Drug Store sit-ins and the peaceful integration it brought about."
Other unique public art to view in Wichita includes the many Keepers on Parade and Dreamers Awake, a giant bronze sculpture outside of the Wichita Art Museum by artist Tom Otterness, who was born in Wichita in 1952 and is today considered one of America's most prolific public artists.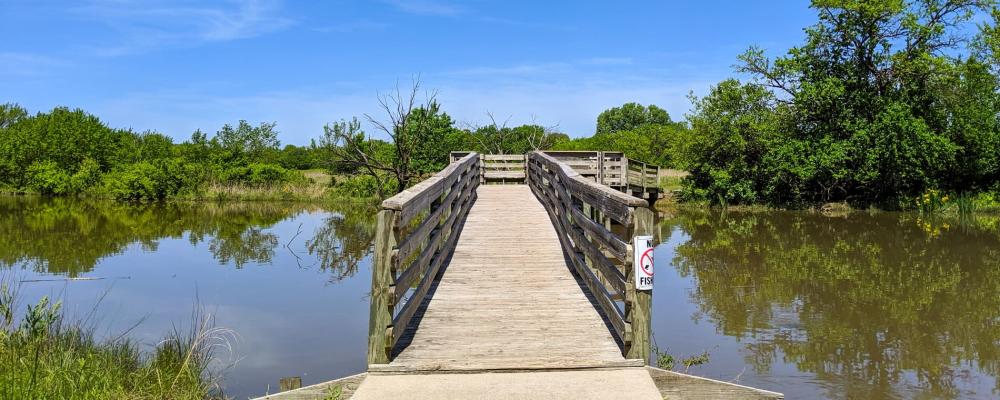 Biking and Walking
Wichita offers up a variety of ways to enjoy the outdoors, including more than 140 parks and greenways covering more than 5,000 acres. Bike Walk Wichita has many resources for walking and biking the city. You can download the Bike Walk Wichita app for free to access its collection of self-guided walks and rides, complete with points of interest and historical information to enjoy as you explore. To ensure public safety, it is best to use personal bikes at this time. While Bike Share ICT is temporarily suspended, many local bike shops remain open for business.
Although the Great Plains Nature Center's office is closed, the Chisholm Creek Park is still open to explore the 2.5 miles of paved trails through restored ponds, woodlands, wetlands, and prairies.
The Wichita Public Library offers the PocketSights app, which allows users to explore Wichita's history with the Wichita History Walk. After you download the app, you can explore the historical sites as you stroll along Douglas Avenue. The app will send alerts to sites that have historic significance, including images and a story with audio narration. Images are from the Wichita Public Library's photo archives and other local sources.
Kansas State Parks
Additionally, fishing lakes and wildlife areas at Kansas State Parks are open to the public, including campgrounds and boat ramps. With 28 state parks, there is an endless amount of outdoor adventure. All park offices are temporarily closed to the public, but staff will answer the phone during regular business hours.
More safety tips to keep in mind:
Keep at least 6 feet from other people at all times.
No groups of 10 or more. No exceptions.
Do not use parks or trails if you have symptoms of COVID-19 (fever, coughing, shortness of breath).
Dog parks are closed. Keep dogs on leashes.
Share the trail and warn other users of your presence as you pass.
Wash hands often.
Remember: Playgrounds are closed and there may be limited access to public restrooms or water fountains.