To assist with public safety, please remain diligent in adhering to safe practices outlined by the CDC like wearing a face covering and social distancing when out in the community and stay home if you feel ill. We recommend confirming details and verifying requirements and/or safety procedures for guests before visiting a local shop, attraction, eatery or other business. 
 
Wondering who serves made-fresh, tasty soup in Wichita? There's no shortage of restaurants in Wichita ladling cups of comfort and warmth this winter. Here are 13 Wichita restaurants with soups made from scratch.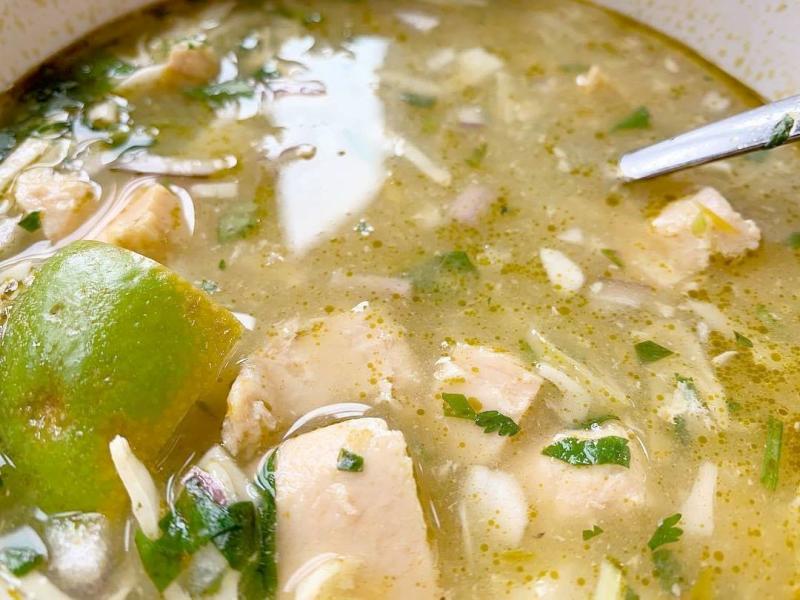 The Anchor
In addition to towering sandwiches and fresh-from-the-butcher burgers, The Anchor's house chili is made fresh daily, and they have popular rotating specials, from a homestyle pozole verde to cheeseburger soup to chicken peanut curry.
Bagatelle Bakery
This family-owned bakery offers two delicious homemade soups daily and serves them with fresh baked bread. Bagatelle Bakery's loyal customers watch Facebook for the daily offerings, which can include seafood gumbo, chicken and rice, broccoli and cheese, vegetable beef and other homestyle creations.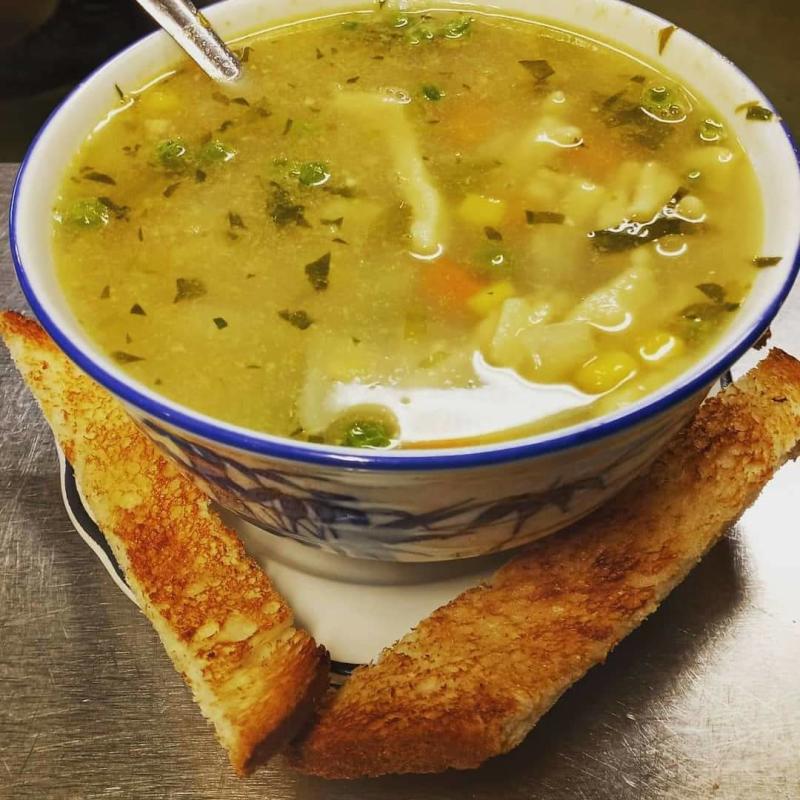 Beautiful Day Café
All of the dishes at Beautiful Day Café are made from fresh and locally-sourced ingredients, including their savory and flavorful soups. Try their sweet potato curry or chicken noodle alongside a sandwich or all-day breakfast menu item and enjoy organic food packed with nutritional value and amazing flavor.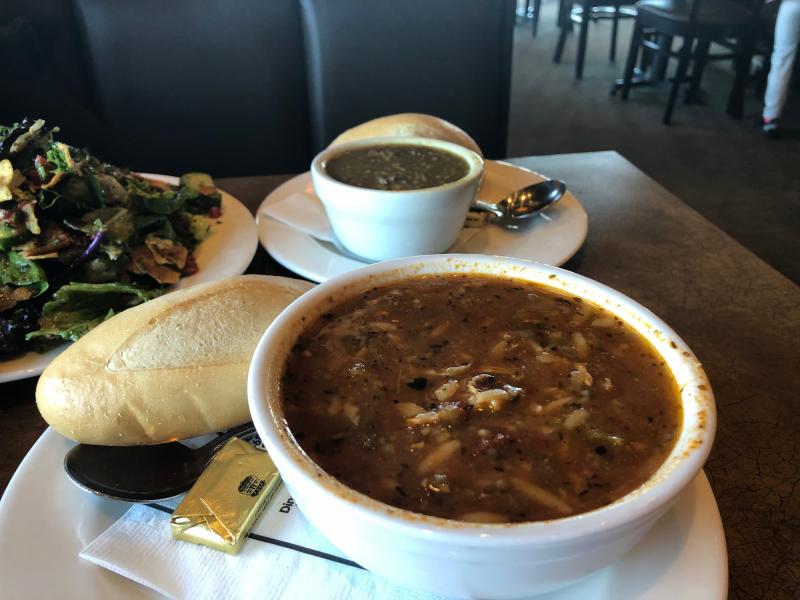 Bella Luna
You'll find at least four soups on the menu at Bella Luna Café (northeast and northwest locations) cream of mushroom, lentil, tomato bisque and a chicken gumbo. All of Bella Luna's soups pair nicely with their hearty salads, like the Greek salad with mixed greens, tomatoes, cucumbers, pimentos, feta cheese, Kalamata olives and creamy cracked pepper dressing.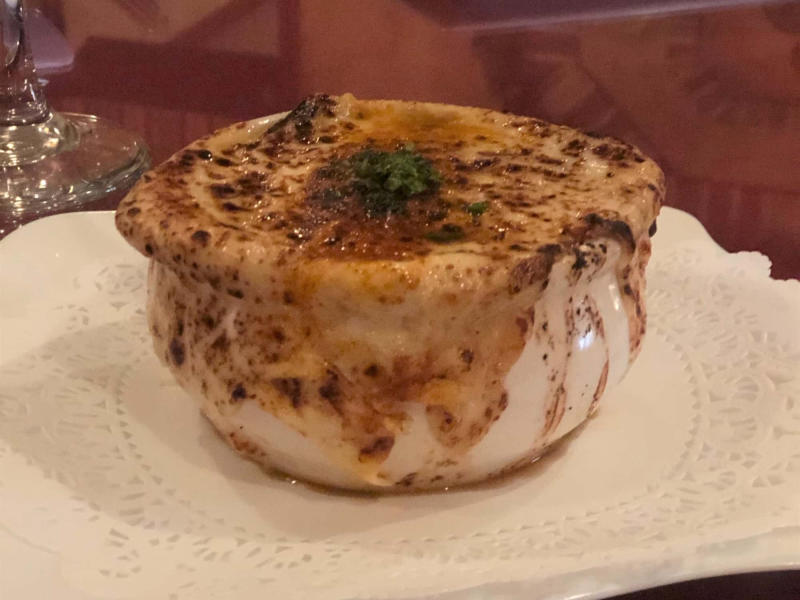 Bella Vita Bistro
Known for its homemade and traditional Italian cuisine, Bella Vita Bistro also has heart-warming soups. Along with daily specials at Bella Vita Bistro, you'll find a Tuscany onion soup: slow-roasted sweet onion and a rich Sherry broth topped with toasted bread and melted cheese.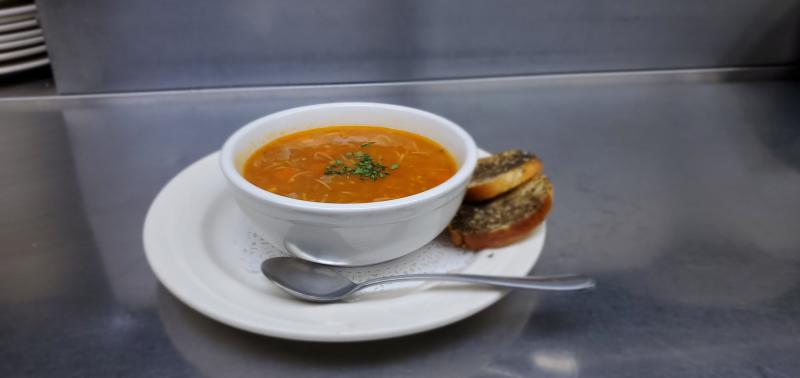 Café Bel Ami
Find a steady rotation of scratch recipe soups to pair with fresh salads and unique French Mediterranean cuisine at Café Bel Ami, from tomato vermicelli with beef to cream of mushroom or cream of asparagus.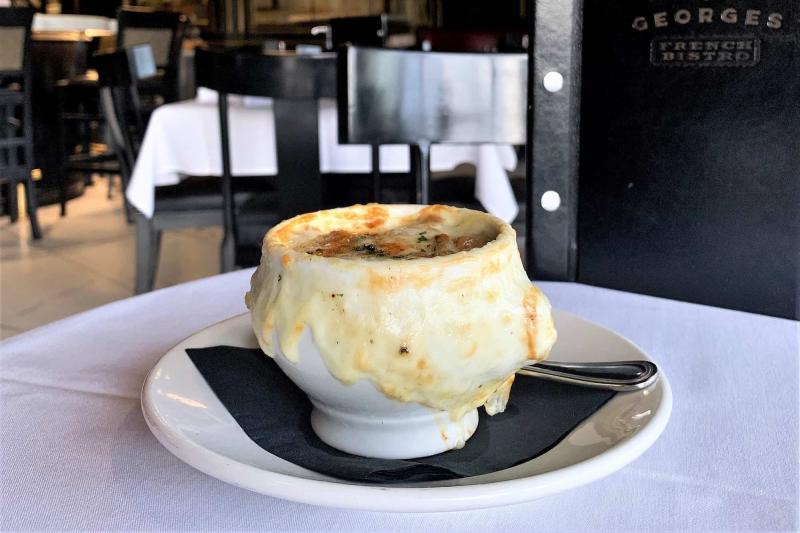 Georges French Bistro 
The rich and comforting French onion soup as well as the tomato bisque are menu mainstays at Georges French Bistro. Pair it with a salad for a light lunch or with one of their delightful French signature dishes for an upscale dinner.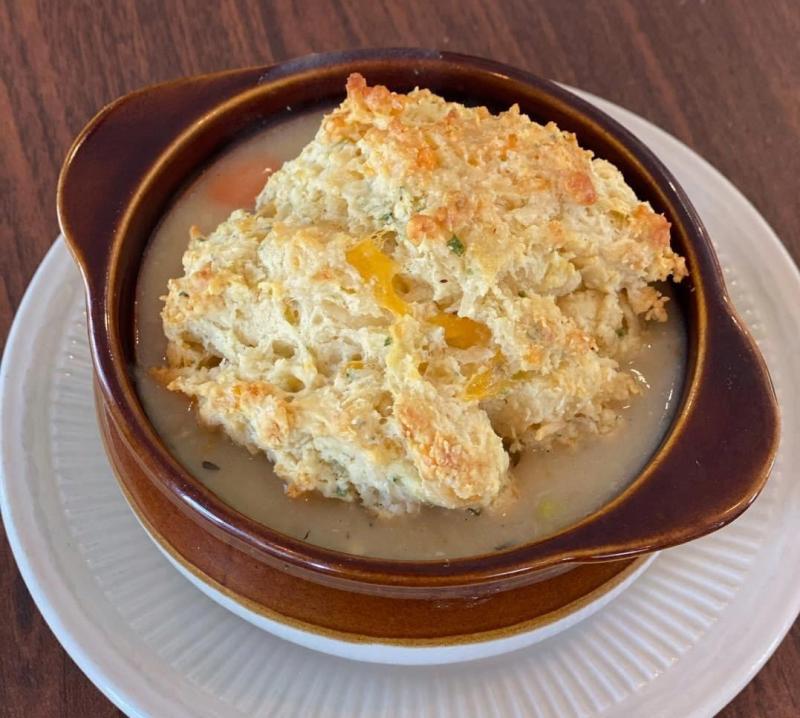 The Kitchen
Look for daily soup specials, like the Chicken Pot Pie soup on Wednesdays, at The Kitchen – all of which are made fresh using seasonal ingredients. Always on the menu is the French onion soup made with a house recipe and featuring caramelized onions, port wine, beef stock, garlic & herb croutons and swiss cheese.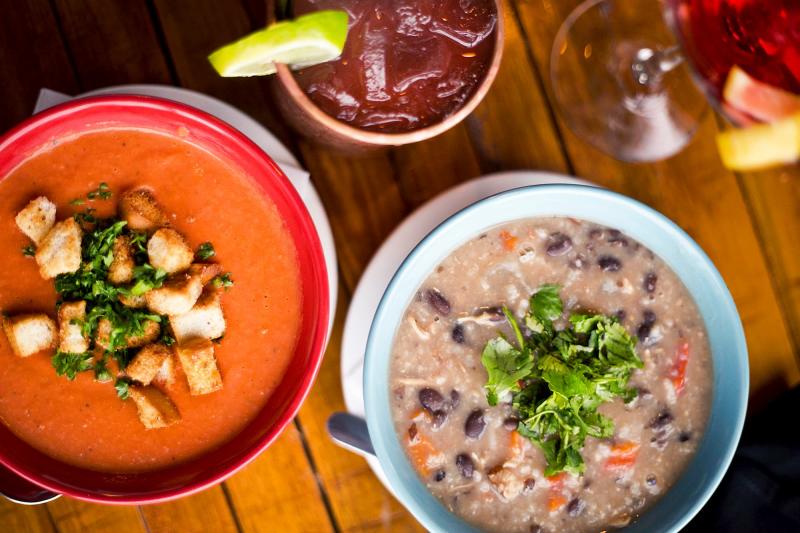 Monarch
The tomato soup is warm, creamy and made in-house daily at Monarch, perfect as a meal or a side to one of Monarch's delicious sandwiches. Expect daily soup specials, too, and celebrate if the mushroom soup is served on the day you're visiting!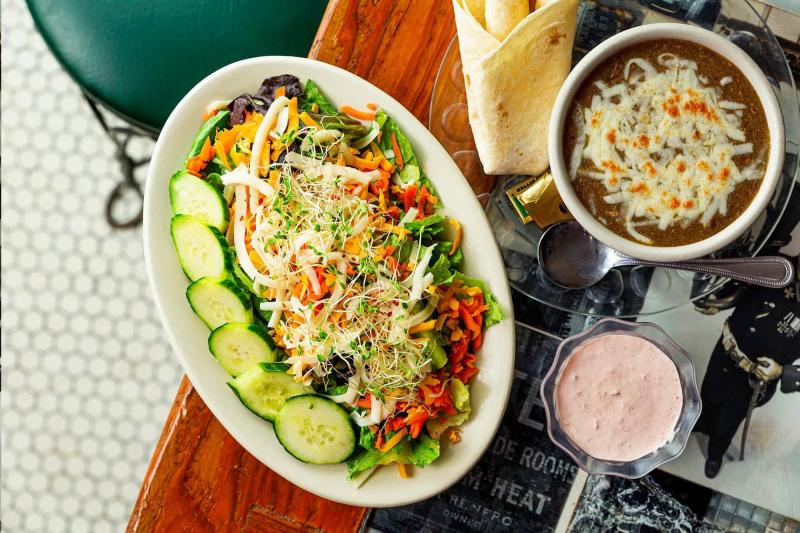 Old Mill Tasty Shop
This time of year, there's always a meat soup, a vegetarian soup and regular chili on the menu at Old Mill Tasty Shop, but the house specialty is green chili topped with cheese and served with a flour tortilla.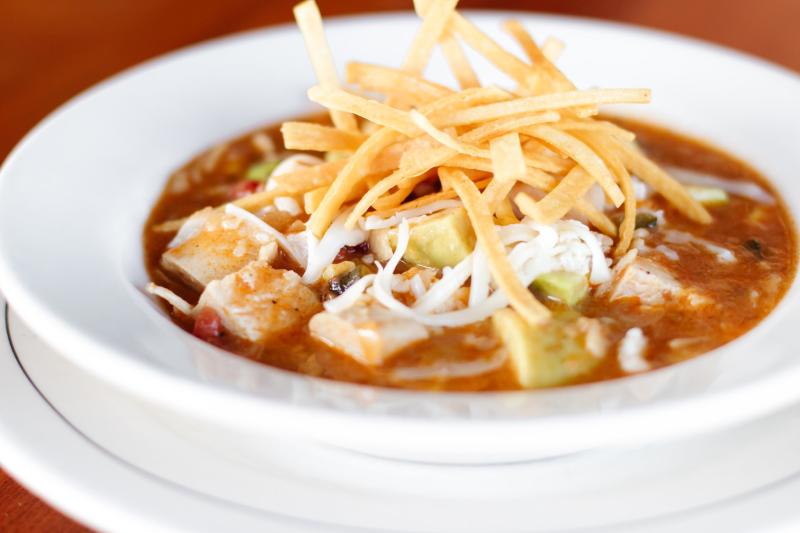 Redrock Canyon Grill
Don't miss the Big Bend Tortilla Soup at Redrock Canyon Grill, either as an appetizer or pair it with a salad for a light meal. It features the restaurant's signature rotisserie chicken with a tasty blend of spices and vegetables.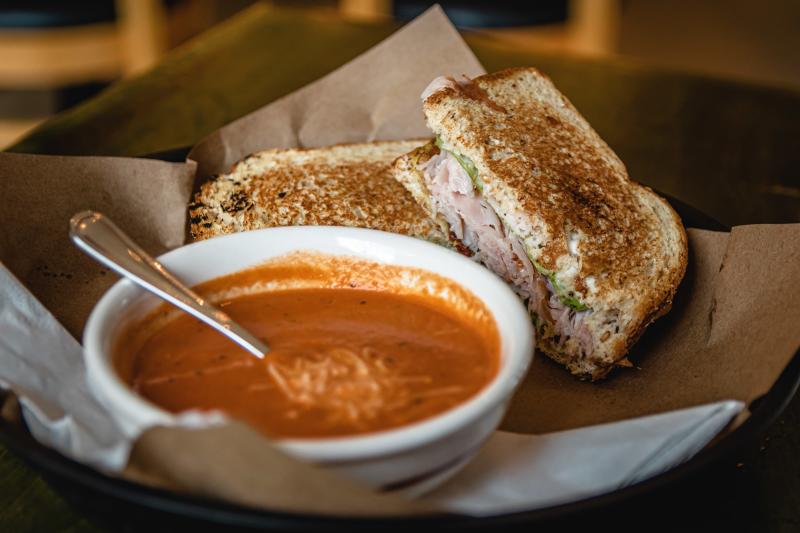 Tanya's Soup Kitchen
Known for their small batch soups, the selection at Tanya's Soup Kitchen changes daily and rotates seasonally based on availability of local ingredients. Vegans, vegetarians and carnivores can all find something they'll like here and if you can't decide, opt for a flight of soups – a sampling of the four daily selections. In season now are the Chicken Ginger Stew and Cajun Green Machine.
Many more of Wichita's 1,200+ restaurants offer homemade soups. Be sure to check out their menus for specials!