Nostalgia, a raucous crowd and more buzzer beaters than the NCAA Tournament.
The Basketball Tournament (TBT) is back in Wichita July 22-25 and an extra quarterfinals game July 27 between the winners of the Wichita and Omaha Regionals at Wichita State University's Charles Koch Arena.
All-session and single-session tickets are on sale now through the Shocker Ticket Office. To order, visit goshockers.com/tickets or dial 316-978-FANS (3267).
TBT games feature the Elam Ending, the end-of-game format that eliminates the game clock after a certain point and features teams playing to a target score.
This means every game ends on a made basket, creating a high-intensity end-of-game experience. Every defensive possession becomes more important and trailing teams don't want to foul to stop the clock.
"The Elam Ending, itself, is entertaining, but our fans have a way of amplifying it," said Isaac Brown, Wichita State University men's basketball coach. "The game-winning shots are great, but what I really like is the sense of anticipation leading up to them. The crowd gets a little louder with every possession and both sides feed off that energy. It's a lot of fun."
No. 1-seed AfterShocks (overall record 4-2) will feature former Shockers Conner Frankamp, Darral Willis, Markis McDuffie, Rashard Kelly, Samajae Haynes-Jones, Shaquille Morris and Zach Brown. They'll be joined by non-WSU alum Tyrus McGee (Iowa State), James Dickey (UNC Greensboro) and James Woodard (Tulsa). McGee joined the AfterShocks last year.
Plenty of former Shockers came out to watch last year's TBT games. Toronto Raptors guard Fred VanVleet, Phoenix Suns Landry Shamet, Cleanthony Early, Toure Murry and Tekele Cotton were all in attendance.
The AfterShocks will face off against No. 8 We Are D3 (0-3), a team comprised of former Division 3 players.
No. 2 Eberlein Drive, one of the few teams remaining from TBT's inaugural tournament in 2014, faces No. 7 Bleed Green, a University of North Texas alumni. Bleed Green has former AfterShocks player Shannon Shorter.
No. 4 Stillwater Stars (Oklahoma State alumni) matchup with No. 5 Air Raiders (Texas Tech). Stillwater Stars erased a 23-point deficit, maybe the most improbable comeback in TBT history, in the fourth quarter of their first TBT victory last year. The Air Raiders feature several players from the 2019 NCAA Tournament Runner-up team, including Zhaire Smith, Matt Mooney, Tariq Owens and Norense Odiase.
No. 3 Purple & Black (Kansas State University alumni) play the No. 6 Lone Star Legends. Purple & Black will feature Jacob Pullen, Bill Walker, Kamau Stokes and Jordan Henriquez. Pullen, the former Wildcat legend, was an All-Big 12 player and helped lead KSU to the Elite 8. Social media buzz suggests former No. 2 NBA Draft pick and Wildcat legend Michael Beasley might suit up.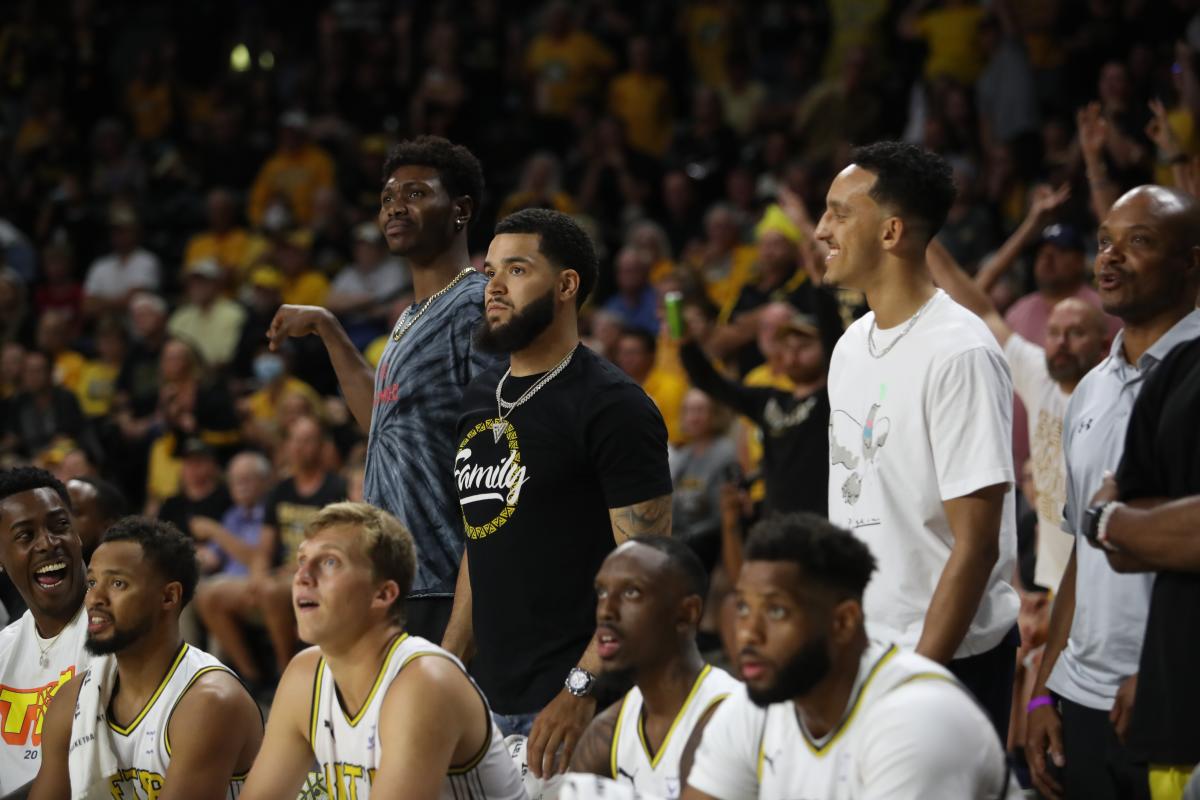 2022 TBT Wichita Regional Schedule
Wichita, Kan. / Charles Koch Arena
First Round // Friday, July 22
G1 -1 p.m. CT – (2) Eberlein Drive vs. (7) Bleed Green (North Texas)
G2 - 3 p.m. CT – (4) Stillwater Stars (Oklahoma State) vs. (5) Air Raiders (Texas Tech)
G3 - 6 p.m. CT – (3) Purple & Black (Kansas State) vs. (6) Lone Star Legends
G4 - 8 p.m. CT – (1) AfterShocks (Wichita State) vs. (8) We Are D3
Second Round // Saturday, July 23
G5 - 5 p.m. CT – Eberlein Drive/Bleed Green vs. Purple & Black/Lone Star Legends
G6 - 7 p.m. CT – Stillwater Stars/Air Raiders vs. AfterShocks/D3
Wichita Regional Championship // Monday, July 25
G7 - 8 p.m. CT -- Winner of Game 5 vs. Game 6
TBT Quarterfinals // Wednesday, July 27
G8 - 7 p.m. CT -- Winner of Wichita Regional vs. Omaha Regional
Wichita is hosting several national sporting events this summer. Find competitive action across the city and throughout the year here.