Baseball fans have eagerly been awaiting the debut season of the Wichita Wind Surge Double-A baseball team and a chance to see a game in the state-of-the-art Riverfront Stadium. But just as exciting for meeting planners, business owners and others looking for unique event space in Wichita, is that the $75 million stadium was built as a multi-purpose venue capable of hosting many other events besides baseball.
The new venue is on the west bank of the Arkansas River in downtown Wichita and has one of the best views of the city's skyline from nearly every spot in the park. There are spaces for as few as 25 people for unique offsite meetings all the way up to large events using the entire facility. Riverfront Stadium can seat 6,500 in the seating bowl plus 3,500 more on berms and picnic areas for a baseball game. As many as 18,000 people can attend a concert or other event when the field is used for sitting or standing.
Wichita Wind Surge staff, who manage the operations of the stadium, know that having unique meeting spaces incorporated throughout Riverfront Stadium will draw everything from in-game group outings to standalone events such as board meetings, weddings and team building exercises. The Visit Wichita sales team is thrilled to have new inventory for meeting and event planners looking to book space in Wichita.
"Riverfront Stadium gives us additional hosting capacity for sports event planners considering Wichita for their events and it adds a new element for meeting and event planners shopping for potential host sites," said Josh Howell, Vice President of Sports Development for Visit Wichita. "New facilities with flexible options, one of the best views in Wichita and the fun, vibrant Historic Delano District just outside the stadium allows event planners across industries to create unique experiences for their clients and attendees. Riverfront Stadium will help position Wichita as a must-visit Midwest destination to host successful events."
The stadium has an in-house food and beverage team that offers upscale menu items in the suites and for special events at Riverfront Stadium.
Spaces Available at Riverfront Stadium
 
Fidelity Bank Bravely Onward Club
300-Person Capacity | 5,478 square feet
This elegant banquet room overlooks the third base line and can hold up to 300 guests. The eight TVs and audio system allow for business meeting presentations, wedding videos or awards banquets. The 5,478 square-feet space may be set up in classroom, theater or banquet setting and also comes with a full bar and professional bar attendants.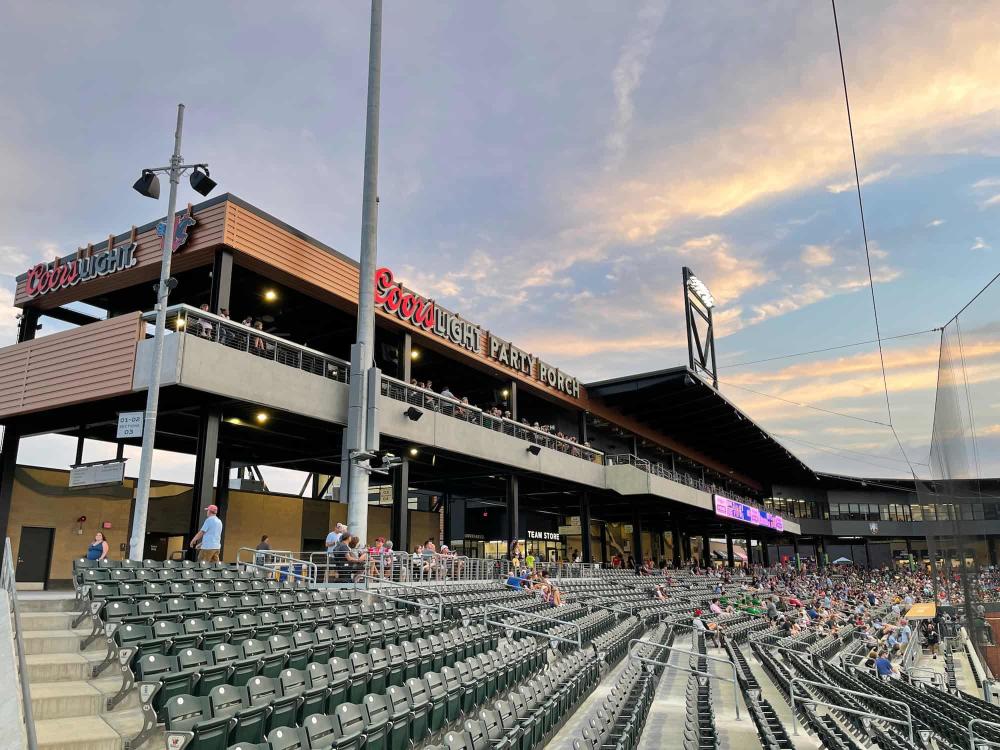 Coors Light Party Porch
305-Person Capacity | 3,566 square feet
This area on the club level of the first base side of Riverfront Stadium has an incredible view of the field, the river and Wichita's downtown skyline, making it a great event space on game day or any other day when you need a venue for a relaxed corporate meeting and/or a social mixer.
The Coors Light Party Porch is one of the best vantage points to take in a game and offers a fun atmosphere for social groups. There is rail seating, high top tables and outdoor patio furniture. During a game, tickets include access to a two-hour dinner buffet, complimentary non-alcoholic beverages and a full-service bar. You can reserve seats here during a game for a minimum of 50 people and as many as 200; you'll have the party porch exclusively when you book for at least 150 people during a game.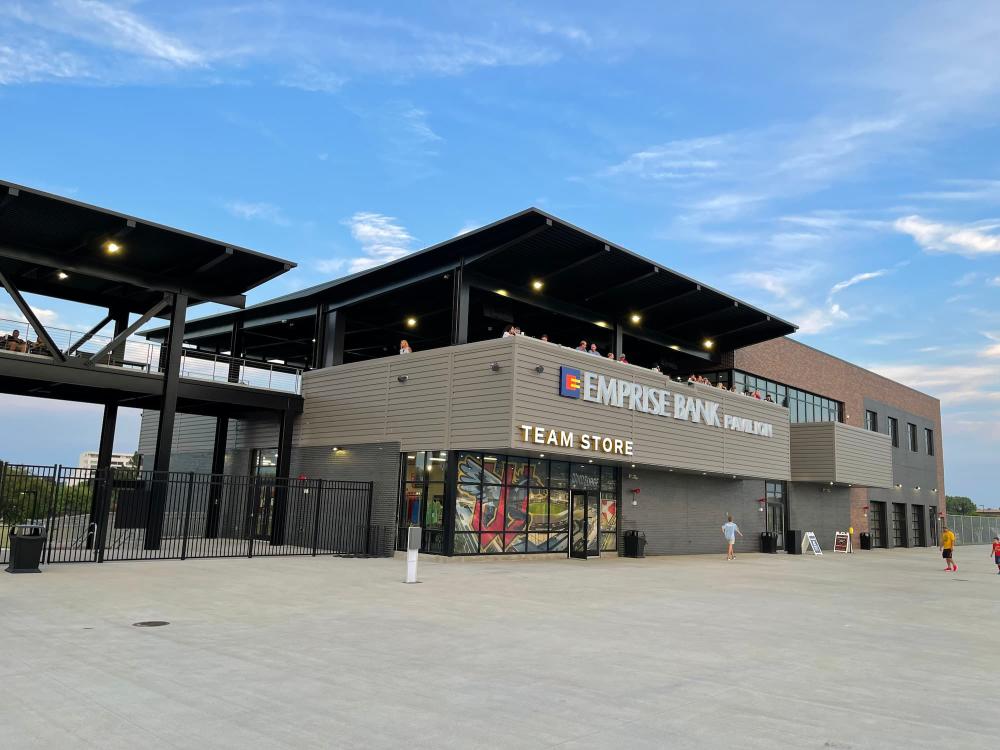 Emprise Bank Pavilion
340-Person Capacity | 4,577 square feet
The Emprise Bank Pavilion is in center field at Riverfront Stadium and offers premium-level group hospitality. The pavilion can hold groups up to 250 people and provides a social atmosphere with an amazing view of the field on one side and on the other the beautiful Wichita skyline with the river outlining the landscape.
The area contains rail seating, high top and low top tables, and outdoor patio furniture. It's already become a popular venue for weddings, family reunions, anniversary celebrations, company business mixers and organization social hours.
During a game, Emprise Bank Pavilion patrons will have access to a two-hour buffet, complimentary non-alcoholic beverages and a full-service bar. Capacity is 50 to 250 people; you'll have the pavilion exclusively when you book for at least 150 people during a game.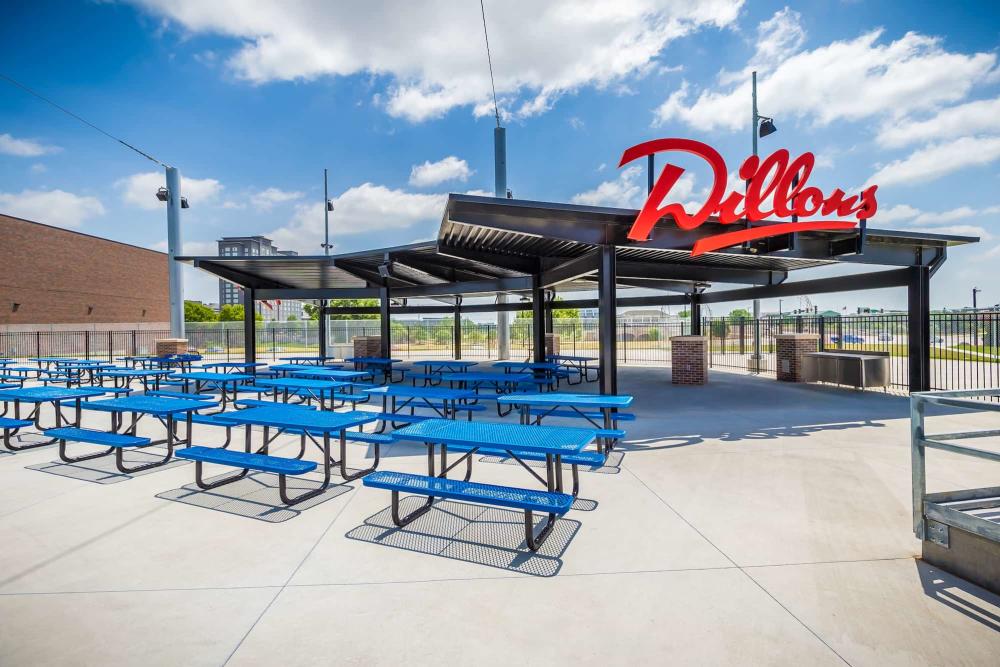 Dillon's Picnic Patio
410 Person Capacity | 645 square feet (seating area not included)
The Dillon's Picnic Patio is in the right field corner and offers a front row view of all the game action. Perfect for groups of any size, the Dillon's Picnic Patio can hold up to 400 people at four-top half-moon tables or traditional picnic-style tables. During a game, Dillon's Picnic Patio tickets include access to a two-hour dinner buffet of traditional ballpark fare and complimentary non-alcoholic beverages. Capacity is from 25 people to 400, with patio exclusivity at 300 people.
Left Field Bar
The fun does not end at the Left Field Bar when the bats stop swinging. This uniquely designed and finished space offers full bar service and self-serve beer taps during the games and is a great after-hours social gathering space for any business or organization. It's going to be a popular spot for the office Christmas party!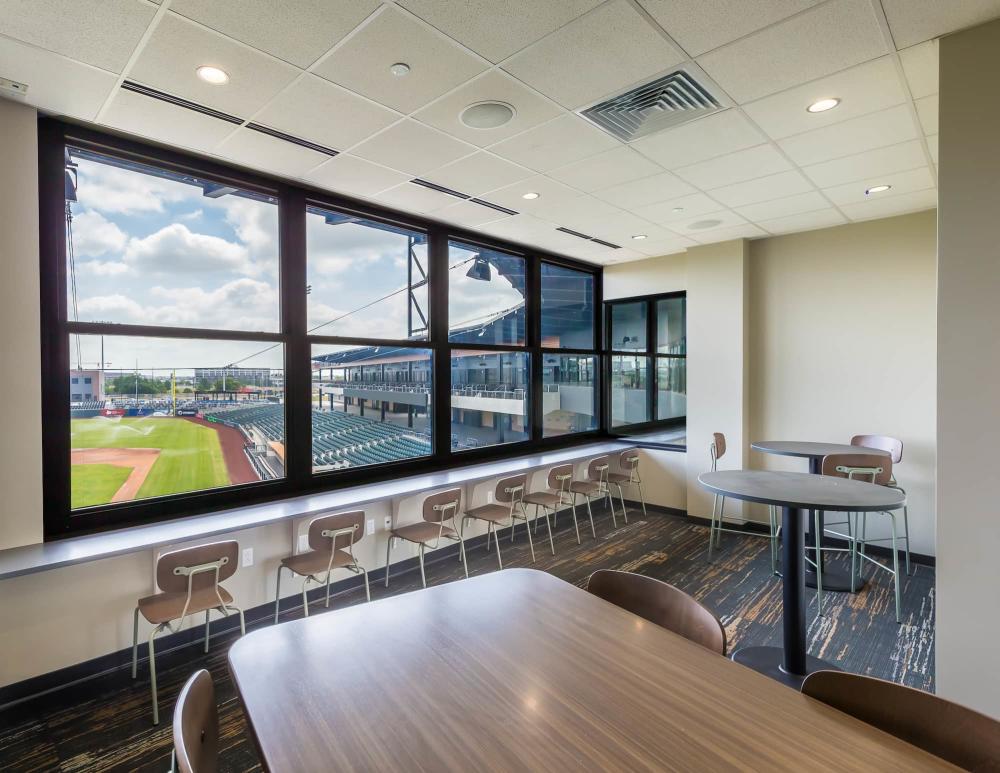 Private Suite Rental
25 to 30 Person Capacity | 443 square feet/645 square feet
Enjoy the exclusivity of a private suite at Riverfront Stadium. Perfect for any occasion, these rental suites are located on the second level behind home plate and adjacent to the Fidelity Bank Bravely Onward Club. In-game suite rentals include tickets for the game, an extended dining menu and personal guest service attendants. Suite 13 has a capacity of 25 people and Suite 14 holds up to 35 people.
Learn more about the stadium and the team by reading our Guide to Riverfront Stadium and the Wichita Wind Surge and discover the variety of meetings spaces in Wichita here.