Cocoa Dolce Chocolates has perfected the concept of the sweet lounge, a place where people can connect with chocolate or connect with each other over chocolate. Cocoa Dolce was created in 2005 by a Wichitan who decided to become a master chocolatier and create quality chocolates for Wichita. Today they are known as not only the best place in Wichita to get chocolates but also the best place to enjoy chocolates.
When Wichita's artisan chocolatiers first introduced the concept, they called it their chocolate lounge. Because they now serve other indulgent treats, the name sweet lounge emerged. There's one at each of their three Wichita spaces: Bradley Fair location in east Wichita, New Market Square location in west Wichita and their Old Town location.
More Than Chocolate
No matter how much willpower you think you have, we challenge you to walk into one of these lounges and not give in to the intoxicating smells of chocolate and coffee. And in case you can't enjoy chocolate, there are cases of beautiful pastries, gelato by Michigan-based Palazzolo's Artisan Dairy and a menu of craft beer, wine, coffee, hot chocolate and other inventive beverages, many of which feature chocolate.
The lounge attracts families, couples on date night, professionals looking for meeting space in Wichita and individuals wanting a quiet space along with a piece of gourmet chocolate, a scoop of gelato or a drink. Each sweet shop is unique: Bradley Fair is the original location and the smaller of the three, New Market is larger and offers live music regularly, and the Old Town location opened in October 2019 as a combination of a lounge, retail shop and production kitchen for all of Cocoa Dolce.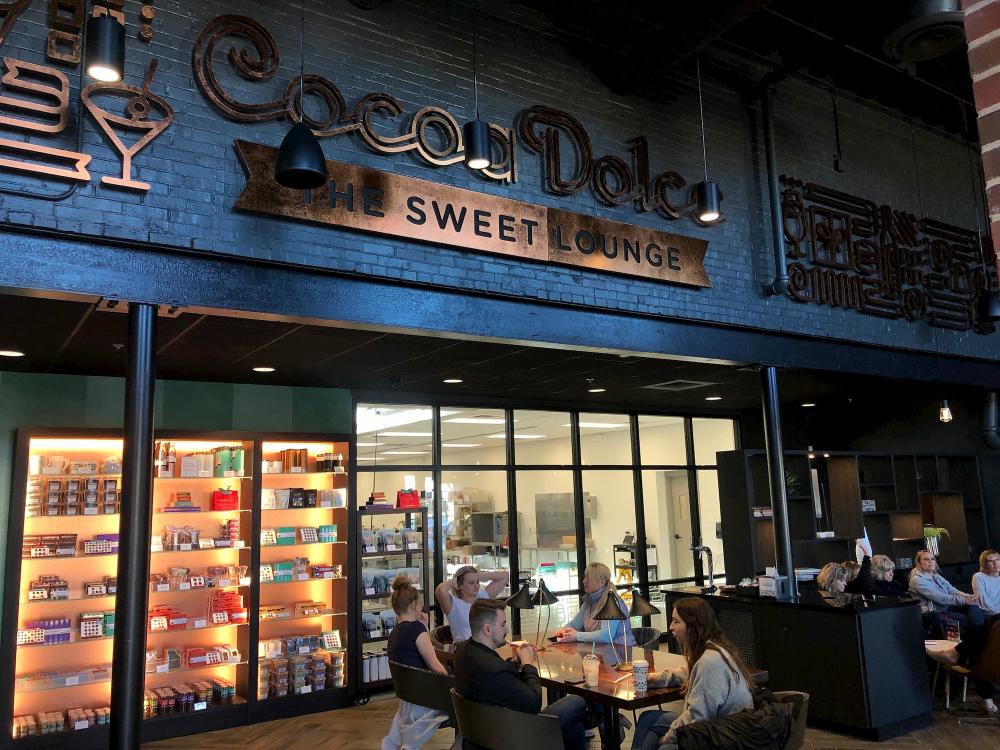 Your Front-Row Seat to the Chocolate Factory
A trip to the Cocoa Dolce Old Town facility is like nothing else in the region; it's a front-row seat to a chocolate factory. Just beyond the retail space and the sweet lounge is a wall of floor to ceiling windows that looks into the production kitchen responsible for making 10,000 pounds of chocolate treats every year. This is also where pastry chefs make macarons (a French confection cookie), muffins, scones, brownies, cookies and individual cheesecakes that people have been known to lose their minds over.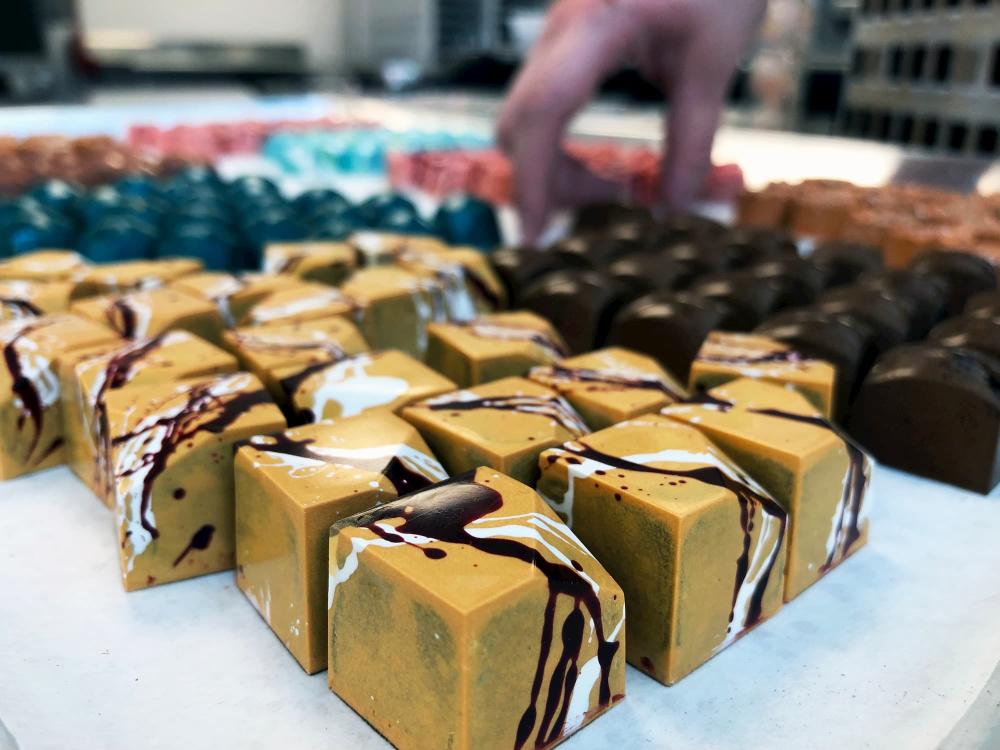 Visitors can watch the kitchen team in action and a staff member can explain the processes happening during your visit. If you're part of a large group planning to visit, it's best to call Cocoa Dolce's downtown site at 316-854-3121 and let them know you're coming so they can have staff dedicated to talking to your group.
You'll have the best chance of seeing the production kitchen up and running in full force between 9 a.m.-3 p.m. weekdays, though during busy holiday seasons they are working seven days a week to produce as many as 40,000 pieces of chocolate a week. It takes about eight hours to make each batch of artisan chocolates at Cocoa Dolce. Ingredients include cream, chocolate, butter and specialty elements ranging from homemade dulce de leche to fresh raspberry puree or Diplomatico Venezuelan rum. You won't find preservatives in the products here. The chocolates have a shelf life of four weeks, but we're not sure who has left a Cocoa Dolce chocolate that long to test this!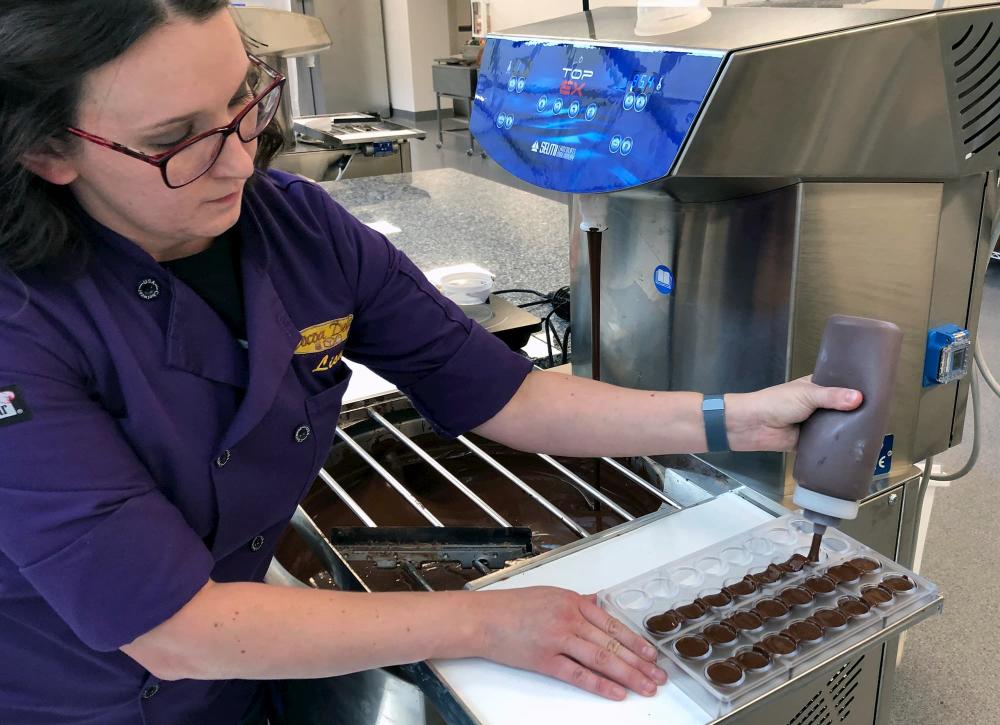 What will you see while watching Cocoa Dolce's production team? You will likely witness the making of truffles, bonbons or slab chocolate goodies. Much of the work is performed by hand, though they do use some machines to help. For example you could see a machine helping to pour chocolate into molds for different shapes or someone sending pieces through enrobing stations, where each piece get covered with milk, dark or white chocolate.
You also might see the team piping chocolate ganache into shells; rolling truffles in sugar, nuts, coconut or chocolate; or finishing the pieces by hand painting shells, using a spray booth for special effects or applying transfer designs like the Wichita flag.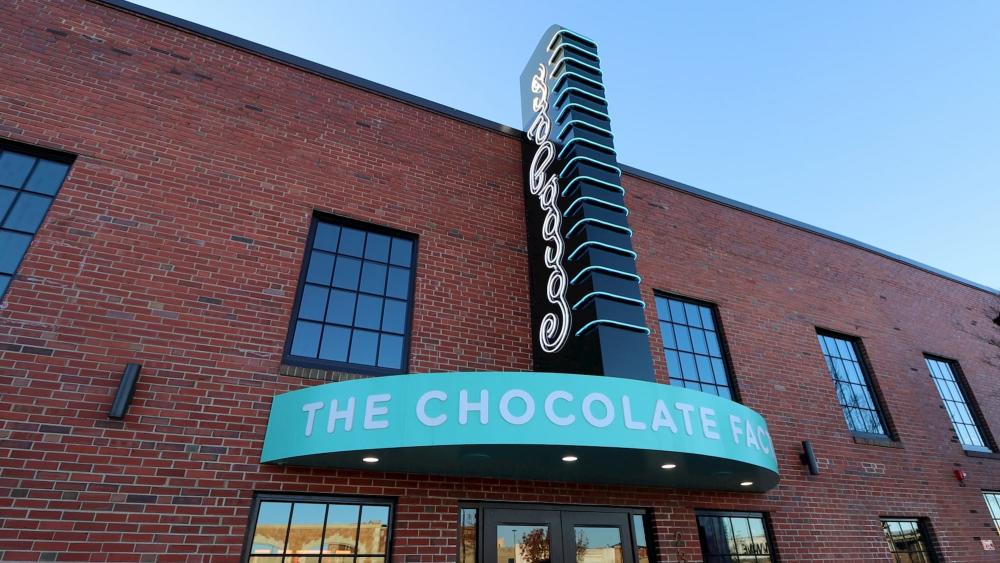 Plan Your Visit
We can tell you about all the yummy sights and smells, and even show you a few, but for the full sensory experience you have to visit. If you can't make it soon enough, Cocoa Dolce ships worldwide. As for ordering advice, we can share that among their best sellers is the grey salt caramel, the creme brulee and the Champagne truffle.
Plan a trip to Wichita's Cocoa Dolce soon!