A few weeks ago I was looking for a place to meet up in Wichita with two of my oldest friends for an afternoon of catching up. It was a Sunday and the weather was wet and cold, so a place with hot drinks sounded perfect. We wanted a central location to make it convenient for everyone, and a place where we wouldn't feel rushed.
None of us had been to Sente: Games and Refreshments at 132 E. Douglas in downtown Wichita and it ticked all the boxes. It's also one of the most affordable things to do in Wichita.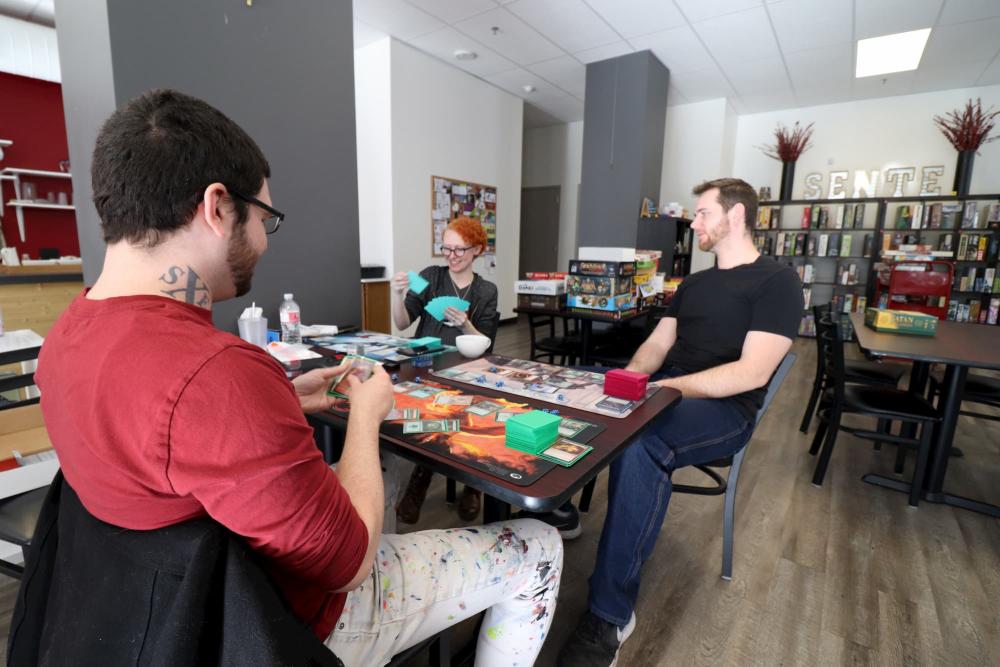 A dedicated tabletop board game room in Wichita
We weren't sure what to expect but felt at home after just a few minutes inside the game room. The space has plenty of natural light coming in since it's on a corner and features floor to ceiling windows. It was busy but not too crowded. We found a place to sit among tables hosting a diverse mix of folks: families with kids, couples on dates and several larger groups of adults setting up weekly role-playing games.
We took turns ordering at the counter and picking out a game to play. Our group ordered a latte, a mint tea and a chai tea; they stock a large selection of teas from Art of Tea. We also each chose a pastry from their case to share at the table: a croissant, a pumpkin muffin and a cinnamon roll. Sente has monthly drink specials with clever names. January's special was The Critical Roll, a latte with a little white mocha and almond syrup.
A great option among free things to do in Wichita, or nearly free things to do
When we paid for our drinks and snacks, we also paid for access to the game library: $3 per person that is good for all day, allowing multiple visits in one day. They also offer monthly memberships if you plan to visit regularly: $9 for one person and $12 for two people. Sente offers free gaming where you can enjoy the space for free if you bring in your own game or play a game a fellow customer has brought in to play with others.
We love playing Scrabble together but with access to this huge library of games, we decided to play a game that was new to all of us and would be easy to talk through. Our chosen game presented unfortunate situations that had been ranked from 1-100 using a "misery index" and the goal of the game was to correctly guess where incidents like dropping your phone in the toilet or getting a third degree sunburn ranked on the index. We later played a meme game, and also enjoyed looking through the shelves of games to take a closer look at some of the newest games on the market.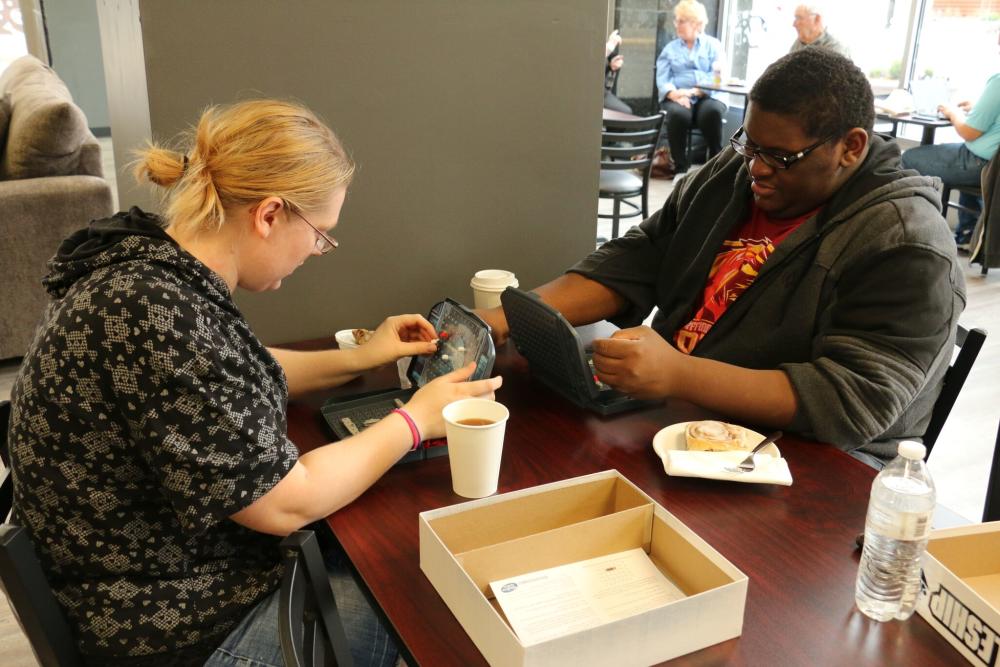 Indoor fun in Wichita
Sente is a great place to try out a game before investing in buying it for yourself. Owners Thomas and Caitlin Koch started the business with their personal board game library and continue to add to it; their library now includes at least 400 tabletop board games.
At the start of 2020, Sente announced they are adding tables and comfortable seating arrangements, more shelves of games, new menu items and will hold events more often. Their hours are 3 to 10 p.m. Monday through Thursday, 3 p.m. to midnight Friday, 10 a.m. to midnight Saturday and 10 a.m. to 10 p.m. Sunday.
If you're looking for coffee in Wichita, Sente is a great place to stop though because it's focused on being a hangout for board game enthusiasts or anyone looking for indoor fun in Wichita you won't find early morning hours.
And if you're wondering: Sente is named for a move in the game Go, which you can play when visiting.
-- By MeLinda Schnyder, a Wichita resident who remembers many hours of her childhood spent playing Sorry, Hungry Hungry Hippo, Battleship, Yahtzee, Pictionary and Trivial Pursuit.