To assist with public safety, please remain diligent in adhering to safe practices outlined by the CDC like wearing a face covering and social distancing, when out in the community and stay home if you feel ill. We recommend confirming details and verifying requirements and/or safety procedures for guests before visiting a local shop, eatery or other business. 
 
Celebrate Small Business Saturday, an initiative for holiday shoppers to support stores in their communities, by shopping in person or online with local businesses in Wichita on Saturday, Nov. 27, and throughout the holiday season.
If you don't feel comfortable shopping in person, many local shops offer sales by appointment or online shopping with delivery or pickup options.
Whether you're looking for holiday gift items or something for yourself, Wichita's many eclectic shopping districts deliver big on unique gift items you can only find in Wichita. Pair your shopping excursion with a bite to eat from a nearby local eatery!
Not sure where to start? Grab your list of who's been naughty or nice and scroll down to find some of the many one-of-a-kind shops and specialty stores in Wichita. After that, explore more festive ideas for your holidays in Wichita.
Click/tap Full Screen on map for easy navigating


Old Town District
The brick-lined streets, historic lampposts and converted warehouses from the late 1800s let you know you're in Old Town. The area is a mix of more than 100 businesses, including restaurants, locally owned shops, clubs, theaters, galleries, museums, loft residences, public plazas and more.
Local shopping options:
Nearby dining:
​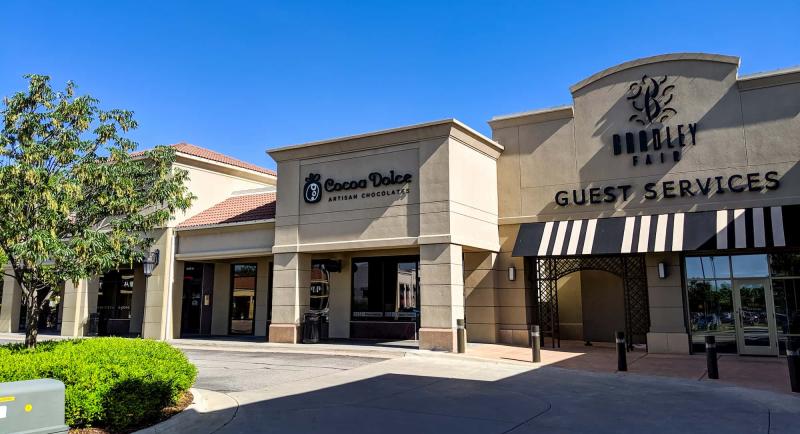 East Wichita & Bradley Fair
In east Wichita, you'll find shopping choices galore as well as Bradley Fair, an open-air plaza with everything from charming boutiques to well-known national retailers.
Local shopping options:
Bohemia Healing Spa: Visit the new East Wichita location of this spa, which offers natural and holistic treatments including therapeutic massage, facials and health wraps
Cocoa Dolce: Unique chocolate and wine pairings, coffee drinks, chocolate cocktails and gelato; recently added a new line of new line of breakfast items such as breakfast burritos, quiches, yogurt, and muffins
The Farris Wheel: Old-time sweet shoppe, carries confections and more
Kendra Scott: Features a color bar where you can customize necklaces, bracelets, or rings in-store.
Paint the Towne: All ages are welcome in this guided painting experience
Paramount East Antique Mall: Antiques, vintage, furniture, glassware, primitives, industrial, farmhouse décor, collectibles and so much more in 225 booths within tens of thousands of square feet
The Popcorner: Hand-crafted, gourmet popcorn
East Wichita & Bradley Fair dining:
Bella Luna Café, Bricktown Brewery, Carlos O' Kelly's Mexican Café, Chester's Chophouse & Wine Bar, Chicken N Pickle, Churn & Burn, Dempsey's Biscuit Co., Georges French Bistro, Hog Wild Pit Bar-B-Q (North, S. Rock & East), Homegrown Wichita, Il Primo Espresso Café, Lola's Bistro, Meddys, Newport Grill, Saltgrass Steak House, Wichita Brewing Co. & Pizzeria, YaYa's Eurobistro, Ziggy's Pizza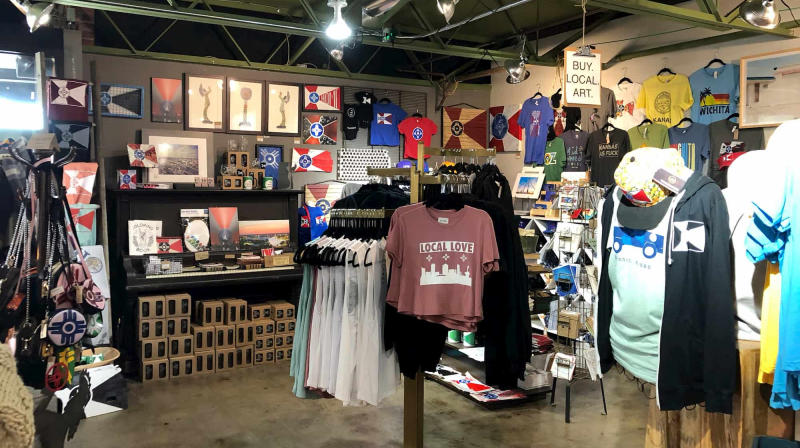 Douglas Design District
The stretch of Douglas Avenue from Old Town to the doorway of east Wichita is known as Douglas Design District, and it is lined with eateries, local boutiques, breweries and public art. The area has more than a dozen unique places to shop and eat and is also known for the locally-created murals you will find in every nook and cranny.
Local shopping options:
Nearby dining: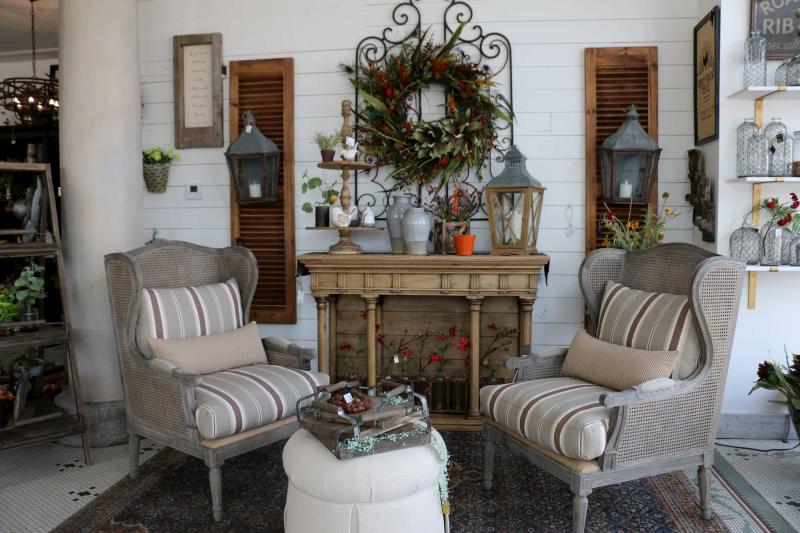 Downtown Wichita
Downtown Wichita is a vibrant, authentic space and hub for creative expression and situated just east of the Arkansas River in the core of the city. It's also home to many distinct local shops and eateries. Plenty of public art, including more than 30 bronze sculptures, can be found along Douglas Avenue.
Local shopping options:
Nearby dining and breweries:
The Artichoke Sandwichbar, Bite Me BBQ, Café Bel Ami, Harvest Kitchen/Bar, Homegrown Wichita, The Kitchen, Molino's Mexican Cuisine, Old Mill Tasty Shop, Paradise Donuts, Peace Love & Pie, Placeholder Coffee, Siena Tuscan Steakhouse Restaurant, Sunflower Espresso
Watering holes in the area include Cana Wine & Cocktails, Dockum, Third Place Brewery, Nortons Brewing Company, PourHouse by Walnut River Brewing Company, Sweet Allie B's Limestone Beer Co.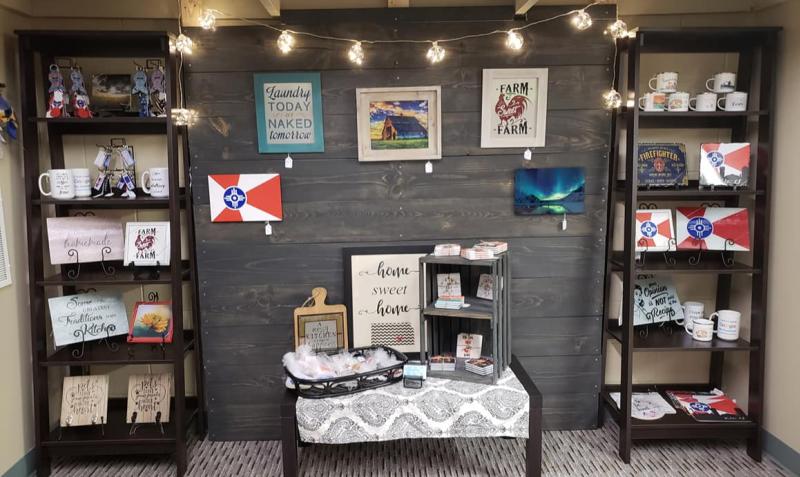 West Wichita & NewMarket Square
West Wichita consists of popular shopping and dining districts, including NewMarket Square – home to popular retailers and restaurants, as well as Wichita favorites.
Local shopping options:
Nearby dining: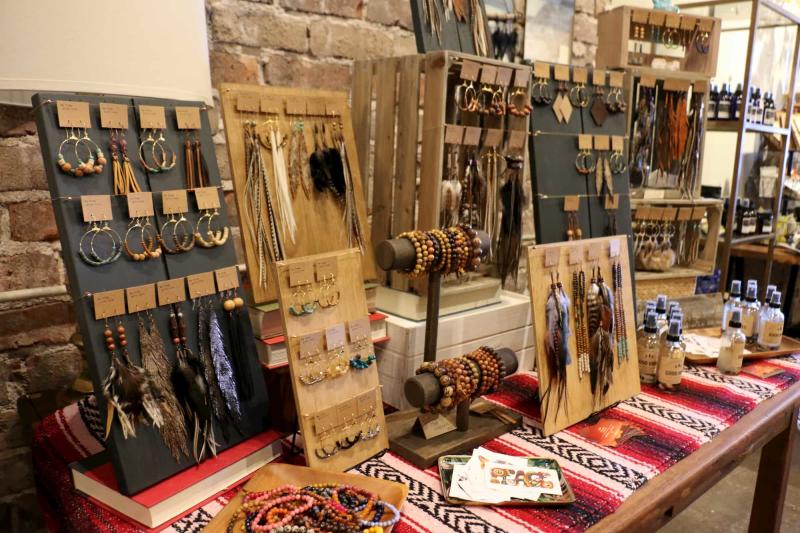 Historic Delano District
Wichita's Delano District is just west of the Arkansas River near downtown along Douglas Avenue. It is an eclectic and fun shopping district with a rich history.
Local shopping options:
Bungalow 26: Unexpected and eclectic goods, Wichita-centric items, home accessories and beauty products
Bohemia Healing Spa: natural and holistic treatments including therapeutic massage, facials and health wraps
Exploration Place: Don't forget gift shops at Wichita museums have great gift selections. Many will be participating in Small Business Saturday as well as Museum Shop Sunday with discounts, including this special at Exploration Place
Hatman Jack's: For more than 45 years, this specialty shop has been creating and customizing hats and repairing hats, also stock gloves, scarves and other accessories
The Health Connection: Alternative medicine store, carrying CBD products and offering yoga, guided meditation, pain therapy and more; great selection of Wichita flag swag items
Vortex Souvenir: Art and design-focused retail gift shop offering curated items produced by independent artists
Nearby dining: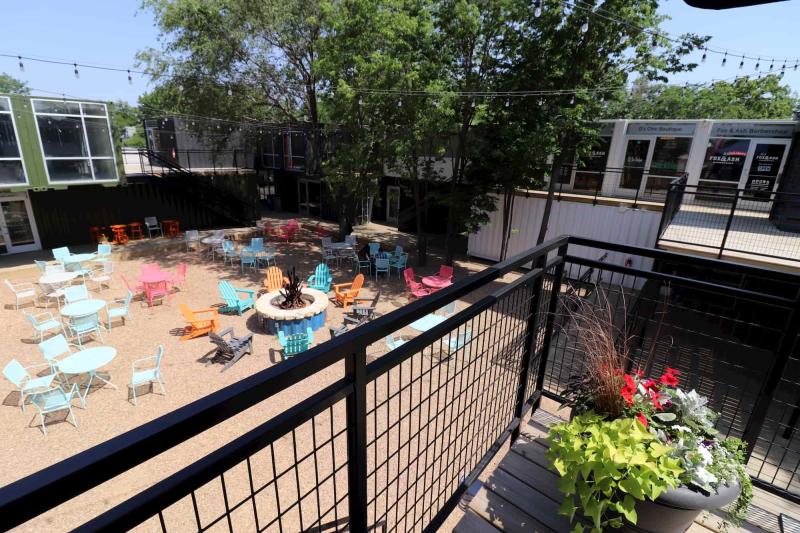 Revolutsia
Revolutsia is a unique shipping container mall and dining community located just east of the Douglas Design District in Wichita. It is centered around a firepit and outdoor gathering space.
Local shopping options:
Aztekas Boutique: Premier Hispanic artisan shop working with artists in Mexico and indigenous people; ship all over the U.S.
Calabar Market: Handmade bath bombs, shea butter, salt and sugar scrubs, African clothing, t-shirts, sunglasses, handbags and other accessories
Camp Creek Vintage: Vintage clothing for men and women in Wichita
Snark and String Studio: Planners, pens, washi tapes and analog productivity goods
Wizards Asylum ICT: New release and extensive back issue collection of comics, great selection of tabletop and board games
Ze German Markt: Wichita's only German-exclusive import shop, full of treats, ingredients and supplies
Nearby dining: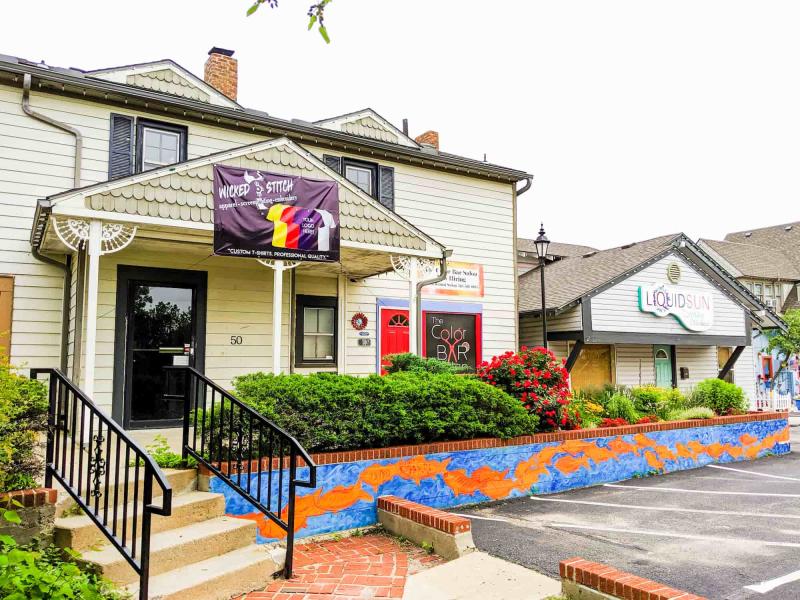 Clifton Square
Nestled in between the Douglas Design District and College Hill sits Clifton Square, a 19th century village of local shops. If you're looking for charm and character, this is the shopping experience for you! Plus, many murals to find, painted on the Victorian homes-turned shops.
Local shopping options:
Aida Stenholm: Find handmade bags, accessories and custom shoes designed by Aida Stenholm and individually handcrafted of high-quality leather and eco-friendly rubber
Clifton Collective: A collective of Midwest Makers with a passion for all things local, Midwest and handcrafted
La Vie Bohème Apothecary and Curiosity Shoppe: Supplier of loose herbs and teas, tea accessories, crystals, spiritual items, books and oracle/tarot cards, boho home decor, jewelry, apparel and many other giftables
Papa's General Store: Hand-dipped ice cream, gourmet espresso, craft roast coffee, shakes, hot chocolate bombs, novelty socks and amazing novelties and more
The Tea House at Clifton Square: Specialty and loose-leaf tea from around the world, tea accessories and prepackaged food, such as biscotti and muffins
Nearby dining:

Surrounding area
Just north of Wichita, you'll find many unique shops, glass-blowing studios and even a farm to sip wine and savor fresh cheeses and gelato.
Shopping options:
Nearby eateries and wineries:
Still have room in the sleigh? Head to our full shopping section.