A downtown arena celebrating 10 years of being home ice for professional hockey and hosting a variety of championship-level sporting events, a new baseball stadium set to open in April 2020 with a Double-A baseball team, plus a roster of highly sought-after events on the schedule: Brian Hargrove could be taking a victory lap but the Executive Director of Sports Development for Visit Wichita is too busy traveling the country to recruit the next big sports events to the largest city in Kansas.

"It starts with the fact that our sports facilities are tremendous," Hargrove said. "I'm talking from our biggest venues being top notch to our youth facilities being among some of the best in the country, especially for basketball, soccer and volleyball. It's a tremendous time to be in Wichita."

Add in a central location, a new airport terminal at Dwight D. Eisenhower National Airport, affordable hotels and plenty of restaurants and things to do to keep athletes and families entertained between competition, and it's safe to say Wichita is winning at the game of hosting sports events.

"We have been told that when a national event is held on the West Coast, a lot of the East Coast teams won't travel, and vice versa," Hargrove said. "But with Wichita being right in the heart of the country, planners see a boost in attendance with a national event in Wichita because it's easy for people from all over the country to get here."

Among the hundreds of organized sports events that will play out in Wichita in 2020 are more than a dozen first-time national events and a few Wichita has hosted before.
The calendar includes:
2020 Midwestern & Pacific Coast Synchronized Skating Sectional Championships Jan. 15-19 at INTRUST Bank Arena: Three sheets of ice within a mile attract this event so there's plenty of practice and competition space for more than 2,500 competing skaters.
ECHL All-Star Classic Jan. 22 at INTRUST Bank Arena: Nearly 70 players from the ECHL All-Star Game have gone on to play in the National Hockey League.
NAIA Men's Wrestling National Championship March 6-7 at Hartman Arena: The first of a two-year commitment for this National Association of Intercollegiate Athletics event.
National Wheelchair Basketball Association Toyota National Championship Series March 12-15 at Wichita Hoops: Multiple adult and junior divisions will compete at this 12-court state of the art basketball facility in the national championship.
National Wheelchair Basketball Association's National Intercollegiate Wheelchair Basketball Tournament March 18-21 at Wichita State University's Heskett Center: Collegiate wheelchair basketball teams will compete on the WSU campus.
2020 National Theatre on Ice June 24–27 at INTRUST Bank Arena: Theatre On Ice competitions bring theater and dance to figure skating, as well as 1,500 skaters to Wichita.
NCAA College Basketball Academy July 20-26 at Wichita State University's Koch Arena: Wichita is one of four national sites selected to host the country's top high school basketball prospects scrimmaging in front of college and high school coaches.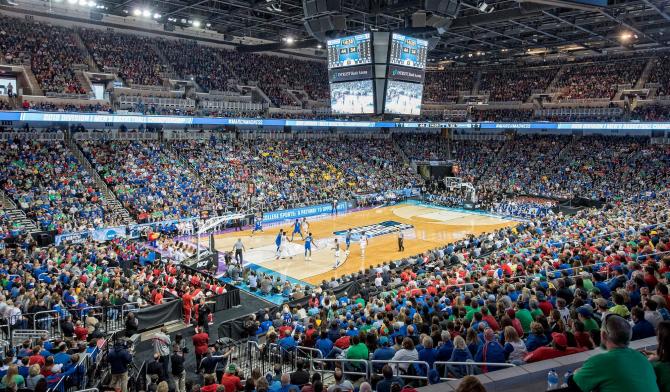 With the growth in diversity of Wichita's sports facilities and their capabilities has come winning more competitive bids for sporting events, and once the city hosts an event it often comes back. That's the case with many youth events as well as NCAA basketball at the 15,000-seat INTRUST Bank Arena. Wichita is hosting the 2021 NCAA Men's Basketball Tournament first and second round games March 19 and 21, 2021, and the Sweet 16 and Elite 8 of the 2022 NCAA Women's Basketball Tournament March 25-28, 2022.

"Another reason Wichita stands out is because of the support of the city," Hargrove said. "We are a big city, but not big enough that events that we bring to town get lost. If we are hosting a championship-level event, it's the big thing in town. Everyone will know about it and the city will support it tremendously."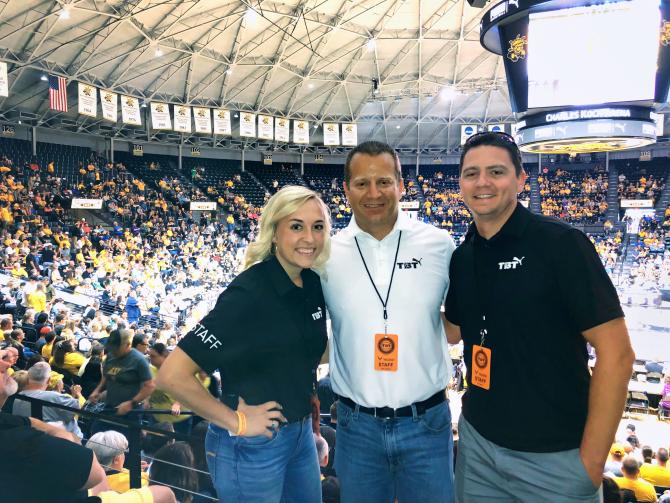 You'll find Hargrove and his Visit Wichita sports team at events like CONNECT Sports and Sports ETA throughout the year, and they also take time to meet with individual organizations for one on one meetings before inviting them to Wichita to be wowed on a site visit. When bidding on a new event, like The Basketball Tournament (which Wichita hosted for the first time this year and blew away the event's previous attendance records), they often will attend the event and meet with the local organizing committee to get a feel for what it would take to host the event successfully.

If you haven't yet taken time to explore Wichita as a possible site for your sporting event, get to know the Visit Wichita Sports Team and let them show you how Wichita can make your next sporting event a success.