Step into a world of royalty and wonder as you come face-to-face with knights in shining armor, princesses, pirates and fairies – even a king and queen. Explore the days of yore with exciting events catapulting you back into the Renaissance period and celebrating the history of the Scottish people.

Patrons are encouraged to dress for the times as they embark on a journey to a simpler time, teeming with belly dancers, gypsies, fortune tellers and magical beings. The Great Plains Renaissance & Scottish Festival celebrates 20 years at Sedgwick County Park Sept. 28-29, 2019.

"I think that it is important to have a place like the Renaissance Festival where you can escape to a different time and place for a while and come away enriched with experience," Director Richard Cathey said.

The festival features demonstrations and vendors, attractions and entertainment, food, kids activities and the traditional Scottish Highland Games.
QUICKLIST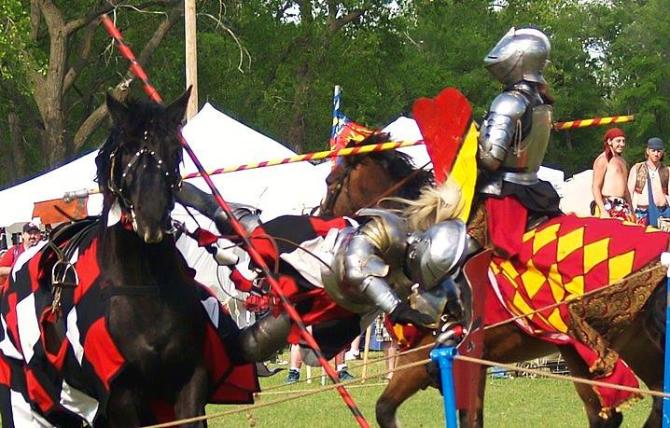 Attractions & Entertainment
As the Renaissance Faire grows, more incredible attractions and entertainment options are added. For Fall 2019, patrons can expect to be thrown into the festival spirit from the front entrance, onward. With a new look celebrating the 20th anniversary of the festival, visitors will be immersed in the culture of the fair from the moment they set foot at the gate. New ticket boxes, a new will call box and decorative structures and photo props will be added at the front entrance. This will give the gates a more historical feel. Guests are encouraged to take photos of the new area and photo props and post them to social media.

Also new, Great Plains Renaissance Festival crew will be introducing a family-friendly scavenger hunt, sending guests on a journey to save the royal ducks from the Royal Rubber Duck Preserve. It will be up to festival-goers to count how many of these ducks they find hidden throughout the faire to potentially win a prize if they report in to the Royal Court. It's just one way for new and old patrons involved in the festivities.

"Renaissance Festival is not just a passive experience, it's an interactive experience - it's an immersive experience," Angela Smith, Guild Mistress of the Gate Keepers Guild said. "At its best, the festival can make a person feel connected to something bigger than themselves, something positive and welcoming and occasionally even magical - something that's hard to find an increasingly scary and disconnected world."

Catch all of your Renaissance favorites including the falconers bringing more than a dozen birds of prey (including Ritual the Eurasian Eagle Owl), real-life jousting, the Society for Creative Anachronism bringing hands-on combat and heavy weaponry, The Scallywags Pirate Comedy troupe hosting their popular Pirate Smoker (adults only!), axe throwing, fire-breathers, jugglers, belly dancers and Mother Nature, the face of the Great Plains Renaissance & Scottish Festival.

Be sure not to miss the re-enactment of the Battle of Bannockburn, a key battle in the history of Scotland.

"The Battle of Bannockburn was the turning point in Scottish history where King Robert the Bruce led his outnumbered forces to victory, and helped establish Scotland as a kingdom of its own," Cathey said. "We will have actors and re-enactors playing the part and hope to be able to build this into one of the largest events of its kind in the USA.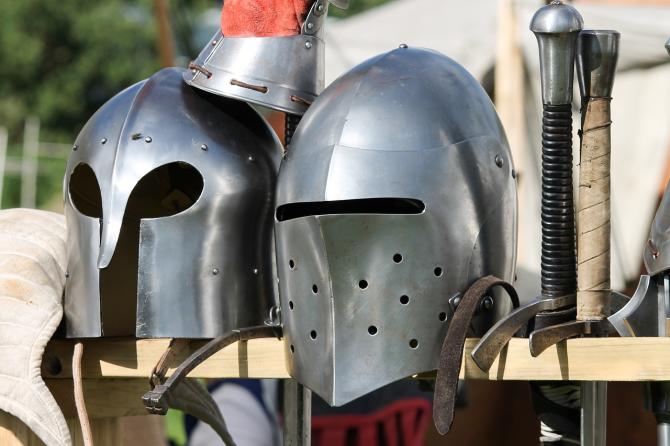 Demonstrations & Vendors
Watch as master creators work their craft while selling handmade artisan goods like swords, shields, costumes, artwork, glassblowing, jewelry, armor, chainmail, medieval weapons and so much more.

Many vendors will demonstration their skills in metal works, blacksmithing and jewelry making right before your eyes!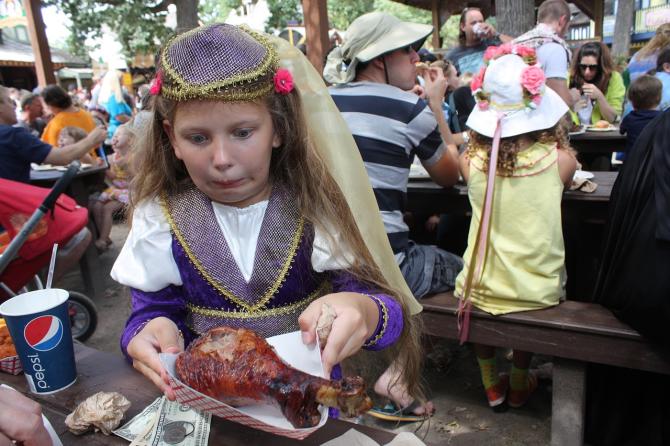 Food
What is a Renaissance festival without turkey legs? Grab this staple meal as well as other carnival foods like roasted corn, roasted almonds, shaved iced and funnel cakes. Top it all off with some delicious cotton candy as you stroll through the food courts.

Mead and beer are available for the adults, further tossing them back into the throes of the Renaissance.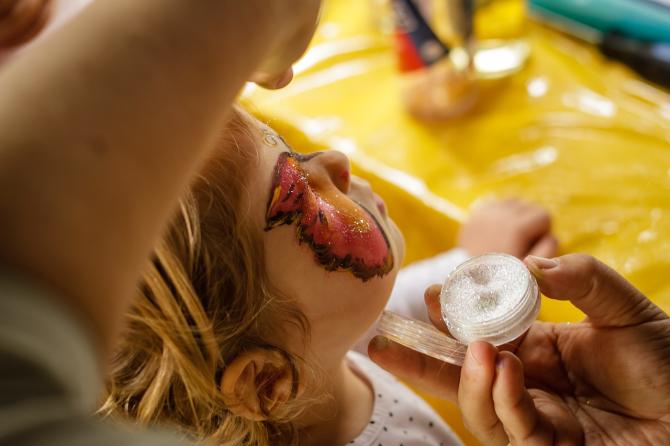 Kids Activities
The Great Plains Renaissance & Scottish Festival is a family-friendly event with tons of kids activities for all ages. From face painting to games, children ages 2 and up will love to walk around and explore this magical kingdom where they can meet court royalty and learn about chivalry and honor. There is also a petting zoo with pony rides and a chance to feed Millie the Village Cow.

"For the kids, there's a scavenger hunt and a number of kid-friendly shows and activities, including the chance to try on real knight's armor." Smith said.

The Great Plains Renaissance & Scottish Festival is arguably one of the best in the region, especially for children wanting to meet royalty.

"I've been to other festivals, and while the costumers are top-notch and the performers are quite friendly, they aren't as down-to-earth and hands-on as our own royals," Smith said. "Our kings and queens have a gift for making every person feel welcomed and appreciated. Also, their Chivalry for Children program is wonderful!"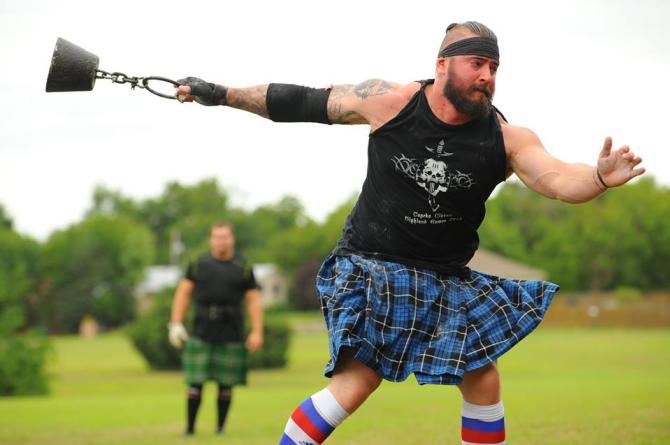 Scottish Highland Games
Wichita is proud to be home to the 2019 International Highland Games Federation (IHGF) Men and Women's All-American Highland Games Championships. Each year, patrons get a chance to watch the official Scottish Highland Games played right in the middle of the fair.

"All of our athletes wear the traditional Scottish kilt in the competition to give the games an authentic flair," Cathey said. "Of course, nothing gives authenticity to the games like the sound of the bagpipes playing as the competitors do battle on the athletic field."

The Scottish Highland Games include events such as the caber toss, stone throw, shot put, hammer throwing and more. Series are played all over the country and winners advance to the World Championships.

"The Highland Games are a real feather in the cap for the city," Cathey said. "They could have chosen any other city or any other event in the country (Las Vegas, Sacramento, etc.) – but it's a real credit for our community and Wichita we want to grow as a successful event."
Tickets
Get your tickets to the 2019 Great Plains Renaissance & Scottish Fall Festival happening Sept. 28-29, rain or shine! Purchase online and receive $3 off each adult ticket along with free child admission.
Advanced online tickets

Adult one-day pass - $9 (includes free child ticket)
Adult weekend pass - $16 (includes free child ticket)

At-the-gate tickets

Adults - $12
Children (12 and under) - $5
For a list of other events happening during the Renaissance Festival, make a weekend of it and check out our calendar of events.