To assist with public safety, please remain diligent in adhering to safe practices outlined by the CDC like wearing a face covering and social distancing when out in the community and stay home if you feel ill. We recommend confirming details and verifying requirements and/or safety procedures for guests before visiting a local shop, attraction, eatery or other business.
 
Great food and memorable service are likely the first factors you think make or break your dining experience, though atmosphere can play just as significant a role.
Besides making beautiful Instagram posts, unique décor and ambience makes us want to linger longer, order dessert or another drink, and maybe even return sooner. If you're planning a meal out, try one of these Wichita restaurants with interesting interior and exterior features.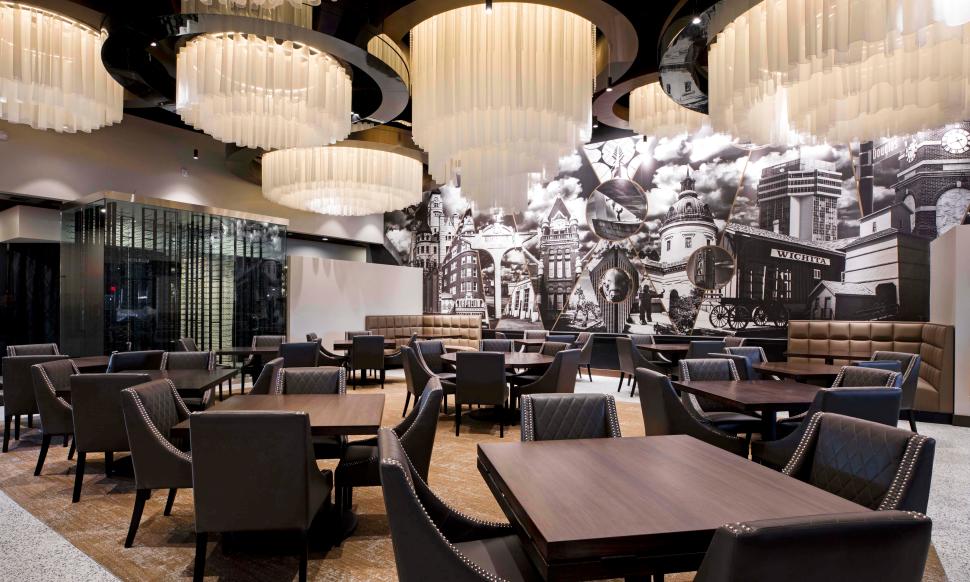 6S Steakhouse
A visit to this classic American steakhouse becomes a memorable dining experience with its unique features. The main dining room at 6S Steakhouse includes custom-made circular chandeliers and a dramatic 46-foot mural commissioned by local artists that depicts iconic Wichita sites. Just off the main dining room, diners can choose a private booth that offers drapes for privacy.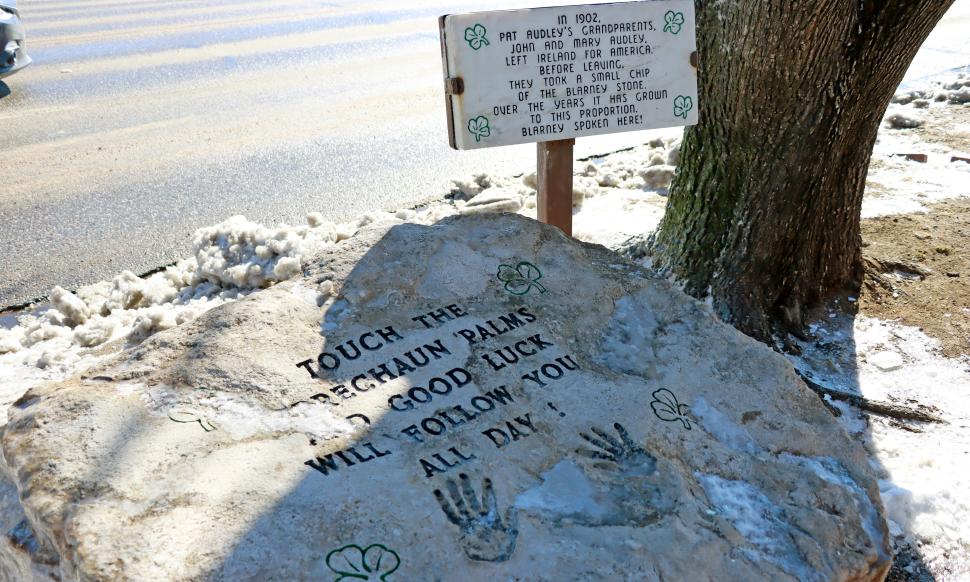 The Artichoke Sandwichbar
Whether you're visiting for one of their epic sandwiches, the Guinness on tap or the live music in the evenings, you'll appreciate the Irish touches throughout The Artichoke Sandwichbar. Don't forget to touch the replica Blarney stone out front for good luck!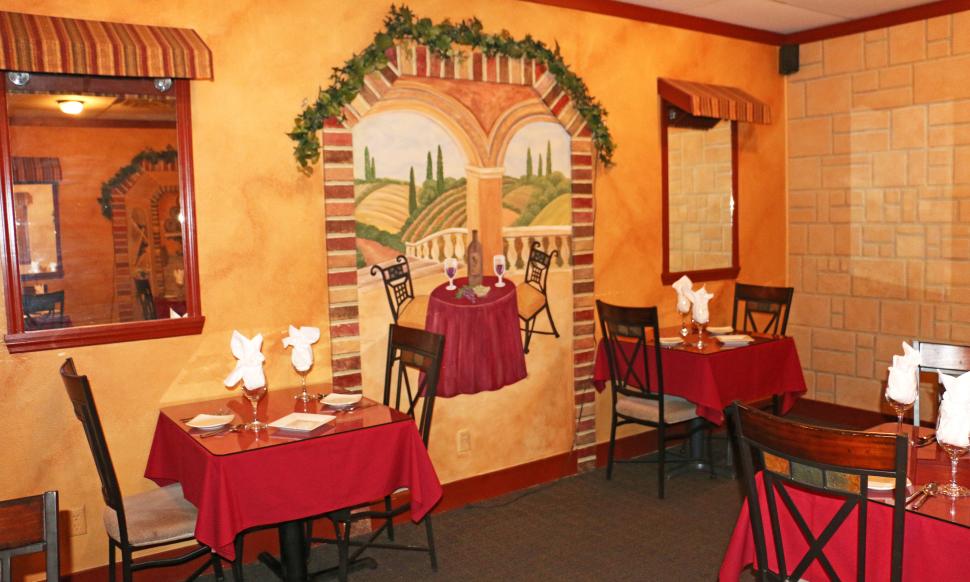 Bella Vita Bistro
This locally owned Wichita restaurant is worth trying for its uniqueness alone. At Bella Vita Bistro, they have been serving authentic Italian foods to the Wichita community and beyond for more than 10 years. From the outside you won't know what awaits you, but one step inside and you'll be quickly whisked away to Italy. The cozy and welcoming dining room features walls adorned with stone and faux brick and artwork representative of Italy. You'll feel like you have stumbled upon a trattoria in the Heart of the Country! The decorative lighting, comfortable wooden seating, smooth cloth linens and tall wine glasses set on each table create a romantic and memorable backdrop for a special meal.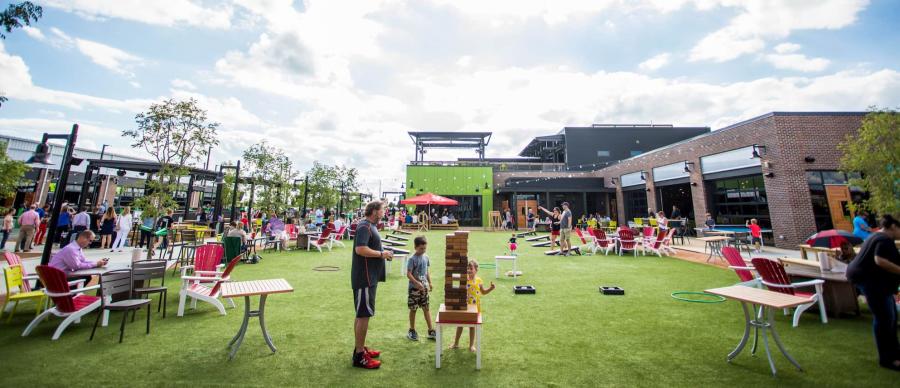 Chicken N Pickle
Good food, good friends, and good fun is what Chicken N Pickle does best. The indoor/outdoor entertainment complex promises a good time thanks to pickleball courts, lawn games, and ice rink available for use during the winter season. Dining indoors under the "Be Amazing" sign is ideal for sports bar enthusiasts who appreciate a cold beer while watching their favorite team from a wall of TVs. Prefer to sit outside? You can often find a local musician playing from the outdoor stage beneath a giant Wichita, Kansas mural.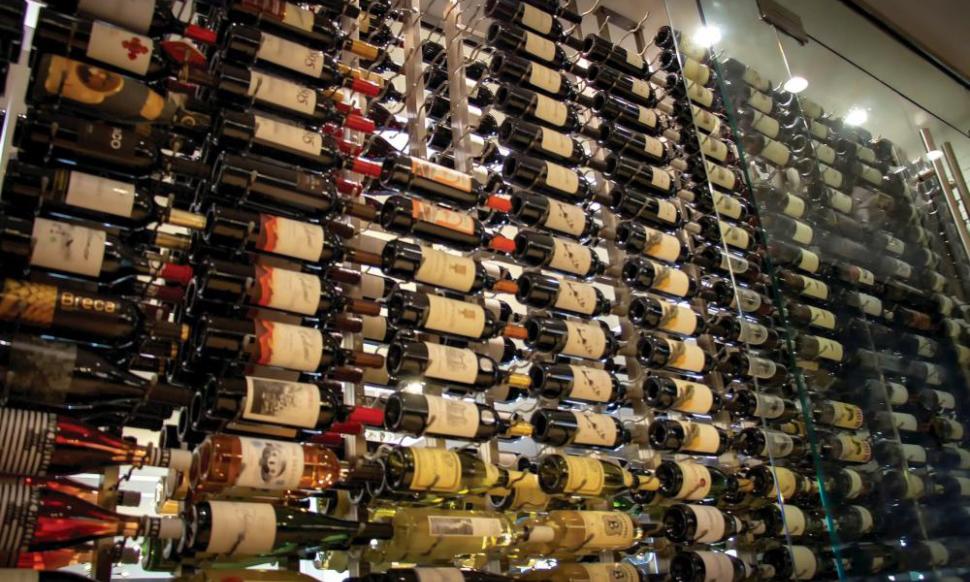 Chisholm American Beef & Ale House
Chisholm American Beef & Ale House at the DoubleTree by Hilton Wichita Hotel underwent a complete renovation and reopened a few years ago as an authentic beef house experience with many added modern features like ordering electronically from your table. Among the highlights of the modern décor is a 15-foot-tall wall of wine with 1,000 bottles and 300 different selections.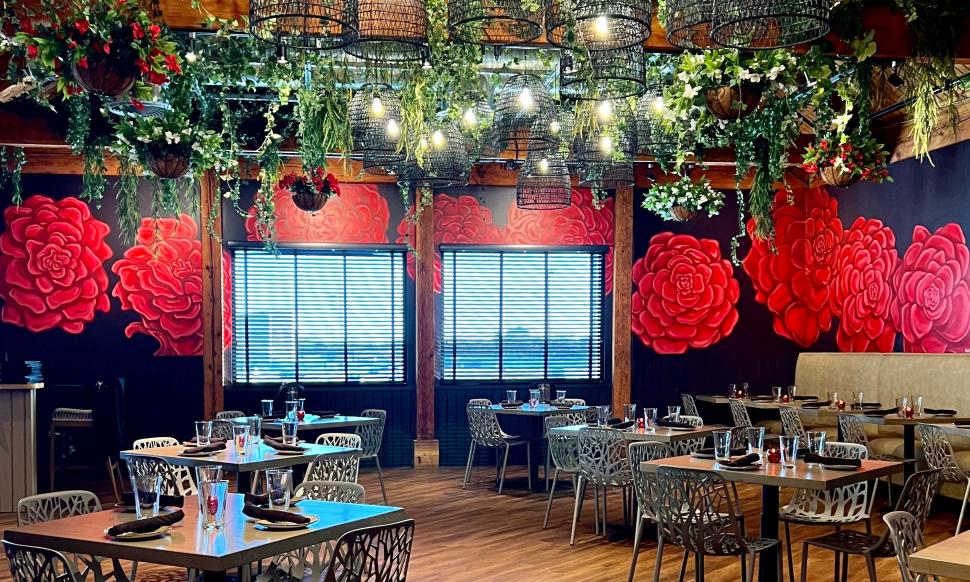 Dōma
Specializing in small plates and craft cocktails, Dōma also shines with an atmosphere to keep you coming back for more. The main dining room is spacious and painted in shades of red and black – giving it a modern, sleek vibe. While many say the star of the show at Dōma is the delectable food, it may be hard to keep your eyes off of the many murals covering many of the walls. Mix the eye-pleasing, colorful artwork with the string lighting and greenery strung across the ceiling and you will feel as if you've been transported to a big-city hot spot.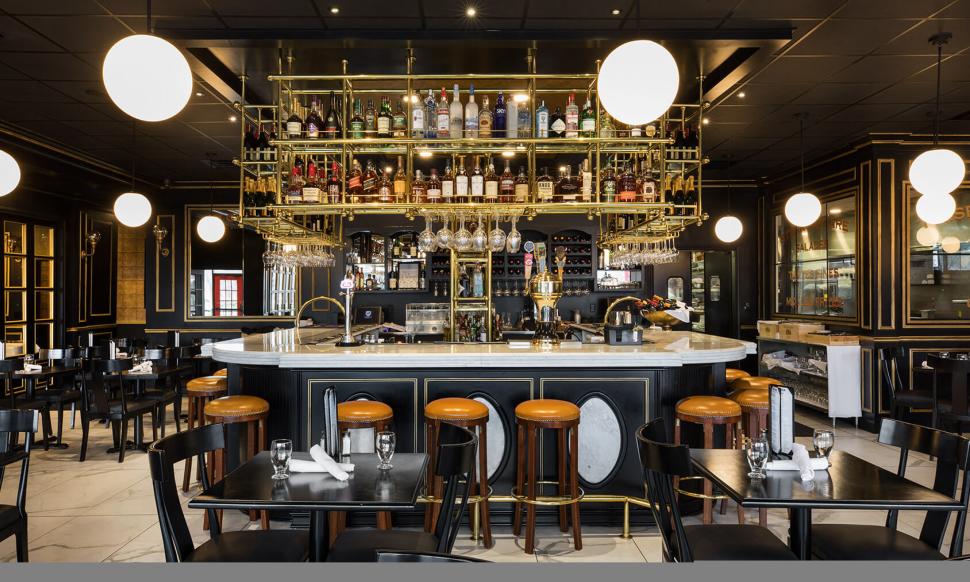 Georges French Bistro
The colors and materials used on the interior of this popular lunch and dinner spot will transport you to a Parisian French bistro, and Georges even has a retractable glass door that opens the front of the restaurant to the sidewalk seating area.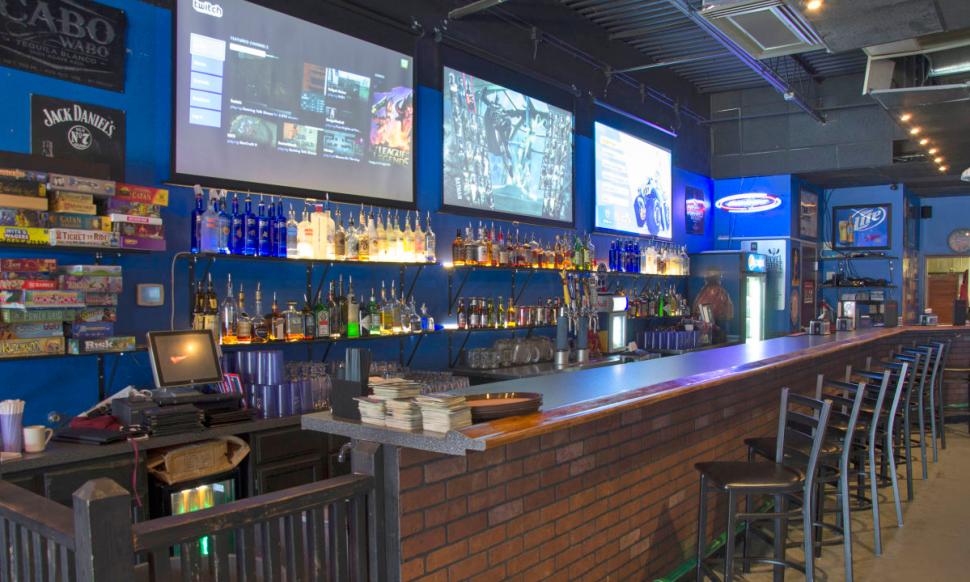 Headshots Bar & Grill
This blue-lit bar and grill is the go-to spot for gamers who want access to a plethora of electronic games and unique board games. An entire wall of pinball machines lights up the space inviting players back to their arcade days. Friends are often gathered at tables to play card games like Magic: The Gathering or sitting in oversized chairs around flat-screened TVs and game consoles. Headshots Bar & Grill visitors order pub-style food and game-themed specialty drinks at the same counter where they pay for game play.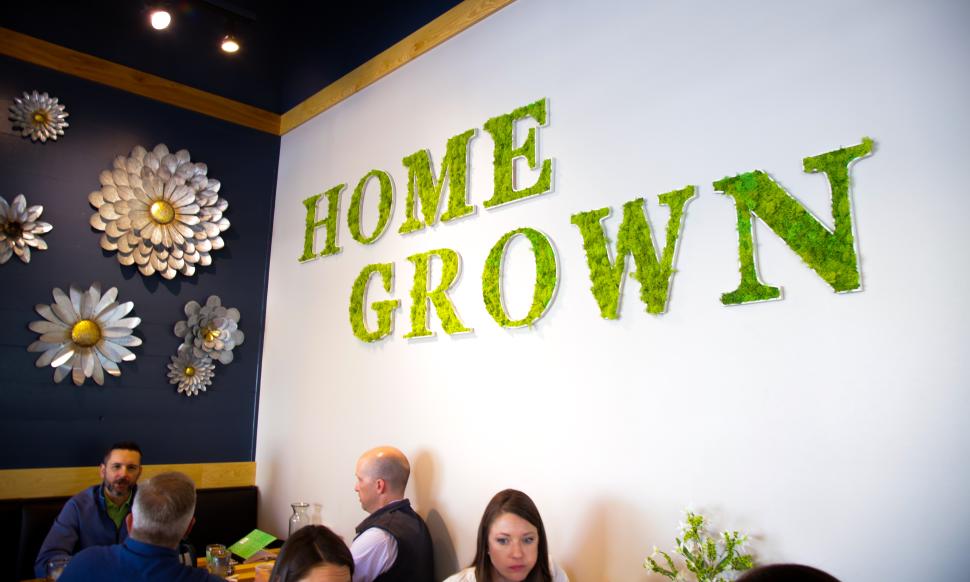 HomeGrown Wichita
Stop in any of the three HomeGrown Wichita locations (Bradley Fair, Downtown, & West) and you'll leave happy – thanks to the delicious locally-sourced menu and the upbeat interior that reminds you to "bee kind" and "cultivate kindness." Keep your eyes open for some of the subtle bee details, and notice that even the tables are handmade in Wichita (out of butcher blocks).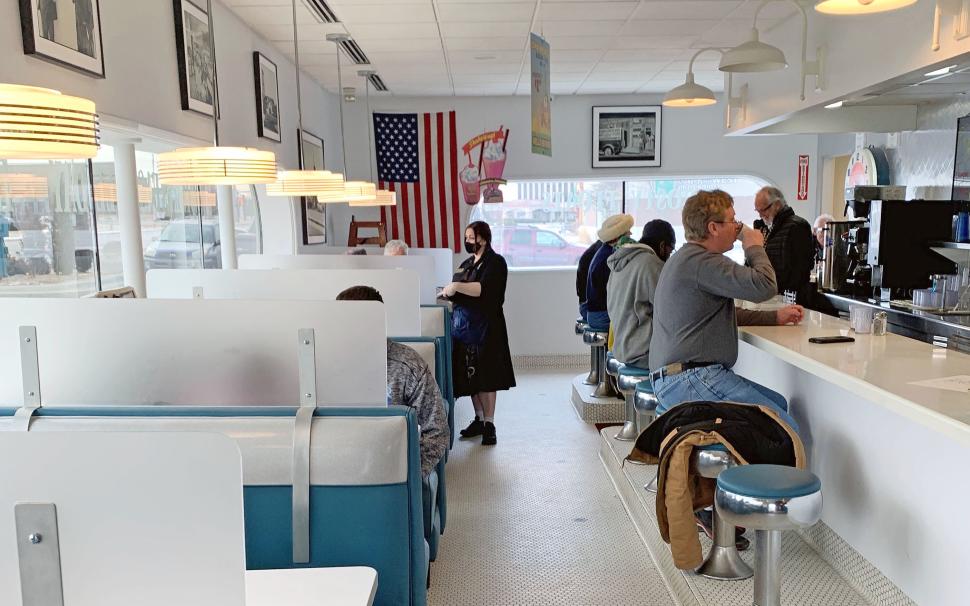 Jimmie's Diner
Breakfast all day and a jumping juke box is retro perfection at Jimmie's Diner, a Wichita classic bringing the nostalgic vibes since 1987. Visitors can choose from two restaurant locations (Northeast & South) — both dripping with mid-century diner aesthetic. Every booth features a mini juke box (bring quarters!) or visitors who choose to sit at the counter, a perfect spot to watch the hustle and bustle of the kitchen staff while listening to 50s doo-wop or rock and roll.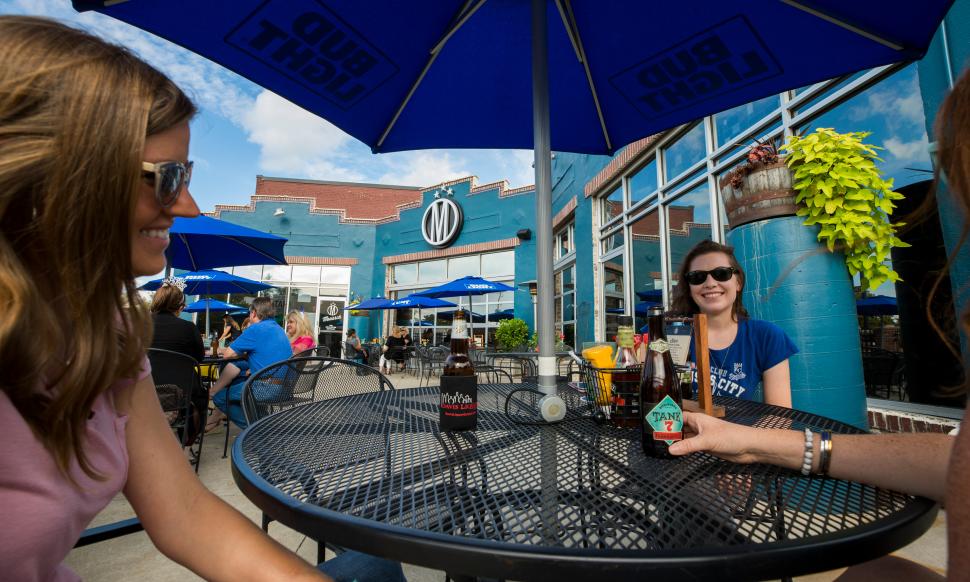 Monarch
We love the massive garage door at Monarch that opens up to patio seating and an awesome view of the Delano District roundabout and its iconic clock tower. It's a great place to sit for a while and enjoy a good meal or a drink from the bar, which offers the largest craft bourbon and whiskey collection in the state of Kansas.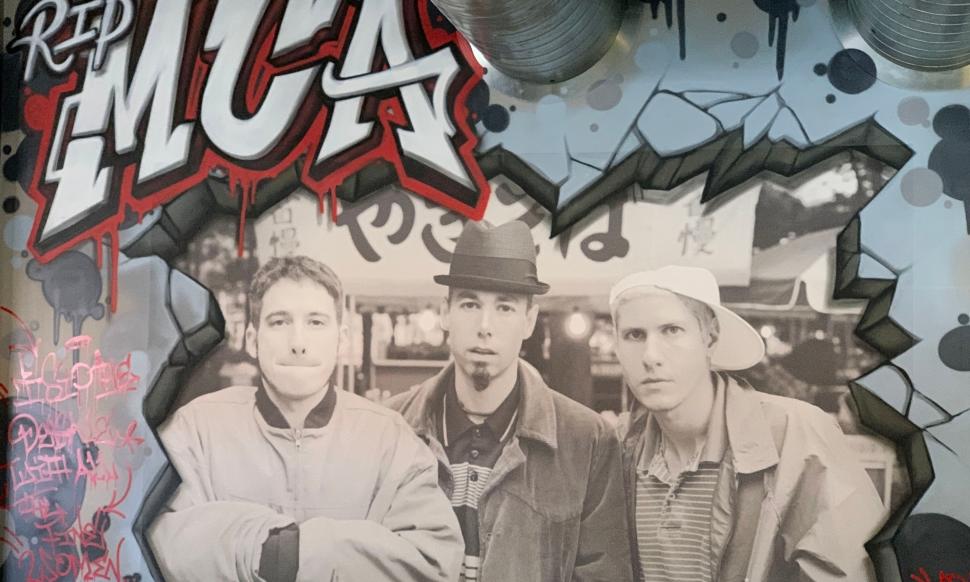 Nortons Brewing Company
Sipping craft beer in Wichita is more fun while playing a game of "Whoa! Do you see that?" as you spot relics of pop culture's past on display in every corner of Nortons Brewing Company. Aliens, gargoyles, flamingos, and a massive Beastie Boys mural set the backdrop for an amusing experience. Head outside to the dog-friendly beer garden to play a game of cornhole or sip suds from a porch swing. Take a moment before leaving to view the aquatic themed street art along the shipping container painted by local artist, Anthony Parker.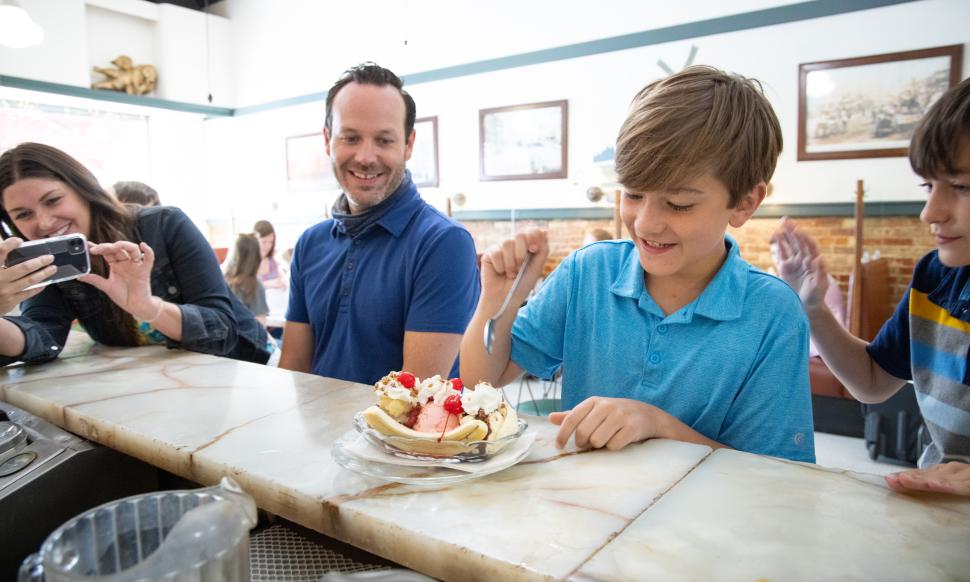 Old Mill Tasty Shop
To enjoy a meal at Old Mill Tasty Shop is to take a step back in time to the early days of downtown Wichita. Home of the city's original soda fountain operating since 1932, everyone loves sitting at the marble counter enjoying a chocolate malt or fizzy soda. Staying for lunch or dinner? Slide into a booth to enjoy menu classics like homestyle meatloaf or the ever-popular chicken salad sandwich.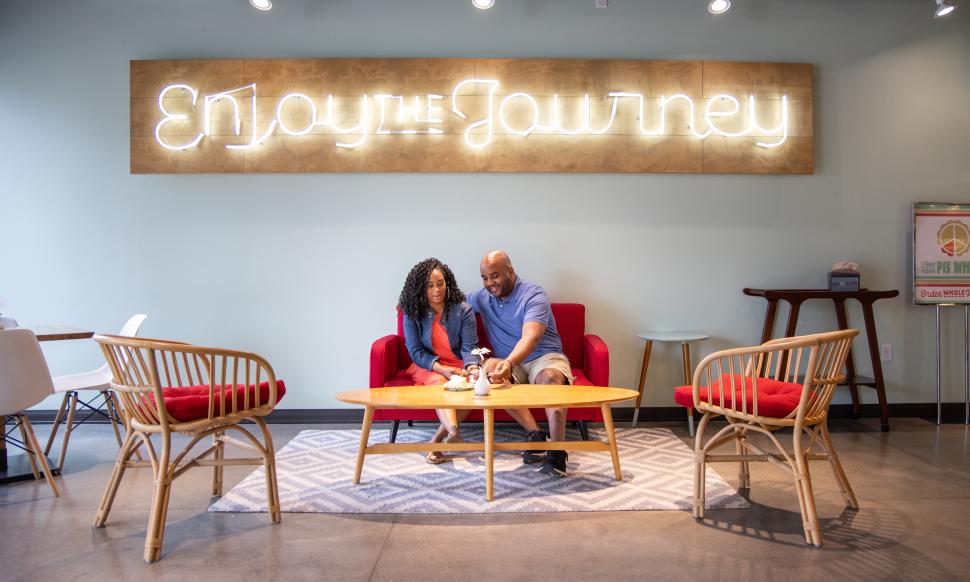 Peace, Love & Pie
C'mon, what's not to love about a café dedicated to pie? Besides the mouthwatering smells and beautiful dessert case at Peace, Love & Pie, the modern interior of this new space will help you Enjoy the Journey as you enjoy a slice of pie, a pie shake or one of their perfectly-sized Cutie Pies.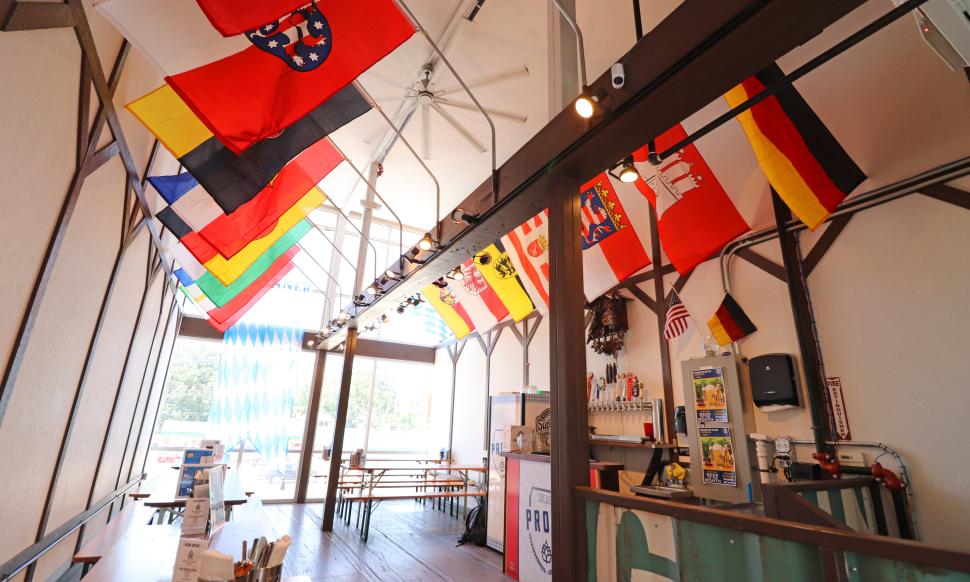 Prost
Dinner or beer in a shipping container anyone? You'll say "Prost" (German for "Cheers") when you see this two-story restaurant's second level. There are floor-to-ceiling windows allowing plenty of natural light and the ceiling is lined with colorful flags from Germany's 16 states. This eatery run by a German native is an anchor at Revolutsia, an open-air shipping container development.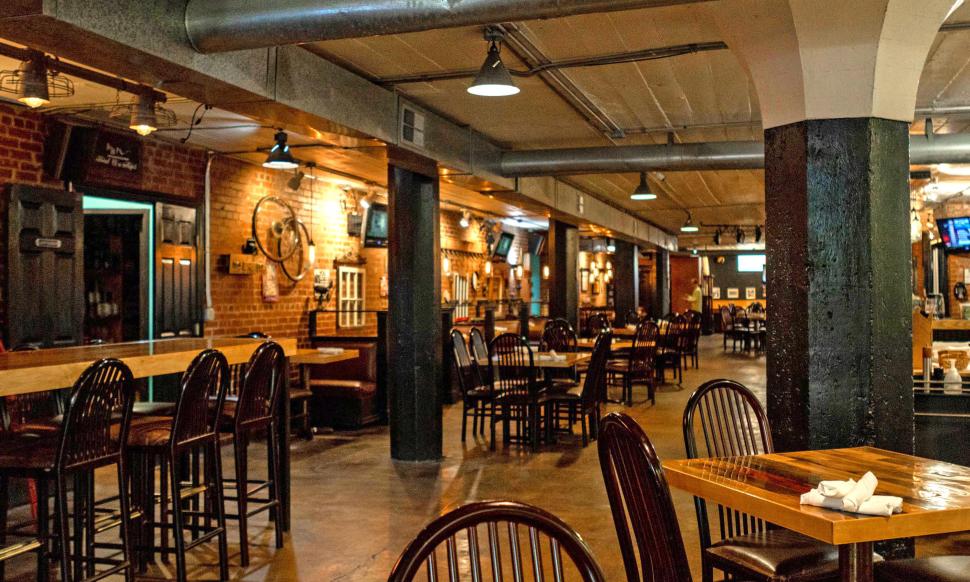 Public at the Brickyard
Adjacent to a distinctive outdoor music venue, Public at the Brickyard is known as much for its menu full of craft beer and dishes made with local ingredients as its cool setting: the bottom floor of a restored 1916 warehouse where Wichitans once made caskets.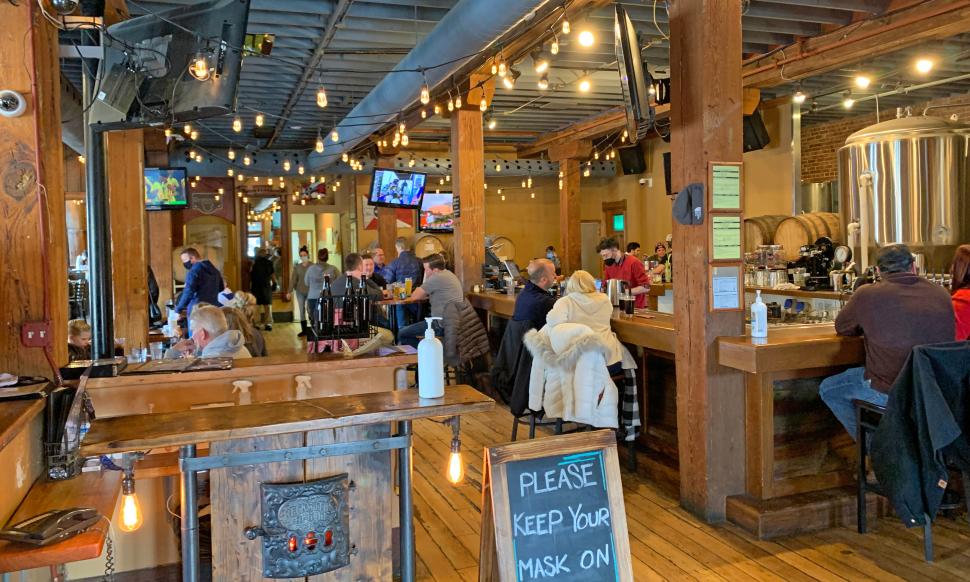 River City Brewing Company
Located in the heart of Old Town, River City Brewing Company has been serving handcrafted beers and brewpub food since 1993. The historic three-story building has the original design thumbprint of historic Wichita. Salvaged wood floors, beer barrels, and timber beams set the scene — the booth seats are made from old church pews! Patrons enjoy watching the brewmaster at work crafting one of 16 beers on tap via a glass wall showcasing the brewing process. The brewery serves a scratch-made menu including six varieties of mac and cheese, Kansas beef burgers, and pizza.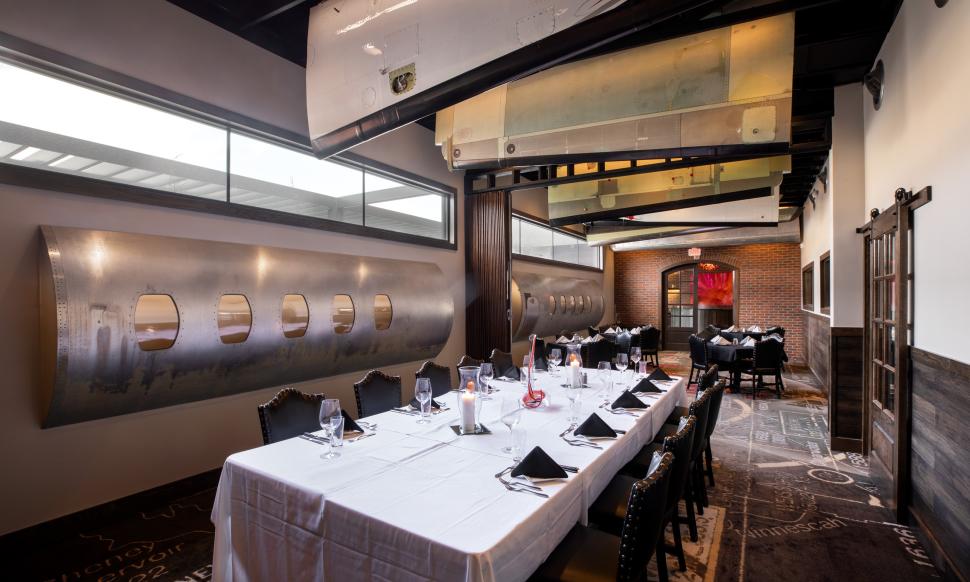 Scotch & Sirloin
Airplane enthusiasts will want to check out the Aviation Room in the front dining space at one of the city's most legendary fine-dining restaurants, Scotch & Sirloin. The room features authentic parts from general aviation's most iconic brands, built here in Wichita: pieces of a Cessna Citation CJ4 fuselage and wings from a Beechcraft Bonanza, Beechcraft Baron and Cessna Citation CJ3. A custom carpet shows a navigational map of the Wichita area and is FAA-approved.
Explore all of Wichita's 1,200+ restaurants to find even more wonderful dining experiences.