ICT Pop-Up Urban Park at 121 E. Douglas has transformed an empty spot between two downtown buildings into a thriving public space where the community can interact and connect through games like table tennis, activities like drawing on the massive chalk wall or simply enjoying a place to sit and enjoy free wi-fi. The 6,000 square feet of space has chairs, art installations and planter beds with trees and flowers. There's space at the back of the park for food trucks.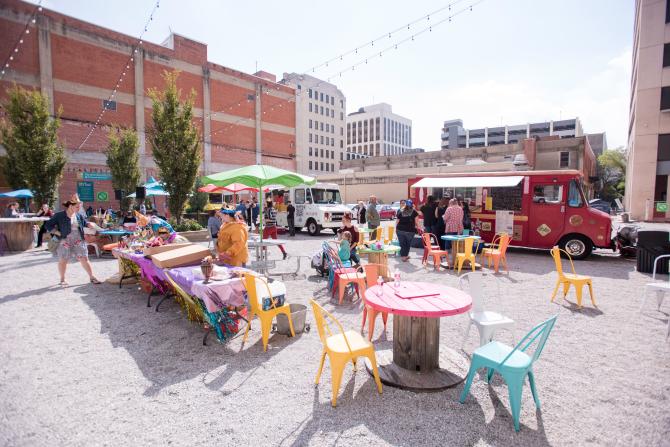 Downtown Wichita workers stop in for a food-truck lunch – there's usually a rotating grouping of about three for lunch on weekdays – along with at least one food truck offering coffee and breakfast items several mornings a week. Brunch is served on the weekends and whenever there's a major event in downtown Wichita, you'll likely find at least one food truck parked at the park. (The weekly food truck schedule is posted on Facebook.)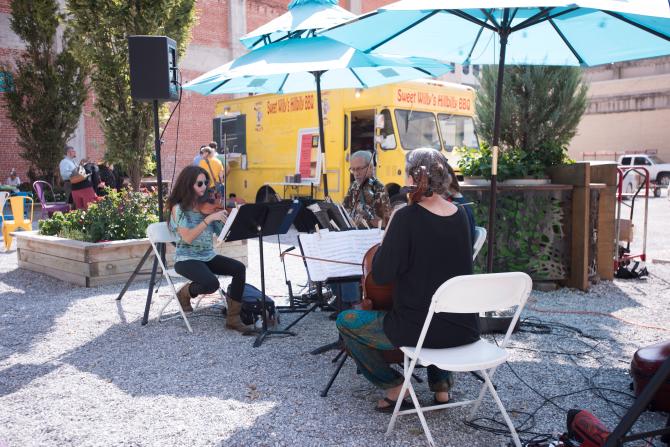 Despite its name, Wichita's pop-up park has some longevity. It's been open since 2015, though continues to evolve and to be a hub of activity along the city's main east-west thoroughfare. The temporary aspect of the park are the events and creative spaces that pop up throughout the year. For example, a section of the park temporarily transformed into a beach with sand and beach balls one summer. Another project brought a portable storage container to the park to serve as a Site Box Cinema showing trailers in advance of Wichita's annual Tallgrass Film Festival. There also have been pop-up concerts, children's music theater and beer gardens.

Currently on the programming schedule are family movie nights once a month through October. "Cars 2" screens on Sept. 14 and "Hotel Transylvania" on Oct. 19. It's family-friendly and free. Just bring a comfy chair and money to purchase snacks and beverages from LoLo's Crêpes food truck.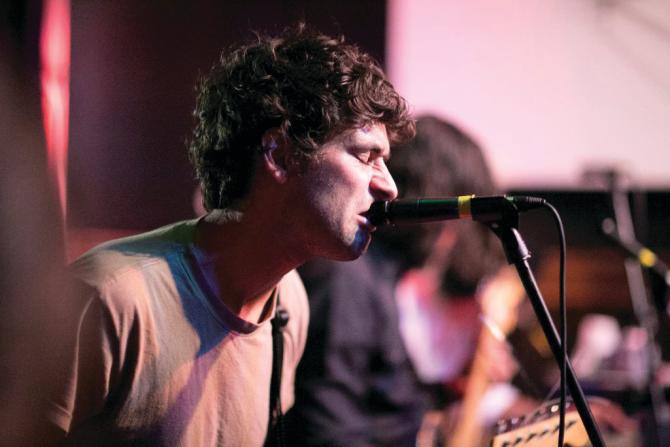 ICT FEST is holding its two-day music festival at the park for the first time Sept. 6-7. Now in its 15th year, the ticketed event will feature more than 30 bands from all genres: noise rock, pop, punk, hip-hop, electronic and a lot in between.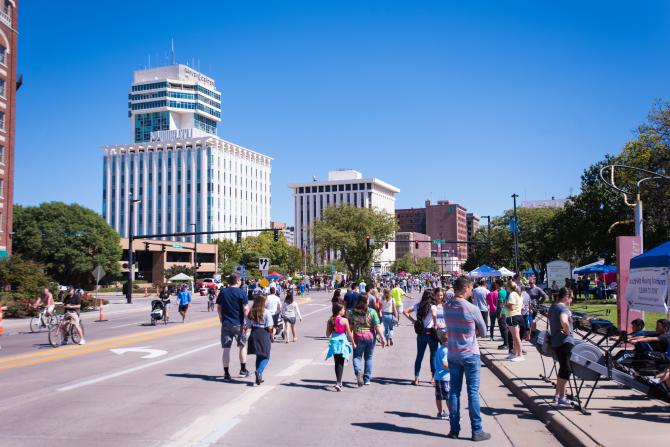 Another upcoming special event is the park's participation in the annual Open Streets ICT on Sunday, Sept. 22. While a 4-mile stretch of Douglas Avenue is closed to vehicle traffic that day – including the section in front of the park – there will be food trucks and live music at the park, along with a lazy dog obstacle course meant for dogs of any size and ability.

Downtown Wichita received a grant from the Knight Foundation Fund at the Wichita Community Foundation to build ICT Pop-Up Urban Park. It's a must-see when you're visiting Wichita as well as for locals.