Paid time off is a benefit at least 68 percent of Americans receive at their job, yet only about 46 percent of Americans use it up. As we prepare to welcome a new year, many of those vacation days will roll over, but more than a quarter of workers will permanently lose time they have been accruing.  Here are some real numbers showing just how big of an impact unused vacation leaves on places like Kansas: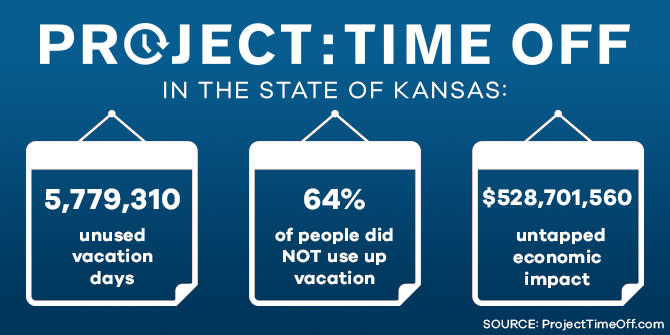 Kansans forfeit more than 5.7 million vacation days a year. 47 percent of those are able to rollover to the New Year, but each person permanently loses about 4.9 days a year. That represents more than $528 million in untapped economic impact. Nationwide, 662 million days are left on the table, costing workers $55 billion in lost benefits.
Excuses people give for not taking their vacation time
We all may be guilty of saying these sometimes, "I just can't step away from the office because there's far too much I have to get done." But studies show people are more likely to experience stress and take that stress home with them if they don't take their vacation days. Here are some common excuses for not taking advantage of this common employee benefit:
"I would return to too much work"
"No one can do the work I do while I'm away"
"The higher up you are, the more difficult it is to break away and take time off"
"I can't afford a vacation"
"I would feel too guilty leaving my coworkers to pick up the slack"
"I want to show I'm dedicated to my job, so I don't appear replaceable"
How to use vacation at the last minute
Do you have some untapped vacation days? How do you get rid of them with only two weeks left in the year and lots of holidays coming up? Plan wisely, but quickly.
Request time off immediately – new research shows people are giving less than a week's notice for their vacation time. Most employers request a two-week notice for planning purposes, so you have to act now.
Take long weekends – if you can manage to take off a Friday or a Monday, you can capitalize on your weekends off.
Take a spontaneous road trip – We have created many short-trip itineraries for people taking a spontaneous road trip to Wichita. From enjoying attractions, easy last-minute booking of hotels and finding fun activities, Wichita has enough going on that it doesn't matter when you come, there's always something fun to do.
Things to do in Wichita
There are tons of activities in Wichita every weekend from free Q-Line Trolley rides, music and entertainment, sporting events, vibrant nightlife, arts & cultural experiences and so much more. Check out our calendar of events for a complete list of events and activities during any given period of time. Here's a quick list of things you can do during a last-minute trip to Wichita:
Plan your custom trip today at VisitWichita.com.