Veterans' Memorial Park of Wichita will conduct its annual Veterans Day Program at 11 a.m. Thursday, Nov. 11. The program includes a flag lined walkway, a current Army 1st Sgt. as the keynote speaker, presentation of colors by McConnell Air Force Base Color Guard, playing of the national anthem and taps, a rifle salute and the recognition of all veterans who are present.
Since Veterans Day in 1977, our city has paid homage to the men and women who have served our country at Wichita's Veterans' Memorial Park. This 4.5-acre riverfront park sits between downtown Wichita and the Historic Delano District, near the Keeper of the Plains Plaza and the Museums on the River. The park is a great place to visit year-round and an especially meaningful way to recognize Veterans Day.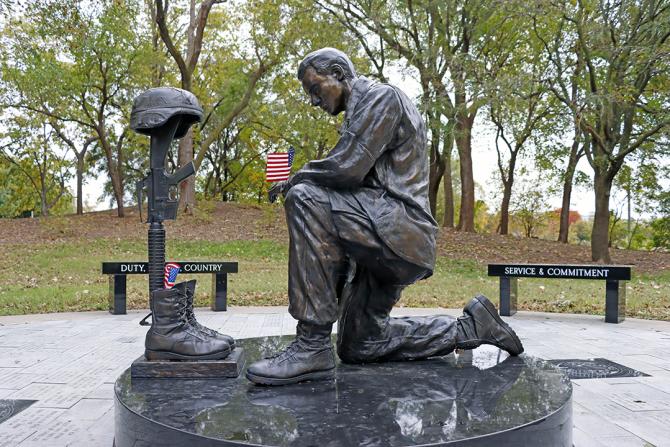 History
The Veterans' Memorial Park in Wichita is one of the largest memorial parks in the country and is set along the Arkansas River. From the Bicentennial Flag Pavilion to the U.S.S. Wichita Memorial, the park in downtown Wichita is home to 19 memorials spanning six wars and is one of only three collections nationwide honoring the Berlin Airlift. See a 360-degree view here.
The park was formed in 1980 to honor veterans and military personnel with statues, sculptures and memorials dedicated to the Civil War, World War I, World War II, the Korean War, the Vietnam War and the Global War on Terrorism. All branches of the U.S. military are represented as are prisoners of war missing in action, Gold Star families and service members who have received a Purple Heart.
Other ways to Commemorate Veteran's Day
Wichita's Veterans Day parade happened on Nov. 6., and there are other ways to commemorate the day in addition to the Veterans Day Program at Veterans' Memorial Park.
Chicken N Pickle is celebrating and honoring veterans on Nov. 11 at its indoor/outdoor venue in East Wichita. There will be a formal flag raising ceremony at 11 a.m. with the American Legion Riders and members of the Kansas Honor Flight. Chicken N Pickle will be donating 10% of sales from 11 a.m. to 6 p.m. that day back to the Kansas Honor Flight, a non-profit dedicated to honoring Kansas veterans of World War II, the Korean War and the Vietnam War by providing them with an all-expenses paid trip to visit their memorials in Washington, D.C.
If you can't make it to Chicken N Pickle on Veterans Day, they will be selling a limited edition veterans shirt and $5 from every purchase throughout the month of November will be donated to the Kansas Honor Flight.
Many Wichita attractions, restaurants and other businesses offer ongoing military discounts. Here are a few attractions with specific Veterans Day special events:
Sedgwick County Zoo's Veterans Day at the Zoo salutes both active duty and veterans for their dedication and service with complimentary zoo admission to all military personnel and their immediate families on Nov. 11. To receive free admission, visitors must show a military or veteran ID, discharge papers or other official identification. Families of deployed military personnel must show an active duty ID. No need to reserve tickets in advance, just come to the admission window and show proper ID. Zoo entry closes at 3:30 p.m. that day.
The Cosmosphere International SciEd Center & Space Museum invites veterans to receive a free All Access Mission Pass on Nov. 11. The pass includes unlimited access that day to the Hall of Space Museum and CosmoKids, one Carey Digital Dome Theater documentary, one show in the Justice Planetarium, one show in Dr. Goddard's Lab and one ride on the Navigator Flight Simulator.
For the latest list of events and experiences, check out the Visit Wichita calendar of events.