The Wichita brewery scene continues to grow with local brewers kicking out delicious seasonal beers just for you, the consumer. Here's a list of fall beers you can try and many of Wichita's local breweries:
Aero Plains Brewing
Aero Plains Brewing owner Lance Minor says the brewery has been busy kicking out their regular beers that all their free tank space is dedicated to the classics. With a limited release of the Oktoberfest brew, customers can still get a taste of fall. Also, Minor says to keep an eye out for an upcoming Christmas beer named Midnight Flyer Imperial Stout, because Santa flies at midnight.
Hopping Gnome Brewing Company
The people at Hopping Gnome Brewing Company have been busy working their gnome magic to create the best fall beers flavors you've eve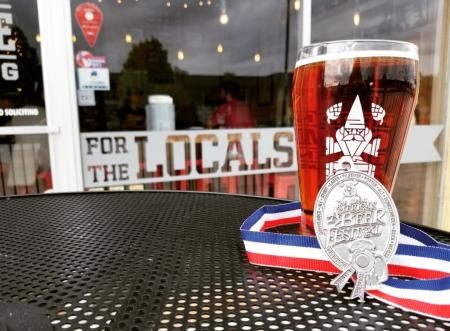 r tasted. Here's what you can try this autumn through the winter:  
Oktoberfest
Brown Eyed Grrr – American Brown
Brother Joel's Double IPA
Joey D's Dusseldorf Alt
360 Wichita Winter Wheat
Cinnagnome – Cinnamon Amber
Holiday beers include: 
Barrel Aged Rye PA
Barrel Aged Coffee Stout
Barleywine
Strong Scotch Ale
Sweet Allie B's Limestone Beer Co.
Sweet Allie B's Limestone Beer Co. has a few options for seasonal beer lovers including the LBC Oktoberfest and The Picker – an amber apple ale. At this brewery, customers can also order healthy, delicious foods like soups, sandwiches and salads or show up for Sunday brunch.
Nortons Brewing Co.
Nortons Brewing Co. is about to release their three super evil beers: Summon, an Imperial Stout, At the Stake, an American Barleywine and Night Goat, and Imperial Black Lager. These Halloween-inspired beers will have wicked labels and be available Oct. 30, 2018.
River City Brewing Co.
River City Brewing Co. tends to have 8-10 seasonal beers on tap at all times alone with its flagship ales. Right now, customers can grab these beers on tap:
Emerald City Stout – a fall/winter favorite flagship beer
Groover Goose – heavily-handed blueberry peach gose with a hint of sea salt
Mirage – brut IPA
Sour Izzy – raspberry tangerine sour IPA
Coming soon, patrons will be able to try four different variants of the Robs Triple Windsor beer.
Third Place Brewing
Third Place Brewing recognizes that the first place is home, the second place is work and the third place should be a place where people can come together. This fall, customers can expect several seasonal flavors at their favorite edge-of-Old-Town hangout spot: 
German Spectacle – Weizenbbock with balanced flavors of clove and banana with moderate malt body and an old world hopsy feel
Vanilla Porter – full-bodied, robust porter with whole vanilla bean added at different times in the fermentation process
PumpkinHead – pumpkin beer based on an Irish Red Ale with roasted pumpkin pie in the mash and fermenter, and pumpkin spices throughout
Brut – a lighter beer that will taste a little like wine
Wichita Brewing Co. & Pizzeria
Wichita Brewing Co. & Pizzeria - West and Wichita Brewing Co. & Pizzeria – East are offering two fall beer favorites, Oztoberfest and Yumkin Pumpkin. 
Coming Soon
Catherine III 2018 - an imperial stout aged in whiskey barrels. This year's version will introduce coffee from The Spice Merchant & Company and Madagascar vanilla beans
Twisted Pumpkin – only available at the brewpubs. It's a 9 percent imperial pumpkin porter with some of the same spices as Yumkin Pumpkin
Grand Theft Ale – coffee ale
Four Monks - Belgian quad
Do these flavors sound tasty? Hop on a Brew Wagon Tour and drink responsibly as you travel through downtown Wichita exploring up to three breweries.