In 2018, we were treated to the traveling national exhibit "Monet to Matisse: French Moderns from the Brooklyn Museum, 1850–1950" and this year the Wichita Art Museum and a host of generous sponsors are bringing us "Georgia O'Keeffe: Art, Image, Style."

Here are five things to know about the O'Keeffe exhibit, which runs March 30 through June 23:

1. "Georgia O'Keeffe: Art, Image, Style" is the first exhibition to explore the art, image and personal style of one of America's most iconic artists. Seventy original O'Keeffe garments will be presented alongside 72 portrait photographs of her wearing her clothing and 27 of O'Keeffe's paintings. This is a lifestyle exhibit meant to illuminate her modernist aesthetic and distinctive self-styling.

2. When the exhibit first opened in 2017, New York Times critic Roberta Smith had these glowing comments: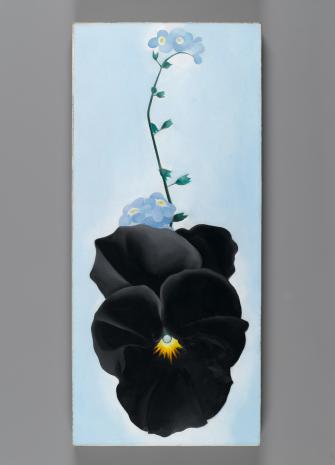 "Georgia O'Keeffe, the pioneering modernist artist, had sensibility to spare. She lavished it on her work, of course, but she applied nearly as much to self-presentation--the clothes she wore, the places she lived, and the furnishings and objects they contained. All these elements formed a single powerful aesthetic--in an era long before widespread branding, social media, and Instagram marketing--that was foundational to her fame and her myth. [This exhibition] reveals in particular how this painter of simplified images of enlarged flowers, Lake George tree trunks, and New Mexico's terra-cotta hills applied her meticulous sense of austerity and detail to every garment she owned."

3. This is a national exhibit organized by the Brooklyn Museum and will be at the Wichita Art Museum from March 30 through June 23. It will require a separate ticket. Adults visiting on Saturday always receive free admission to the museum but will pay $10 to see the O'Keeffe exhibit. Students and youth up to age 17 will get into both the museum and the O'Keeffe exhibit for free on Saturdays. Other days WAM is open, the cost to get into the museum and see the O'Keeffe exhibit will be: adults $20; seniors $15; college/university students w/I.D. and youth (ages 5-17) $3 and youth under 5 are free.

4. Several events at the museum will be O'Keeffe-focused this spring: Senior Wednesday: Curator Talk on April 3, Howard E. Wooden Lecture with Lisa Small on April 18 and Educators Night on April 25.

5. One-hour Tuesday drop-in tours are offered beginning at 3 p.m. on April 9, April 23 and April 30. They are free and no reservation is required, though you must purchase a ticket to the museum and the exhibit.

You can explore other Wichita museums or see other things to do by exploring the Visit Wichita website.