Updated: June 4, 2020
Like the rest of the country, Wichita's many museums and attractions temporarily closed in the middle of March due to concerns about the spread of COVID-19. Several Wichita attractions have recently reopened, or will open soon, with the safety of their guests in mind and are dedicated to taking the necessary precautions to stay open.
Reopening plans for area attractions include social distancing, changing to advance ticketing systems, limiting admissions, increasing sanitation efforts, restricting or not offering hands-on activities. Many are recommending visitors wear face coverings.
Bar2Bar MX Park is open for online signups only, and spectators aren't allowed at this time. Minors can be accompanied by one parent or guardian. All groups are limited to 10 riders. They are asking riders to spread out and be mindful of others in order to practice social distancing at all times. Public restrooms and concessions are temporarily unavailable.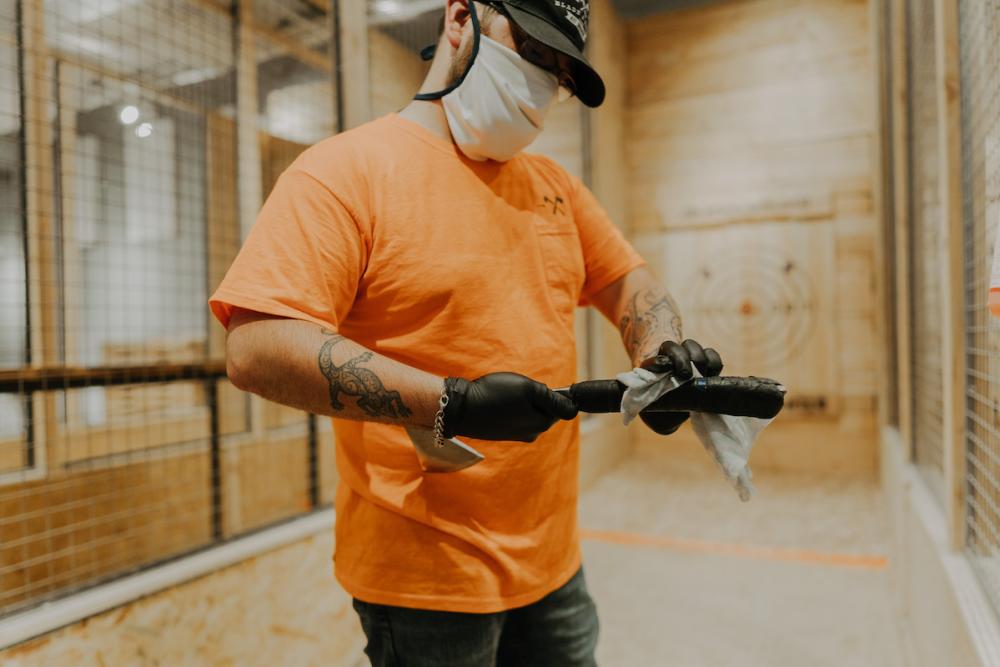 Blade and Timber reopened 5/22. Guests are encourage to reserve their lane and complete waivers online prior to visiting. They are limiting capacity right now, and wiping down axes, tables, and communal surfaces after every group, and deep-cleaning every night. Hand sanitizer is available at the front desk and throughout the facility. Coaches are wearing face masks and gloves, and are screened for symptoms before all shifts.
Bliss Climbing and Fitness has reopened to members and punch-card holders only. Reservations are required and no more than 40 reservations can be made per time block. Only 10 people are currently allowed in the bouldering room at a time. Everyone who enters the building is required to wear some kind of face mask or shield that covers your nose and mouth, and all climbers are asked to exit the building by the end of their reserved time so staff can disinfect after each climbing group.
At Board and Brush, patrons can once again create inside the studio. They have enhanced safety protocols in order to offer private parties and workshops, which are limited to 10 people to allow for social distancing.
Boats and Bikes reopened 5/22 and will be open every day of the week from 12-8 p.m., weather permitting through the remainder of summer. Shields have been placed on registers, and everything will be wiped-down/sanitized between patrons. The number of individuals permitted inside the building at one time is limited and markings have been placed to help with social distancing.
Botanica Wichita reopened 5/26 with limited hours - Mon-Fri 9 a.m.-5 p.m., Sun (beginning 6/14) 1-5 p.m. Staff will be wearing masks and social distancing. They are staying home if sick and will report any presumed COVID-19 cases to proper authorities. The number of visitors in the Gardens will be limited at any given time to meet social distancing requirements. Visitors are encouraged to purchase tickets or memberships online. The City of Wichita is requiring masks for ages 3 and up at all its facilities (available for purchase for $1). The Carousel, Train Garden, Chinese Garden and Gift Shop will open June 8. The Butterfly House will be open with one-way traffic to maintain social distancing, exiting through the cottage. The Downing Children's Garden and Children's Library will remain closed until further notice. Onsite mobility devices, i.e., wheelchairs and scooters, will not be available. Drinking fountains will not be available; however, the bottle filler portion of the water fountain in the lobby hallway will be available for filling water bottles. Bottled water and sodas may be purchased at the front desk in the Administration Building Lobby. Select areas will be open for picnics. You can bring food and drink inside the garden. There will be designated areas to eat. Public restrooms will be open in the lobby and Memorial Plaza.
Century II is set for a reopening 6/15. Face masks are currently required at all city facilities and will be provided if needed. See other safety precautions here. Some of Wichita's favorite performing arts organizations have had to adjust their 2020 seasons. Music Theatre Wichita has made the difficult decision to push their five shows (that include Grease and The Wizard of Oz) to next summer. The Wichita Symphony Orchestra had to cancel the last few shows of their 2019-20 season and look to start the 2020-21 season in September. The American Theatre Guild cancelled the last show of their 2019-20 Broadway in Wichita series (The Spongebob Musical) and are set to begin their 2020-21 series with Disney's The Lion King in October.
Chicken N Pickle is open and closely monitoring guidelines and will continue to make changes as necessary or appropriate to their protocols and procedures. Guests will be advised to practice physical distancing by standing at least six feet away from other groups of people not traveling with them, while standing in lines, using elevators or moving around the property. Dining tables, picnic tables, bier gardens, pickleball courts and other physical layouts will be arranged to ensure appropriate distancing. The frequency of cleaning and sanitizing will also increase and hand sanitizer dispensers have been placed throughout the facility. Staff are required to have their temperatures recorded before each shift and appropriate PPE, including masks and gloves, will be worn by all. Rental paddles and pickleballs will be sanitized and air dried immediately upon being returned.
CityArts reopened 6/1 by appointment only, and with modifications to accommodate social distancing and safety protocols. Face masks are currently required at all city facilities and will be provided if needed.
Crown Uptown has scheduled their first show of the season, Hoedown at the Crown, for several dates beginning 6/11. Social distancing is required and face masks are encouraged.
Exploration Place is reopening to the public 7/4. There will be special guidelines to follow - full details will be shared soon. The admissions desk has been moved to make member check-in easier.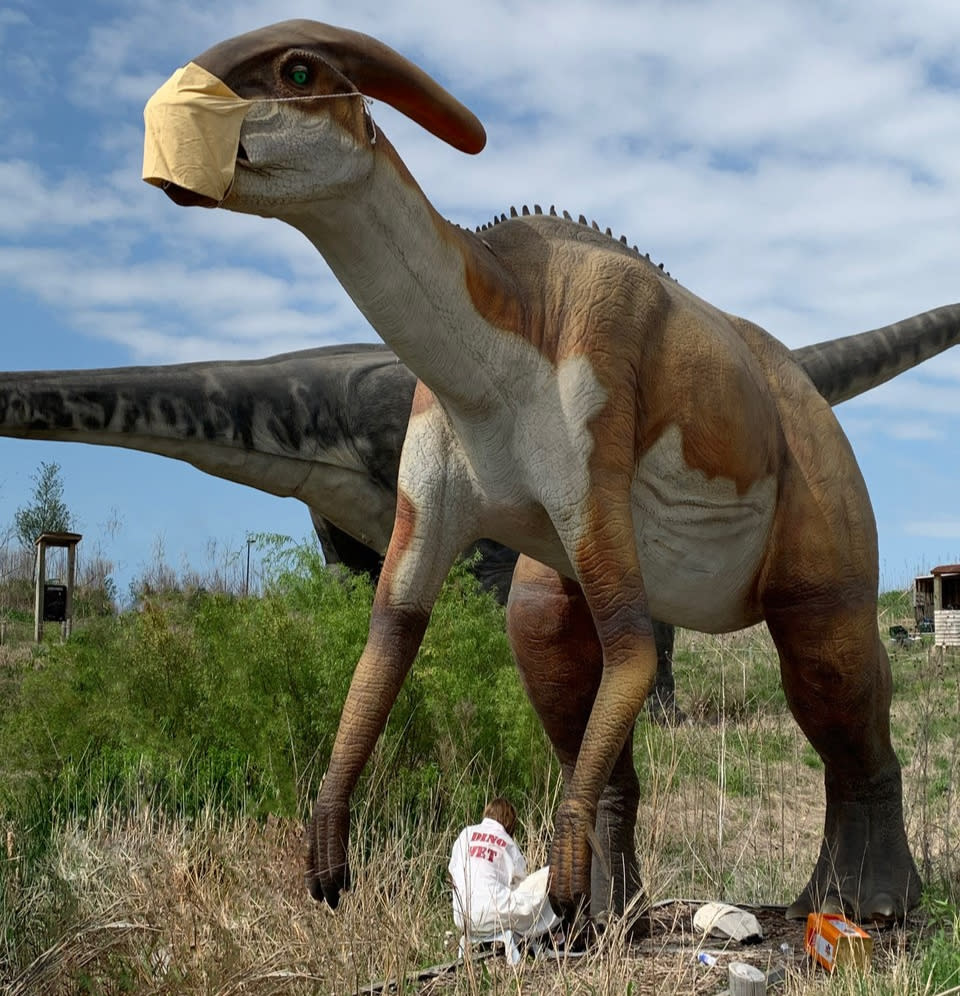 Field Station: Dinosaurs reopened 6/1 and is implementing additional safety precautions like reducing contact points, disinfecting contact areas multiple times daily, highly recommending the use of face masks for guests and staff, limiting show audiences, closing the Kansas Climb for the season, and creating a preferred path throughout the Field Station to encourage social distancing.
Frank Lloyd Wright's Allen House reopens for tours 6/17 with a limited schedule. The first Grand Tour has already sold out!
Grace Hill Winery has reopened the winery for tastings by appointment only. The tasting room will be open for sales and the outdoor areas will be open as well. Outdoor seating is spaced to ensure proper social distancing while enjoying a glass or bottle of wine with no appointment necessary.
Great Plains Nature Center reopened to the public 6/1. No programs, field trips, activities, or non-agency meetings will be hosted in June (summer programming is planned to begin in July). Individuals who visit GPNC are asked to self-monitor, stay home if they feel sick, and adhere to recommended personal hygiene guidelines. Every effort is being made to ensure the health and safety of visitors - entry areas and common contact points will be sanitized throughout the day,.ample space to allow for social distancing, and face masks will be worn by staff and volunteers in public areas. They ask, as a courtesy to others and GPNC staff, if visitors wear masks. Visitors will be asked to stay 6 feet apart from others and move in a counterclockwise fashion through the Koch Habitat Hall. 
The Kansas African American Museum reopened 6/2 for public tours of SHADES of Strength & Beauty in the latest Main Gallery Exhibition. The exhibition celebrates Kansas Women of Color and will be on display until September 5. TKAAM will be limiting capacity, wearing face-masks, and sanitizing frequent touch points regularly.
The Kansas Aviation Museum is opening to the general public 7/8 with limited hours and capacity to start. Facial coverings and social distancing of at least 6 feet will be required. More information on their reopening and safety precautions can be found on their website.
The fire pots at the Keeper of the Plains will resume their regular schedule (nightly at 9 p.m.for 15 minutes, weather permitting) 6/16.
The Loony Bin has their first show back scheduled for 6/11 when Tim Gaither brings his act.
Mark Arts reopened 6/1, with classes anticipated to begin 6/15. The Abstract National Exhibition will be on view in the Gladys and Karl T. Wiedemann Gallery, and Study Collection Exhibition: Women in the Arts will be on view in the School of Creativity Commons. They are taking steps in making the facility safe for employees and visitors such as encouraging you to wear a mask or face covering, limiting group size to allow adequate social distancing, implementing new hygiene and sanitation protocols, placing plenty of hand sanitizer throughout the building, and frequently cleaning and sanitizing restrooms.
The Mid-America All-Indian Center is reopening 6/16. Face masks are currently required at all city facilities and will be provided if needed. Visitors are asked to keep at least 6 feet between themselves and others. Floor markers are provided to ensure proper social distancing. Hand sanitizer is available throughout the facility. Frequently touched items are cleaned and disinfected in compliance with City guidelines. Employees will follow all CDC guidelines for self-monitoring of symptoms. Employees and Volunteers will wear masks and wash or sanitize hands regularly.
Mosley Street Melodrama reopened 6/4 with one weekend of Dr. Jekyll & Prissy Hyde Performances will be Thursday through Saturday evening, with a special added matinee on Sunday (June 7) at 2 p.m. Saving Pirate Ryan will open the following weekend on Friday (June 12) and run Thursdays-Saturdays through July 25. New protocols in place to protect patrons, staff, and cast including limited seating that is spread to encourage social distancing, masks and gloves for staff, a custom built partition for the buffet, and several others.
The Museum of World Treasures reopened 5/27 with capacity limited to 25% (100 visitors) and group-size limited to 10 people. Walk-ins are always welcome and reservations are strongly encouraged by calling the Museum at 316.263.1311 during normal operating hours. Priority will be given to those with reservations and also to Museum members (with or without a reservation). The last reservation of the day will be taken at 2:45 p.m. Face coverings and social distancing of six feet will be required in the Museum. The Museum recommends credit card or NFC devices for contactless payments. Sanitization stations have been made available for guest safety. All interactives and high-touch areas, including Ivan's Playhouse, as well as water fountains, have been temporarily closed. 
Northrock Lanes reopened 5/22. Bowling groups will be separated by at least one lane, and face masks are optional.
The Old Cowtown Museum reopened 6/2. There won't be a season launch party, but they're hoping to get summer events going in July. To promote social distancing, some exhibits with smaller spaces will be closed and others will have signs on the buildings indicating the number of people that should be inside at one time. The saloon will be open to a limited number of people at a time for shopping, but will be closed to seating (picnic tables will be available for seating behind the saloon). Face masks are currently required at all city facilities and will be provided if needed.
The Orpheum Theatre has their next event scheduled for 7/16 with a filming for The Color Purple as part of their 2020 Anniversary Film Series.
Paint the Towne is offering curbside pickup of take-home kits. They are committing to using only new products, increasing cleaning, wearing gloves, social distancing from customers and minimizing staff when possible. They have to-go paint kits available every Monday at 10 a.m. with pickup Wednesdays 10 a.m.-7 p.m. only. When they open for parties again, class sizes will be limited.
Roxy's Downtown reopens with the fifth season of Golden Girls on 6/18. They're taking precautions to keep patrons, cast and crew, and staff safe, including spreading out seating to encourage social distancing.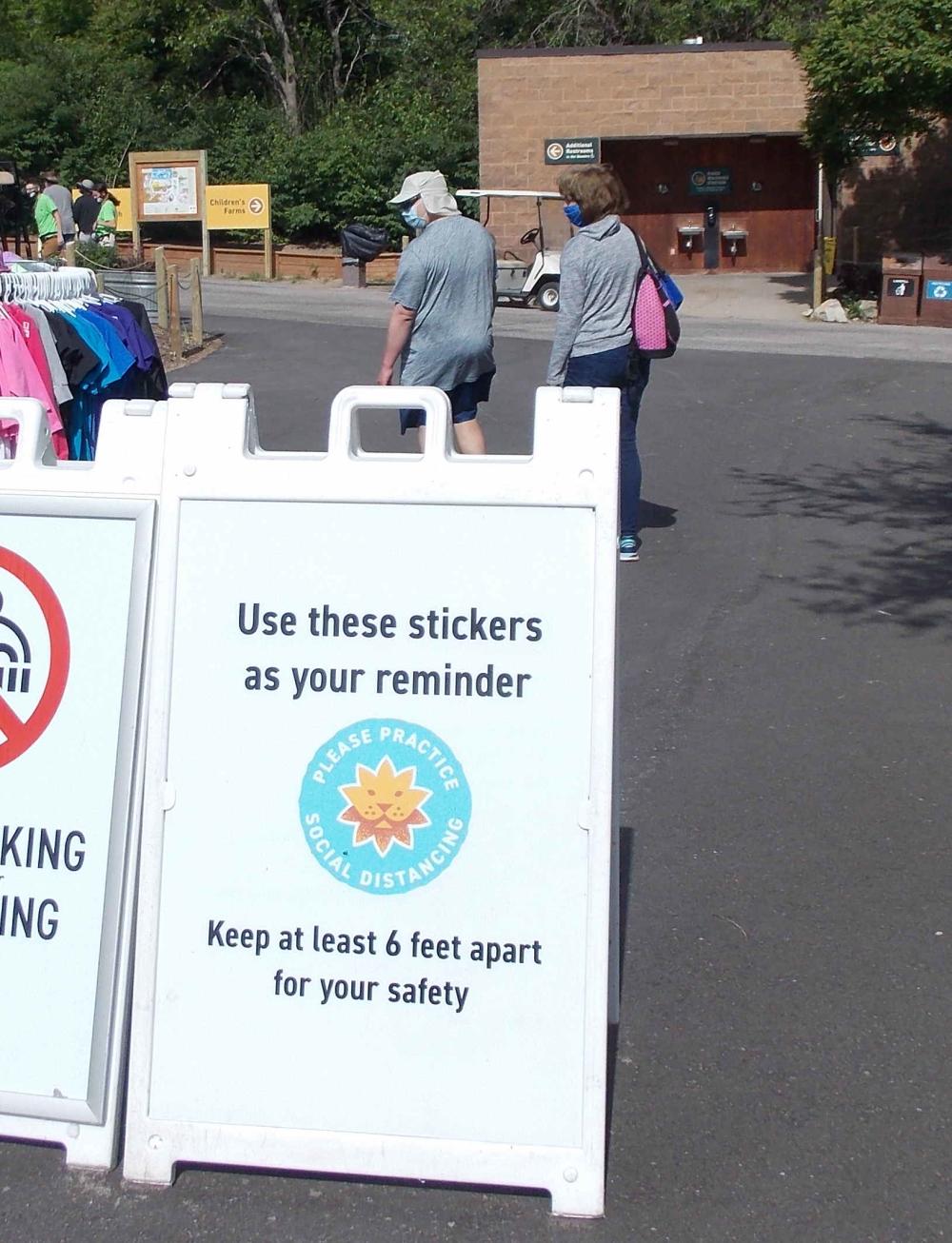 Sedgwick County Zoo reopened to the public 5/21. All guests must purchase tickets online before visiting to maintain a limited capacity and allow guests to space out. Tickets are available in 30-minute blocks from 9 a.m.-2 p.m. Zoo Members and senior citizens have the opportunity to purchase early bird tickets at 8 and 8:30 a.m. Guests may arrive anytime within the scheduled half-hour block. Once inside the Zoo, the duration of your visit isn't limited. Guests are encouraged to wear masks, with the opportunity to purchase masks upon entry if needed. Hand sanitizing stations are available, restrooms cleaned every 2 hours, and a "Clean Team" is focused on routinely disinfecting frequent touch points. Zoo staff are required to wear masks and other appropriate Personal Protective Equipment. Social distancing is encouraged with markers in high-traffic areas and capacity inside buildings is monitored and limited based on square footage. Paths throughout the Zoo include directional suggestions, with a goal of keeping guests moving in one direction. The KOCH Orangutan & Chimpanzee Habitat and the Downing Gorilla Forest are now open! Keeper Chats, Animal Extras, Wild Encounters, playgrounds, water fountains, Farms contact yards, boat rides, giraffe feedings, and trams are not currently available. The Beastro and other restaurants are operating from outdoor service windows only. These restrictions will be lifted during later phases of the reopening plan.
Splash Aqua Park reopened 5/30 and will be limited to 30 people in the park at a time. Guests are encouraged to buy tickets and complete waivers online before arriving to the park. Aqua Guides will be spraying sanitizer during shifts on all equipment. All life jackets will be sprayed with sanitizer after each use. Guests may bring in their own personal Coast Guard Approved life vest.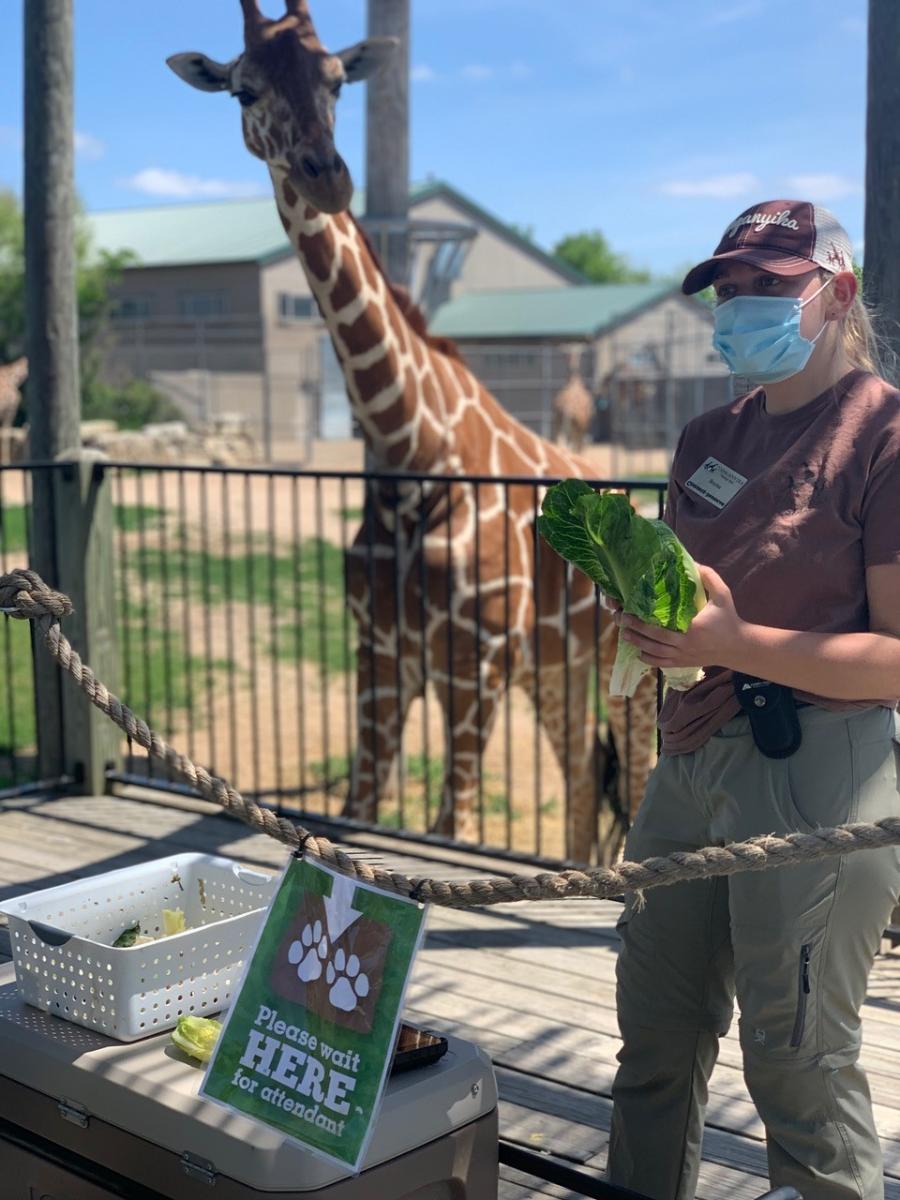 Tanganyika Wildlife Park reopened to the public 5/9 with hours adjusted to 10 a.m.-4 p.m. A few encounter stations are currently open, and some animal experiences are being offered (Penguin Swim, Otter Meet & Greet, etc.). The pavilion deli and gift shop are available with limitations.To visit, you must make an online reservation to stagger the entry times and avoid guests showing up at one time and a large crowd forming. Currently, 50 people are allowed per 30 minutes to enter the Park, and you can stay as long as you like or until closing. The park is also implementing additional cleaning, signage and social distancing protocols based on recommendations from the state of Kansas and the CDC (phasing their opening, requiring online reservations, scheduling extra cleanings of bathrooms and public spaces, wearing masks and gloves when appropriate, etc). 
The Room has reopened and is welcoming groups of up-to ten people to attempt escaping any of their three rooms - Back to the 80s, Temple of Tinar, or The Lucky Lady Saloon. They are sanitizing each room after use, and all guests must wash hands. Sanitizer is also available in each room.
WAVE is reopening Adios Nachoria for limited hours as an outdoor restaurant space, beer garden, and centralized hub for our community to unite and forge a path forward. They'll be open Fridays and Saturdays 11 a.m. - 9 p.m. and Sundays 11 a.m. - 7 p.m. for food, drinks, and live local music on the outdoor stage. Visitors are asked to stay at their tables, which will be available on a first come first served basis, and table service will be provided. The indoor facility is staying closed for now, but restrooms are accessible through exterior doors.
Wichita Art Museum is planning on reopening to the general public 6/23 and have developed a plan that prioritizes an abundance of caution for the well-being of employees and visitors. New measures for cleaning and sanitizing are being implemented, facial covering will be required, social distancing practices will be followed, and certain galleries will have occupancy limitations. The Museum Store and Muse Café will be open, and public programs will also restart with capacity limits and staging to allow social distancing.
The Wichita-Sedgwick County Historical Museum will reopen to the public 6/23 and is resuming normal hours of operation. Masks will be required in the building. Alterations to the physical environment and enhanced sanitation will be in place to address health precautions. Reservations made 24 hours in advance are recommended to guarantee admission due to capacity restrictions. Please call 265-9314 or email tours@wichitahistory.org.
The Wichita Sports Forum reopened 5/22 with extra safety precautions in place. Aviate, the trampoline park located inside, will reopen 6/1.
With gathering limits still in place, venues like INTRUST Bank Arena and Hartman Arena are anxiously waiting to be able to welcome large groups for concerts and shows, and have pushed many event dates back. See our running list of event updates.
Planning on exploring Wichita soon? Please follow safety protocol for our state and county.