Wichita has become one of the best places in the country to host sporting events thanks to our central location, passionate sports fans and top-notch attractions, restaurants and entertainment options. That also makes Wichita one of the top vacation destinations for sports fans and this summer we have a truly unique lineup: NBA-level basketball talent, world champion water skiers and the country's top amateur baseball players will all be in Wichita in late July.

TBT brings top hoops talent
July 25-28

TBT, or The Basketball Tournament, is a $2 million, winner-take-all basketball event that attracts a competitive field of college alumni teams with rosters including international basketball stars, ex-NBA players and future NBA players. Wichita State University is serving as one of eight regional sites for the sixth annual tournament and games will be played July 25-28 at Charles Koch Arena.

Last year's TBT field included more than 60 players with NBA experience, including multiple former lottery picks, NBA champions and NBA All-Stars. All games in the single-elimination 5-on-5 tournament are shown live on ESPN networks.

Eight teams will come to Wichita from around the country with well-known names on their rosters.



As host, WSU gets an automatic entry for The AfterShocks, a team comprised of former Shocker players including Toure' Murry, Tekele Cotton and Shaq Morris.



Regional favorites also include the alumni teams from the University of Kansas and Kansas State University. The roster for SelfMade includes players from the coach Bill Self era: 2008 NCAA Champions and former NBA players Darrell Arthur and Darnell Jackson, as well as fan favorites Tyshawn Taylor, Perry Ellis and Travis Releford.



Purple & Black, one of TBT's longest running alumni teams, includes D.J. Johnson, Thomas Gipson and Marcus Foster (Creighton). There's a chance former NBA players Michael Beasley, Bill Walker and Jacob Pullen will join the team.

Other teams in the Wichita regional:



The Golden Eagles, a mostly Marquette alumni team, are the top seed in Wichita. They return several former NBA players, including Travis Diener, Jamil Wilson and Elgin Cook (Oregon), who helped them make a run to the semifinals in 2018 before losing to eventual champion Overseas Elite.



Team Colorado, which finished as a runner-up to champion Overseas Elite in 2016, has a roster of Colorado alumni including Richard Roby, the school's all-time leading scorer, and Marcus Hall, consistently one of TBT's best scoring guards.



Iowa United brings together talent from Iowa, Iowa State and Drake University, including Reed Timmer (Drake's all-time leading scorer) and Marcus Fizer, the fourth overall pick in the 2000 NBA Draft.



Sideline Cancer, one of the original TBT teams, has added 2017 NCAA D-1 scoring leader Marcus Keene (Central Michigan) to its roster.



Fort Hood Wounded Warriors, a mix of pro players and veterans, includes notables Rashard Odomes (Oklahoma), Nikko Acosta (Lamar) and Devon Wilson, who holds the TBT record for most three-pointers in a quarter (7).

All-session tickets range from $45 for general admission to $105 lower reserved seats. Reserved and general admission seating is also available for a single session. First-round games are on July 25 and 26, with two games on each of those evenings. The remaining four teams will compete in the regional semifinal on July 27, and the regional championship will be played on July 28.
World champion water skiers compete
July 26-28

The Wichita Cup Invitational – an event attracting professional water skiers, including three world champions – happens at Mystic Lakes Ski Club, just northwest of Wichita, on Friday, July 26. Skiers compete in slalom, trick and jump competitions under the lights in this night event.

"The Wichita Cup Invitational brings in the 'royalty of the waterski world' to Wichita," said Cole Kalkbrenner, event organizer. "Seeing this level of professional water skiers in the heart of the country is a tremendous opportunity – one we hope people will take advantage of and come out to witness the talent that will be competing in our city."

While this will be the first time the Wichita Cup Invitational will be held in Wichita, Kalkbrenner said Wichitans have seen this type of competition before when it was called the America's Cup Invitational and was part of the 2018 GOODE Water Ski National Championships held at Mystic Lakes.

In addition to the pro event on July 26, the 2019 Midwest Regional Water Ski Championships will be held at Mystic Lakes from July 26-28. Qualifiers in slalom, tricks and jumping events from regionals will go on to compete at nationals in West Palm Beach, Florida.

Both events are open to the public. The regionals are free, while the Wichita Cup Invitational costs $10 per carload and runs from 6:30-10 p.m.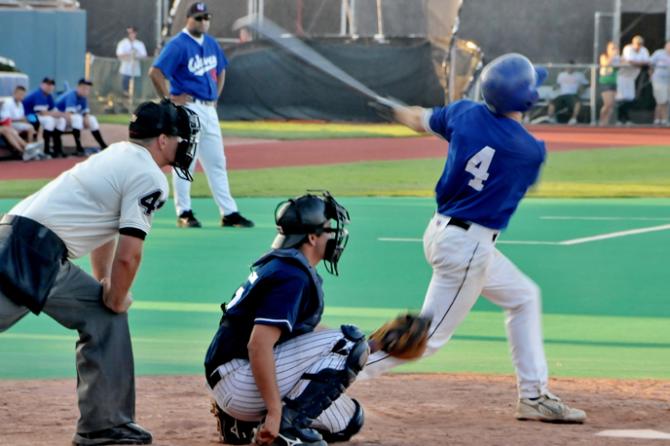 NBC World Series to play at top collegiate ballpark
July 27-Aug. 10

Wichita State University's Eck Stadium, considered one of college baseball's premier ballparks, is the site of the 85th National Baseball Congress World Series July 27-Aug. 10. The tournament's long-time home, Lawrence-Dumont Stadium, was demolished earlier this year and a new stadium is being built that is expected to be the home of the 2020 NBC World Series and a Triple-A ballclub affiliated with the Miami Marlins.

The NBC has been bringing elite collegiate/semi-pro baseball teams to Wichita to compete for a national championship every summer for the past 84 years. The event showcases the best of the best: more than 800 NBC World Series players have gone on to play Major League Baseball. That's an average of 10 players each summer who come through Wichita and eventually play on baseball's biggest stage.

Fans can expect great competition and a fan-friendly, affordable atmosphere at Eck Stadium. There's plenty of parking around the stadium, taller grandstands mean more seats in the shade and among the new fan experiences will be outfield hill seating that allows fans to bring in lawn chairs, blankets and coolers with food and non-alcoholic beverages.

Individual tickets range from $8 general admission to $13 reserved seats and are good for all of that day's games. There are also flex packs available and a special "Hap Pass" named for the event's founder, Hap Dumont, that gives you the same reserved seat for every game of the two-week tournament for $85. Visit the NBC website for additional ticket information.