Although the food and restauranteurs were intended to be the highlight of the evening, another guest seemed to have everyone's attention: Andre. At just seven years old, he is one of the youngest spokespeople for the Boys & Girls Club of South Central Kansas.
At first glance Andre seems shy, mostly quietly standing next to Executive Director, Juston White. However, Andre is not one to under-estimate as this young man comes with his own business cards. He started his own mowing service at just six years old to help the elderly and disabled take care of their yards. When the weather turned cold and his mowing services had to be put on hold, Andre turned to making sandwiches to hand out to the homeless. He also consistently volunteers at the Lords Diner.
This seven-year-old has accomplished more in his short life than some of us have done in a lifetime. Andre is one of six children to a single mom. The Boys & Girls Club has provided him with fun adventures and his mom with the peace of mind that comes from a safe after school program. The mission of the Boys & Girls Club is to "enable all young people, especially those who need us most, to reach their full potential as productive, caring and responsible citizens." They have clearly succeeded in this mission with Andre who is giving back to the world one lawn and sandwich at a time.
Andre has many passions including football (he is a big Steelers fan), WSU Basketball and most of all the Teenage Mutant Ninja Turtles. Thanks to the crayons and contact paper provided by The Marriott, Andre managed to involve everyone in his favorite passion. He drew a culinary delight with pepperoni, anchovies and flies mirroring the likes of Teenage Mutant Ninja Turtles. Everyone joined in - a blogger was sketching Splinter, restaurant owners drawing mushrooms and Directors of Marketing were hunting down every color of crayon in the room.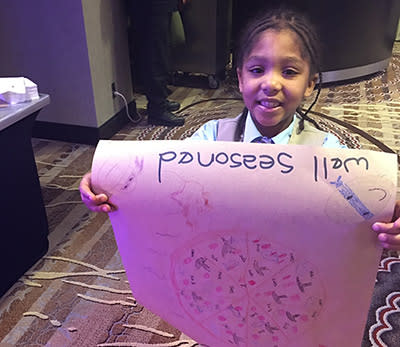 Chicago Style Pepperoni, Fly & Anchovies Delight
After spending the evening with this exceptional little man, you realize that the unique Restaurant Week Menus really help to entice us to give back. Andre highly recommended the meatballs from The Fireside Grille located in The Marriott. But our favorite was the coated brown sugar bacon. With a week titled "Wichita Restaurant Week," there are no food options you can go wrong with. Check out the full list of participating restaurants and their menus at wichitarestaurantweek.com.
So while you devour your striped bass at Public or your cheese curds at Bricktown Brewery remember, that 10% is going to Andre. And if you're able, there is always an 'Extra Helping' begreatwichita.org/donate-now you can send over to the Boys & Girls Club.
Bon Appetit!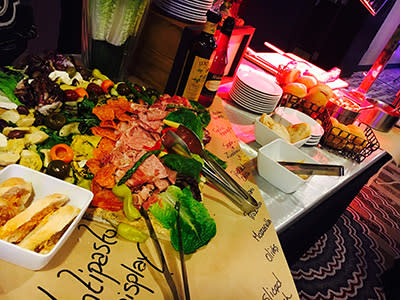 Antipasti Board: Fireside Grille by Marriott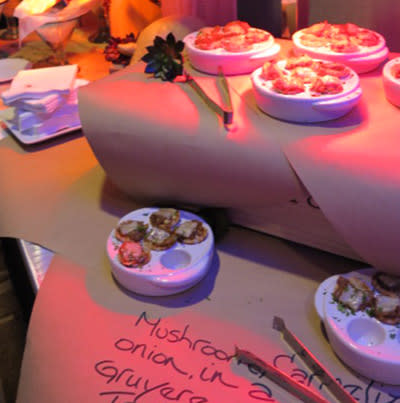 Caramelized Mushroom & Onion Gruyere Tartelette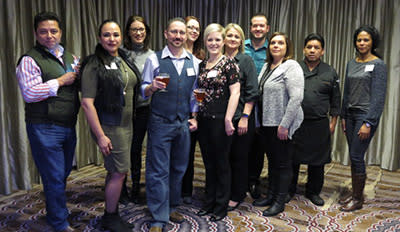 Little Andre in his Sweet Suite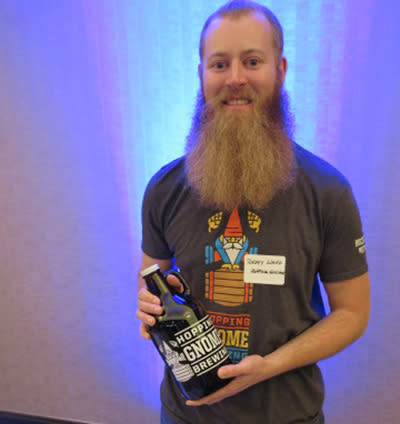 Torry from Hopping Gnome Serving Brew by the Growler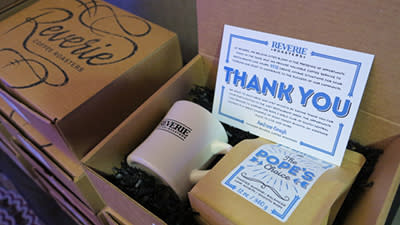 Thank You's presented by Reverie Coffee Roasters