The 2019 Wichita Riverfest includes 23 new events in addition to perennial favorites at the state's largest and longest-running community festival. With well over 100 free activities – as well as more with small fees – from May 31-June 8 in and around the Arkansas River in downtown Wichita, it can be overwhelming to choose what to do from the packed schedule.

We're here to help. Whether you have one day, a weekend or are fortunate to be able to visit all nine days, we've selected a family-friendly highlight for each day of the festival. Don't forget that the second Friday of the festival, June 8, is called Vacay Friday because it now has a full slate of programming just like Saturday and Sunday.
Everyday (May 31-June 8)
Ottaway Carnival – NEW!
Times vary each day

For the first time, there is an official Riverfest carnival midway. Ottaway will set up at 215 S. Broadway and your Riverfest button will get you into the area. There will be a fee per ride, including a new family fun ride, Flying Jumbos.
Friday, May 31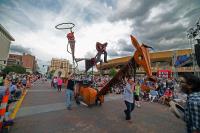 Sundown Parade
6:30-8 p.m.

A new parade route will offer excellent viewing of the parade entries inspired by this year's theme, "Downtown Get Down." Grab front row seating to watch entrants strut their creative stuff with floats, bands, flags, performers and all your favorite parade traditions. Stay around after the parade for the Wichita Symphony Orchestra's Twilight Pops Concert from 8-9:30 p.m. on the Wichita Acura Dealers Stage, followed immediately by the opening-night fireworks.
Saturday, June 1 and Sunday, June 2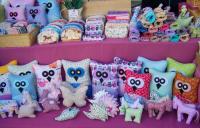 Strawberry Swing Indie Craft Fair – NEW!
11 a.m.-8 p.m.

Celebrate the handmade movement and shop with your friends and family. This juried craft market based out of Kansas City is organizing its first Wichita event, a pop-up inside Century II's Exhibition Hall during Riverfest. Your button will get you inside to shop the makers, artists, crafters and artisans who have been curated to participate. Strawberry Swing Indie Craft Fair has been named one of the Top 35 Indie Craft Fairs in the World by BuzzFeed.
Project PopCon – NEW!
11 a.m.-8 p.m.

Another family-friendly indoor event taking place only during Riverfest, Project PopCon in Century II's Bob Brown Expo Hall is Wichita's own pop culture convention. It brings together Air Capital Comic Con, Anime Fest Wichita and Midwest eSports.
Sunday, June 2
Young Lions Ninja Warrior Obstacle Course – NEW!
Noon-4 p.m.

This epic ninja warrior-style course event is for ages 5-17. Run, jump, crawl, climb and swing through the fun and challenging one mile and 10-obstacle course. There's also a Health and Wellness Expo adjacent to the course with hands-on activities for all ages. Cost is $10 per registrant.
Monday, June 3
Matinee Movie
11:30-1 p.m.

This is a good day to enjoy your favorite food court lunch while keeping the family entertained. There will be a family-friendly selection of shorts and nostalgic cartoons playing on the big screen visible from the Quantum Credit Union Food Court.
Tuesday, June 4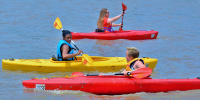 Get on the river!
5-8:30 p.m.

This is a good day to put the river in your Riverfest! There are many ways to interact with the Arkansas River throughout the festival, including these free activities on Tuesday evening: Wagonmasters River Tour (a guided ride on a pontoon boat, 5-8 p.m.), Paddleboats (self-guided paddleboat ride from the new Boats & Bikes facility at River Vista, 5-8:30 p.m.).
Wednesday, June 5
Buckaroo Buckarette Rodeo
5:30-8:30 p.m.

This popular event has been happening for 16 years in the Cox Kids' Corner. The Buckaroo Buckarette Rodeo lets ages 2-10 experience the thrill of riding, roping, panning for gold and other fun activities. Cox Kids' Corner is open daily (hours vary) on the Hyatt Lawn. Families can enjoy games, clowns, magicians and Make-Do-See projects that engage the imagination through science and art.
Thursday, June 6
Throwback Thursday

If you're on a budget and want to bring out the entire family, pull together Riverfest buttons of years past and get in free on Throwback Thursday! Wear any official Riverfest button and get in this day only. Officials also will randomly award prizes to festival-goers who show up wearing their best Riverfest flair! Among activities this evening are the Touch A Truck, where kids can climb aboard their favorite trucks, big rigs and emergency vehicles; Cajun Food Fest; and the concert by Trombone Shorty & Orleans Avenue, a Grammy-nominated artist who plays the trombone, trumpet, drums, organ and tuba.
Friday, June 7
Kids Fishing Derby – NEW!
6 to 7:30 p.m.

It's free with your Riverfest button but limited to 25 participants so download the form and sign up early! Ages 5-12 can experience the thrill and satisfaction of catching a fish. Bait and fishing poles will be provided.
Saturday, June 8
Decorated Bicycle Contest & Parade – NEW!
Noon-2 p.m., decoration station is open followed by the parade from 2-2:45 p.m.

Calling all bicycles, trikes, scooters, wagons, wheelchairs, strollers and penny-fartherings to get gussied up in the hopes of winning compliments and prizes! This is a great family activity. Decorate your rides in advance or come rolling up to the decoration station where local artists will help you show off your style.
Looking for more information on Riverfest? Our 2019 Riverfest guide, which has a daily event schedule, concert schedule, food court favorites and location map. Remember, more than 100 activities, including the lineup of concerts, are included in the cost of the admission button: $10 per adult, $5 per child age 6-12.