The largest, longest-running and most anticipated festival in the region is back on the calendar this year and the theme of Wichita's Riverfest says it all: The River Rocks Again!
Riverfest started in 1972 as a way for the community to celebrate the city of Wichita's centennial and the event became an annual tradition, developing into a nine-day festival drawing attendees from throughout the region. Organizers held virtual activities in 2020 and in 2021, for the first time ever, Riverfest will happen over two separate, extended weekends in an effort to keep attendees safe.
Mark your calendars for Wichita Riverfest Summer Festival from June 4 to 6 and Wichita Riverfest Fall Festival from Sept. 30 to Oct. 3. The summer weekend centers mostly on participatory events that will also be fun to watch. The fall weekend is expected to have more of the traditional festivities like headliner concerts, fireworks, food courts, a parade and more.
Most of the summer festival's participatory events require pre-registration that closes May 31. There will not be a gated area in downtown Wichita for the June festival, though registration for fee-based events comes with an admission button that can be used when the gates go up for the Riverfest Fall Festival.
Here's a guide to participating in or watching the Wichita Riverfest Summer Festival activities, broken down by day.
All Three Days
Free! Walking Tours and Biking Tours
No registration needed, just show up at A. Price Woodard Park (401 W Douglas Ave) for these activities organized by Bike Walk Wichita:
Friday, June 4 at Noon: Art Walk exploring downtown art + architecture, 45 minutes so you can complete it during the lunch break
Saturday, June 5 at 4 p.m.: Slow Roll bike ride exploring downtown architecture + art
Sunday, June 6 at 4 p.m.: Downtown History Slow Roll + Stroll
Free! Wichita Sunset Yoga
No registration is required. Show up at the Hyatt lawn and enjoy guidance from Through Breath Yoga from 8 to 8:30 p.m. nightly.
Riverfest Plein Air: A Painting Competition
This event is open to all levels, beginner to professional, and artists will paint on-site between Friday, June 4 and Sunday, June 6 at the locations provided or within three blocks of Douglas Ave. between Seneca and Washington.
Artists are asked to paint one to three original paintings for prize judging (at total of $2,400 in cash prizes) at the Exhibition and Sale on Sunday, which participants must attend. Register now.
Unleash your creativity and celebrate the Riverfest theme by decorating your home or business' porch, yard, walkway or windows for this weekend-long parade. You can participate for free or register for a chance to win prize money in the residential or business categories. First place in the residential division will win a $1,000 gift card to Star Lumber! Register now.
Wichita Festivals will produce a virtual map with the locations of all registered porch parade participants so you can plan a walk or drive to see and share in the celebration.
Free! Hot Air Balloon Sunrise Launch
Watch the sky over downtown Wichita at sunrise to see a hot air balloon launch from the Fountains at WaterWalk.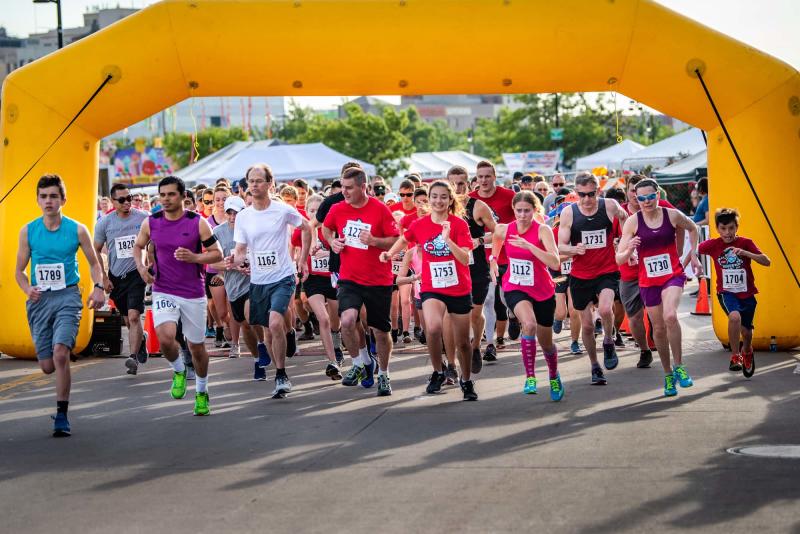 Photo: Bob Bishop
45th annual Fidelity Bank River Run
A beautiful downtown route makes this a favorite Wichita race series. Every registrant for the morning event receives a commemorative T-shirt and medallion. There will be multiple start times within each event to allow for proper distancing in the four race events: Marriott International 10K Race, Katie Partridge Memorial 5K Run/Wheelchair Race presented by WaterWalk, AccuWeather 2-Mile Family Walk/Jog and the Lane Enterprises Tot Trot (for kids 2-7). Register now.
Free! 3 Keys Fitness Xtreme Hip Hop/Xtreme Burn Classes
There's no fee but you do need to register for these one-hour classes at 10 a.m. and noon at Kennedy Plaza. They'll combine Xtreme Hip Hop and Xtreme Burn for a great workout from 3 Keys Fitness. Register now.
Sign up as an individual to compete in all three events or as a team of three individual who each compete in one of the events: 2,000 meter row on a rowing machine, 300 body weight movements and 1 mile paddleboard race on the Arkansas River (River Vista to Keeper of the Plains and back). Event runs 1 to 5 p.m. at Boats & Bikes at River Vista; must be 16 or older to participate. Register now.
Dog, cat, bird, lizard, bunny – whatever pet you have, break out the creativity and crazy costumes. Register for this event, then submit photos or a short video of your pet in costume. Riverfest will share all entries in the 2021 Riverfest Virtual Pet Parade on its social media accounts for everyone to see and vote for their favorite entry. Register now.
Because there is no gated area, a button is not required for the summer portion of Riverfest. However, most participatory event registrations include a button that can be used for fall events. And remember to pre-register for summer festival participatory events by May 31. Buttons and festival merch can be purchased through the Wichita Festivals online shop.
Keep an eye on our blog for more details as the second half of Riverfest gets closer. Admission buttons for Wichita Riverfest Fall Festival are currently for sale online and should go on sale in late August at area QuikTrip locations: $10 for adults and $5 for children. Kids 5 years old and younger get in free. Those who bought Riverfest 2020 buttons can use them for 2021 admission.
Find even more upcoming annual festivals in Wichita.
Top photo credit: Rick McPherson