The Wichita Symphony Orchestra offers a wide variety of repertoire during its 2021-22 season with a series of seven Masterworks concerts and one Pops concert, all at Century II Performing Arts & Convention Center. There's a performance for every interest, from symphony purists seeking traditional works to those interested in symphonic favorites with a new and interesting twist.
A highlight of the season is the opener, a world premiere of "Old Cowtown Suite" by film composer George S. Clinton and inspired by his visit to Wichita's Old Cowtown Museum. Also of note on this season's programming is the increased inclusion of music by people of color. Works by Quinn Mason, Samuel Coleridge-Taylor, Jimmy Lopez Bellido and Valerie Coleman will all be included in the 2021-2022 Masterworks series, and Florence Price's Symphony No. 1 (which was premiered by the Chicago Symphony in 1933, and has since enjoyed a revival) will headline the February 2022 concert.
"The WSO is committed to programing works by composers from communities which have been historically underrepresented in classical music." WSO Music Director Daniel Hege said. "This is a shift occurring not only at our organization, but at symphonies across the country, and we are proud to be a part of this long needed change."
For those who have attended past WSO performances, you'll notice a few changes as the symphony restarts after pandemic-postponed seasons:
Most WSO concerts will be single performances rather than two in a weekend.

WSO will extend its outreach with more shows outside of the Century II concert hall; two encores of the season-opener will happen at area high schools and keep an eye on the symphony's schedule as more community events are announced.

The symphony will not return in full until its January concerts to allow for social distancing among its members.

The WSO Connect program, designed to deliver audio and video streaming to patrons during a time when live attendance was impossible or discouraged, will serve as a membership portal, offering discounts on tickets, presale access to special performances, exclusive digital content, access to live audio recordings for a 30-day window, as well as other perks, for a $99-per-household fee.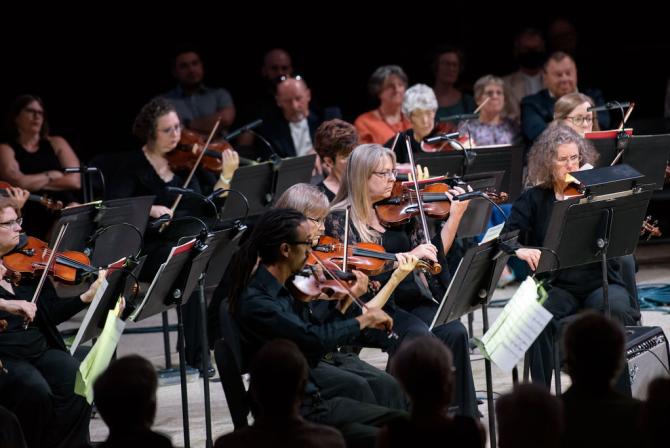 Here is the schedule for the Wichita Symphony's 2021-22 season as of October 2021; please check with Wichita Symphony Orchestra for any additions and postponements during the season. All are at Century II unless otherwise noted.
Masterworks
Pops
Find more performing arts events and start planning your trip. Check out our calendar of events for other exciting activities and events in Wichita.