I recently had the opportunity to experience Wichita as a meeting planner. The Travel Industry Association of Kansas (TIAK) held our annual conference in Wichita last fall, and our Visit Wichita team played an integral role on the conference planning committee. Our state association spent three days in Wichita for networking, education and fun, and I was thrilled to be part of the interaction between TIAK, Visit Wichita and our Wichita hospitality partners.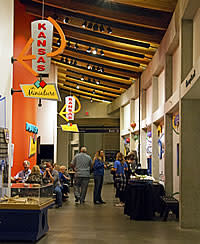 One of the highlights of our conference was our "signature Wichita event." It was an amazing evening that included visiting four major attractions. Our group started the night with a short stroll across the Old Town Plaza from the conference hotel to the Museum of World Treasures for appetizers, re-enactors and a behind-the-scenes look at the eclectic exhibits in this fascinating museum. We then boarded buses for a quick five-minute ride to Exploration Place, where food stations were located throughout this beautiful science and discovery center, and we enjoyed our dinner while experiencing the engaging exhibits. A short walk took us to the Keeper of the Plains, the majestic statue honoring Wichita's Native American heritage. Our group marveled at the statue and the beautiful plaza where it is located. We then followed luminaries along the path from the Keeper Plaza to the Mid-America All-Indian Center for dessert, which was served among the museum artwork and exhibits. Our group loved seeing these Wichita highlights, and the re-enactors and other special touches arranged by Visit Wichita made what is a great experience even better. Our team would love to help you plan an event like this for your group!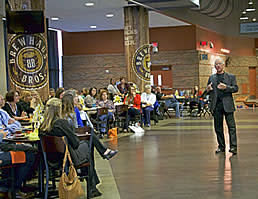 As the meeting planner, I saw firsthand the difference between a meeting space that fits and a  meeting space that adds value. Visit Wichita recommended that the opening session be held on the concourse of the INTRUST Bank Arena, overlooking the cityscape as the Kansas sunset displayed its brilliant colors in the background. The unique venue was a stimulating place for attendees to hear a dynamic keynote speaker and learn about the exciting developments going on in our city, followed by networking and a tour to see what makes this 15,000-seat arena tick. These kinds of experiences can make a good meeting great, and Visit Wichita can help meeting planners find just the right meeting space in our city.
I also was impressed with the number of local experts who participated in our conference presentations - including marketers, leadership specialists and creative entrepreneurs. Visit Wichita is intimately connected in the community and can easily connect meeting planners with the right local experts to add interest and variety to a meeting. When was the last time your group got to hear from one of the top logo creators in the United States? He's right here in Wichita.
My experience as a meeting planner in my own town was a great reminder of why Wichita is a great place to hold a meeting. Just as importantly, I experienced how a partnership between your association, Visit Wichita and our community can help you maximize all that we have to offer and truly make a meeting in Wichita special.