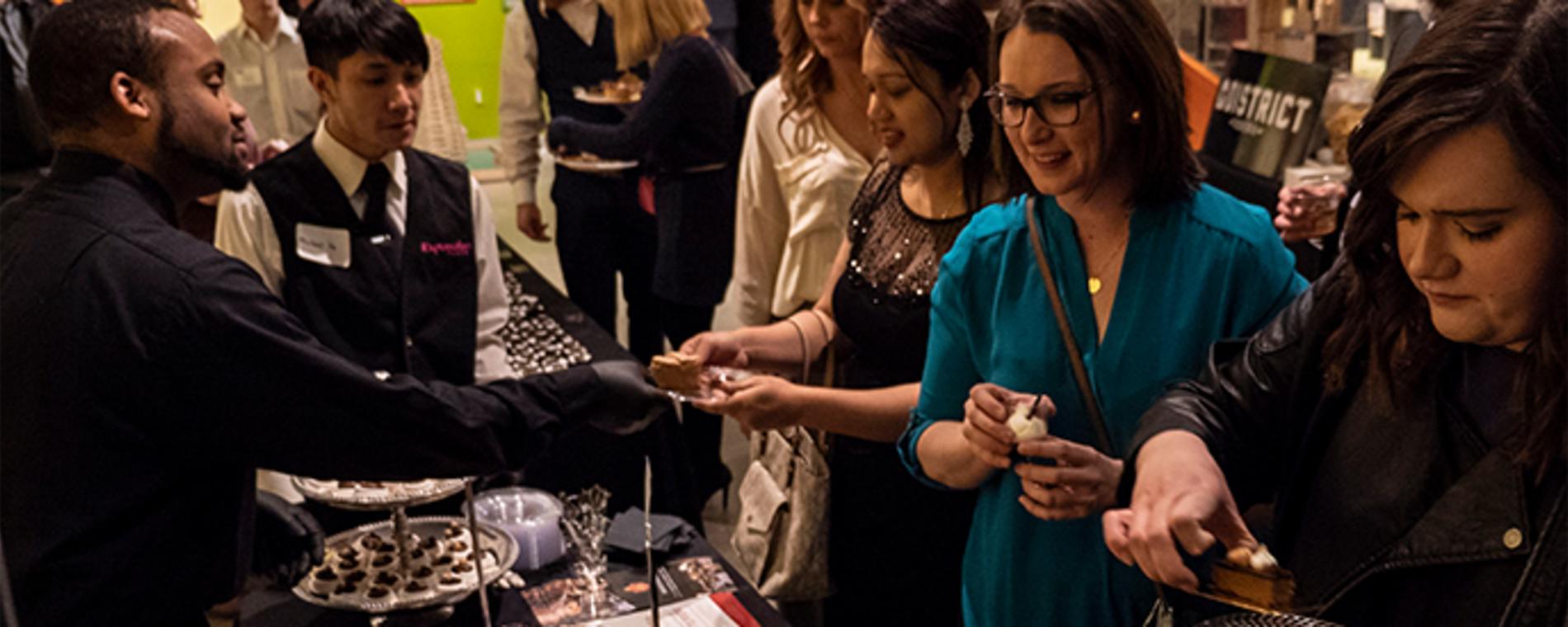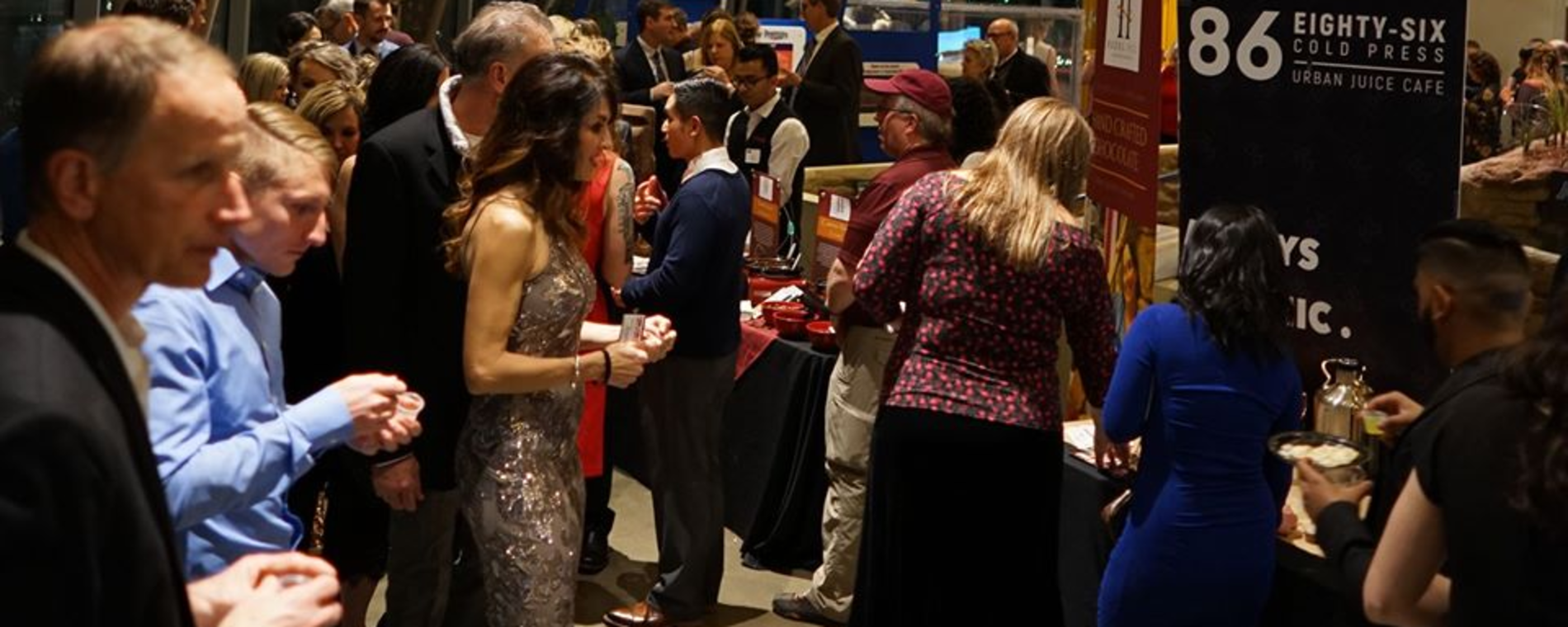 Back to Previous
14th Annual Death by Chocolate
7:30-10:30p , February 29, 2020 | Exploration Place
Indulge in delicious delights for STEM education at our only fundraiser of the year. Treat your sense with unlimited sweets, savory food, and drinks from area chefs, restaurants and vendors.
Sample unlimited treats from: Aidos Nachoira at Wave, Applebee's, Brand's Fine Foods, Chicken N Pickle, Dunkin' Donuts, Firebirds Wood Fired Grill, Fuzzy's Taco Shop, Handcrafted Wine and Spirits, Headshots Bar & Grill, Hopping Gnome Brewing Company, KC Beir Co., Krispy Kreme Doughnuts, Molino's Mexican Cuisine, Monica's Bundt Cake Company, N & J Café and Bakery, Pinole Blue, Shaken or Stirred Bartending, Smokin' Diner, Taco Locale, Texas Roadhouse, The Farris Wheel, The Popcorner, Tom's Town Distillery, Weirdough Bakery, Wichita Cheesecake Company, Wyldewood Cellars, Zoës Kitchen, and much more!
Get Tickets | This event is 21+
*NEW* VIP Experience - Imagine the marvelous surprises in store for you!
- Access to vendors at 6p before general admission
- Beverage service upon entry with specialty glass and party plate
- Butlered hors d'oeuvres
- Mingling in the private VIP lounge
- Exclusive tastings
- Amazing raffle prizes
- Fabulous live auction items.
VIP Tickets - $250 (per person, plus tax) 
Admission:

$95

Times:

7:30-10:30p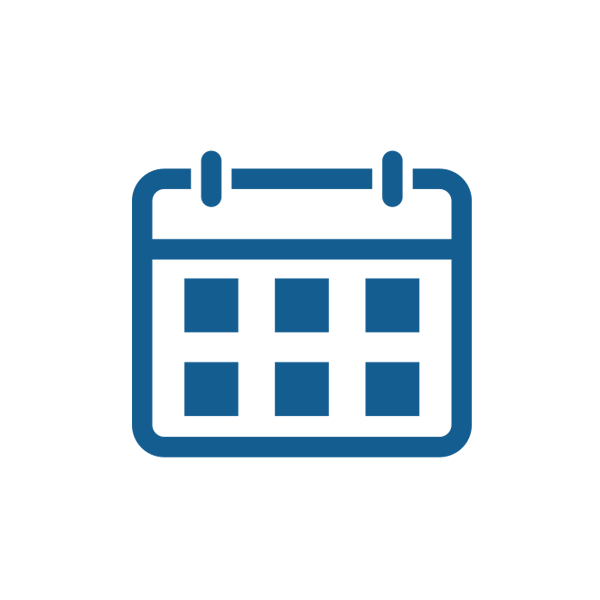 14th Annual Death by Chocolate
<p>Indulge in delicious delights for STEM education at our only fundraiser of the year. Treat your sense with unlimited sweets, savory food, and drinks from area chefs, restaurants and vendors.</p> <p>Sample unlimited treats from: Aidos Nachoira at Wave, Applebee's, Brand's Fine Foods, Chicken N Pickle, Dunkin' Donuts, Firebirds Wood Fired Grill, Fuzzy's Taco Shop, Handcrafted Wine and Spirits, Headshots Bar &amp; Grill, Hopping Gnome Brewing Company, KC Beir Co., Krispy Kreme Doughnuts, Molino's Mexican Cuisine, Monica's Bundt Cake Company, N &amp; J Café and Bakery, Pinole Blue, Shaken or Stirred Bartending, Smokin' Diner, Taco Locale, Texas Roadhouse, The Farris Wheel, The Popcorner, Tom's Town Distillery, Weirdough Bakery, Wichita Cheesecake Company, Wyldewood Cellars, Zoës Kitchen, and much more!</p> <p><a title="Get Tickets" href="https://15698.blackbaudhosting.com/15698/tickets?tab=2&amp;txobjid=be0e60f6-064b-4d1a-8ad0-d0a47c63c82b" rel="nofollow" target="_blank">Get Tickets</a> | This event is 21+</p> <p><strong>*NEW* VIP Experience - </strong>Imagine the marvelous surprises in store for you!<br />- Access to vendors at 6p before general admission<br />- Beverage service upon entry with specialty glass and party plate<br />- Butlered hors d'oeuvres<br />- Mingling in the private VIP lounge<br />- Exclusive tastings<br />- Amazing raffle prizes<br />- Fabulous live auction items.</p> <p><a title="Get Tickets" href="https://15698.blackbaudhosting.com/15698/tickets?tab=2&amp;txobjid=828d588e-8b40-4cfc-939c-043279a93ccc" rel="nofollow" target="_blank">VIP Tickets</a> - $250 (per person, plus tax) </p>
300 N McLean Blvd. Wichita, KS
America/Chicago
Back To Previous