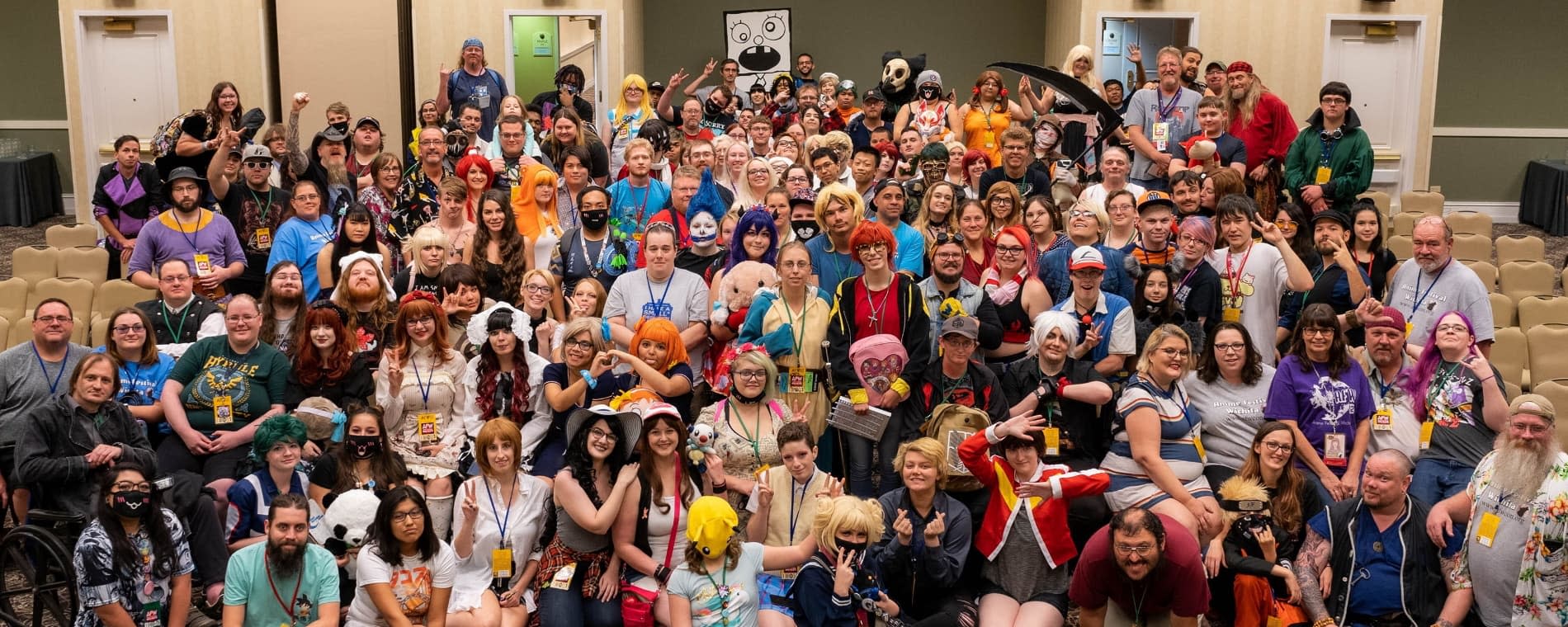 Back to Previous
16th Annual Anime Festival of Wichita - 2020
This event has been cancelled.
The dates for this event have already occurred, please check back again for new dates.
NOTE:
Together with health authorities' current recommendations and projections, it is with a heavy heart that the Wolfmoon Productions Board of Directors has made the difficult decision to CANCEL Anime Festival of Wichita, 2020. - Anime Festival

Anime Festival of Wichita is THE annual event for your favorite voice actors, cosplay contests, skits, vendors, gaming, and so much more! Be sure to attend the panels, visit vendors and the artist alley, and participate in the charity auction and murder mystery with the stars. Spike Spencer and John Gremillion are just two of the special guests that will be in attendance.
Friday - 5pm-?
Saturday - 10am-?
Sunday - 10am-6pm
Murder Mystery with the Stars - Grab a $10 ticket (limited availability) and solve a murder mystery with a Special Guest on Friday from 7-9p. This year's premise is TBD. Characters selected on first-come, first-served basis. Prizes will be given. Not a dinner theater, but food and concessions available for purchase.
Pre-registration required for the Cosplay Contest, Cosplay Show-off, and/or Skits.
Admission:

Weekend Pass $40

Recurrence:

Recurring daily

Days:

June 26, 2020 - June 28, 2020

16th Annual Anime Festival of Wichita - 2020 <p><strong>NOTE:<br /></strong><em>Together with health authorities' current recommendations and projections, it is with a heavy heart that the Wolfmoon Productions Board of Directors has made the difficult decision to CANCEL Anime Festival of Wichita, 2020.</em> -<strong><a title="Notice" href="http://www.afwcon.org/wordpress/" rel="nofollow" target="_blank"> Anime Festival</a><br /></strong></p> <p><strong><a title="Anime Festival Wichita" href="https://www.visitwichita.com/events/annual-events/anime-festival-of-wichita/">Anime Festival of Wichita</a></strong> is THE annual event for your favorite voice actors, cosplay contests, skits, vendors, gaming, and so much more! Be sure to attend the panels, visit vendors and the artist alley, and participate in the charity auction and murder mystery with the stars. Spike Spencer and John Gremillion are just two of the special guests that will be in attendance.</p> <p>Friday - 5pm-?<br />Saturday - 10am-?<br />Sunday - 10am-6pm</p> <p><a title="Get Tickets" href="https://www.eventbrite.com/e/anime-festival-wichita-16-june-26th-28th-2020-registration-tickets-70034050731" rel="nofollow" target="_blank"><strong>Get Tickets</strong></a></p> <p>Murder Mystery with the Stars - Grab a $10 ticket (limited availability) and solve a murder mystery with a Special Guest on Friday from 7-9p. This year's premise is TBD. Characters selected on first-come, first-served basis. Prizes will be given. Not a dinner theater, but food and concessions available for purchase.</p> <p>Pre-registration required for the Cosplay Contest, Cosplay Show-off, and/or Skits.</p> America/Chicago
Back To Previous