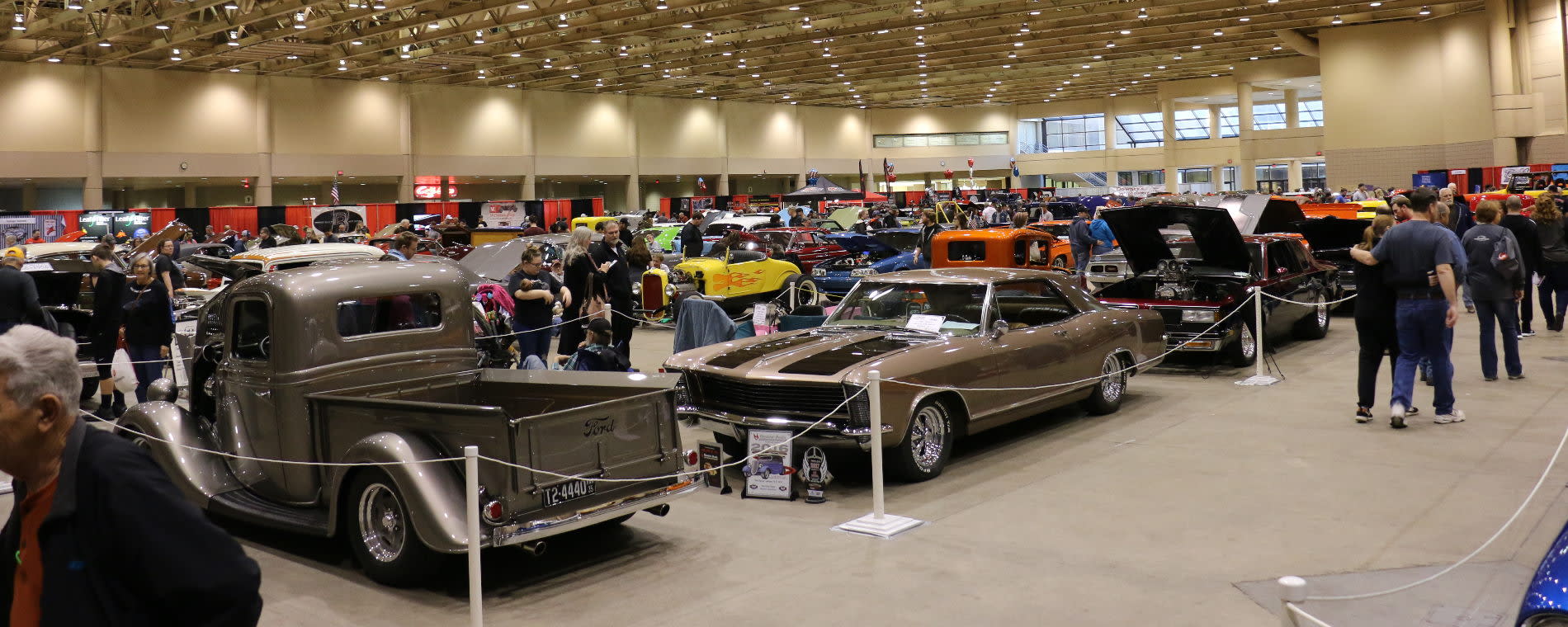 Back to Previous
2021 Cars for Charities Rod & Custom Car Show
This event has been postponed and will be moved to its new date once rescheduled. See details.
The dates for this event have already occurred, please check back again for new dates.
One of the longest-running and largest indoor car shows in the country! The Cars for Charities Rod & Custom Car Show is a Wichita tradition that has been welcoming thousands of visitors each year since 1957.
Friday - Noon-9pm
Saturday - 10am-9pm
Sunday - 10am-5pm
Magnificent 7 Show Competition
This is the premier event of the Cars for Charities' 64th Annual Cars for Charities' Rod & Custom Car Show. The goal of the Magnificent 7 competition is to showcase the best and most outstanding vehicles shown for the first time in Wichita. $17,000 in cash and trophies will be awarded to the winning vehicles in this competition. All Mag 7 Finalists receive $1,000 and the Mag 7 Winner receives a total of $11,000. In addition to cash and trophies, Magnificent 7 owners will be treated to an array of special events throughout the weekend.
Free Kids Zone
Located In Exhibition Hall Balcony
Coloring Station, Face Painting by Funtastic Faces & Friends, Models provided by Horizon Hobby-Wheat State Hobbies, Jewelry Making Station, Inflatables, Special Appearances by your Favorite Cartoon Characters, Balloon Animals and Clowns, Have your Picture Taken with our Car Cut Outs, Pop A Shot, Games and More
The Arc of Sedgwick County is a not-for-profit agency dedicated to improving the lives of individuals with disabilities. While providing educational and social opportunities, The Arc also acts as an advocate for services and support within the community. The organization works to provide opportunities for individual development as well as giving support to the entire family. The Arc may be the first link that a family has to services within the community and these services may continue throughout the rest of an individual's life.
Admission:

$14; Juniors (12-17) $8; Children (11 and under) free

Recurrence:

Recurring daily

Days:

January 15, 2021 - January 17, 2021

2021 Cars for Charities Rod & Custom Car Show <p>One of the longest-running and largest indoor car shows in the country! The <a title="Cars for Charities Rod &amp; Custom Car Show" href="https://www.visitwichita.com/events/annual-events/cars-for-charities-rod-custom-car-show/"><strong>Cars for Charities Rod &amp; Custom Car Show</strong></a> is a Wichita tradition that has been welcoming thousands of visitors each year since 1957.</p> <p>Friday - Noon-9pm<br />Saturday - 10am-9pm<br />Sunday - 10am-5pm</p> <h4>Magnificent 7 Show Competition</h4> <p>This is the premier event of the Cars for Charities' 64th Annual Cars for Charities' Rod &amp; Custom Car Show. The goal of the Magnificent 7 competition is to showcase the best and most outstanding vehicles shown for the first time in Wichita. $17,000 in cash and trophies will be awarded to the winning vehicles in this competition. All Mag 7 Finalists receive $1,000 and the Mag 7 Winner receives a total of $11,000. In addition to cash and trophies, Magnificent 7 owners will be treated to an array of special events throughout the weekend.</p> <h4>Free Kids Zone</h4> <p><strong>Located In Exhibition Hall Balcony</strong><br />Coloring Station, Face Painting by Funtastic Faces &amp; Friends, Models provided by Horizon Hobby-Wheat State Hobbies, Jewelry Making Station, Inflatables, Special Appearances by your Favorite Cartoon Characters, Balloon Animals and Clowns, Have your Picture Taken with our Car Cut Outs, Pop A Shot, Games and More</p> <p><strong><a title="Get Tickets" href="https://carsforcharitiesshow.com/tickets" rel="nofollow" target="_blank">Get Tickets</a></strong></p> <p><em>The Arc of Sedgwick County is a not-for-profit agency dedicated to improving the lives of individuals with disabilities. While providing educational and social opportunities, The Arc also acts as an advocate for services and support within the community. The organization works to provide opportunities for individual development as well as giving support to the entire family. The Arc may be the first link that a family has to services within the community and these services may continue throughout the rest of an individual's life.</em></p> <p><strong><br /></strong></p> America/Chicago
Back To Previous