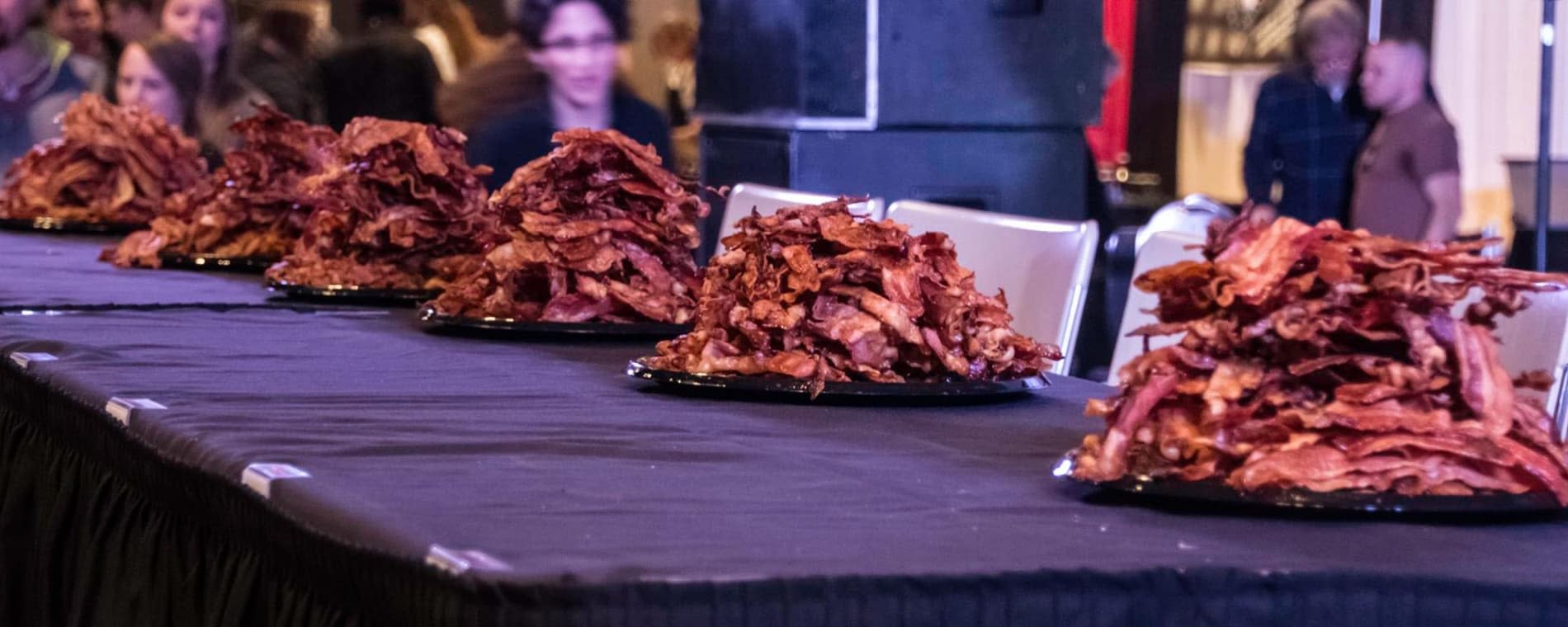 Back to Previous
2022 Air Capital Bacon, Bourbon and Brews Festival
From: 03:00 PM to 06:00 PM, July 9, 2022 | Hartman Arena
Returning for the seventh year, the Air Capital Bacon, Bourbon & Brews Festival is headed back to Hartman Arena! Not only will this festival bring together the region's top eateries and specialty craft beers, it will also be featuring an upgrade option to sample premium bourbons.
All tickets include bacon samples (while supplies last), beer samples from over 75 varieties, and a commemorative pint glass. Enjoy live entertainment and a bacon eating contest. 
VIP Tickets include everything previously mentioned, plus event access an hour early, a commemorative VIP gift, BLT bar access, and Bloody Mary bar.
Admission increases $5 the day of event. 
Bourbon tasting upgrade ($5, $10 at the door) gets you a lanyard punch card and the opportunity to try five of eight unique bourbons!
Craft brews to sample from: TBA
Face masks are encouraged, but not required at this event.
Admission:

$35 (General admission) - $68 (VIP)

Days:

July 9, 2022

2022-07-09 2022-07-09 18:00:00 2022 Air Capital Bacon, Bourbon and Brews Festival <p>Returning for the seventh year, the <strong><a href="https://www.hartmanarena.com/events/2022/air-capital-bacon-bourbon--brews-2022">Air Capital Bacon, Bourbon &amp; Brews Festival</a></strong> is headed back to Hartman Arena! Not only will this festival bring together the region's top eateries and specialty craft beers, it will also be featuring an upgrade option to sample premium bourbons.</p> <p>All tickets include bacon samples (while supplies last), beer samples from over 75 varieties, and a commemorative pint glass. Enjoy live entertainment and a bacon eating contest. </p> <p>VIP Tickets include everything previously mentioned, plus event access an hour early, a commemorative VIP gift, BLT bar access, and Bloody Mary bar.</p> <p>Admission increases $5 the day of event. </p> <p><strong>Bourbon tasting upgrade</strong> ($5, $10 at the door) gets you a lanyard punch card and the opportunity to try five of eight unique bourbons!</p> <p>Craft brews to sample from: TBA</p> <p>Face masks are encouraged, but not required at this event.</p> 8151 N. Hartman Arena Drive Park City, KS America/Chicago
Back To Previous