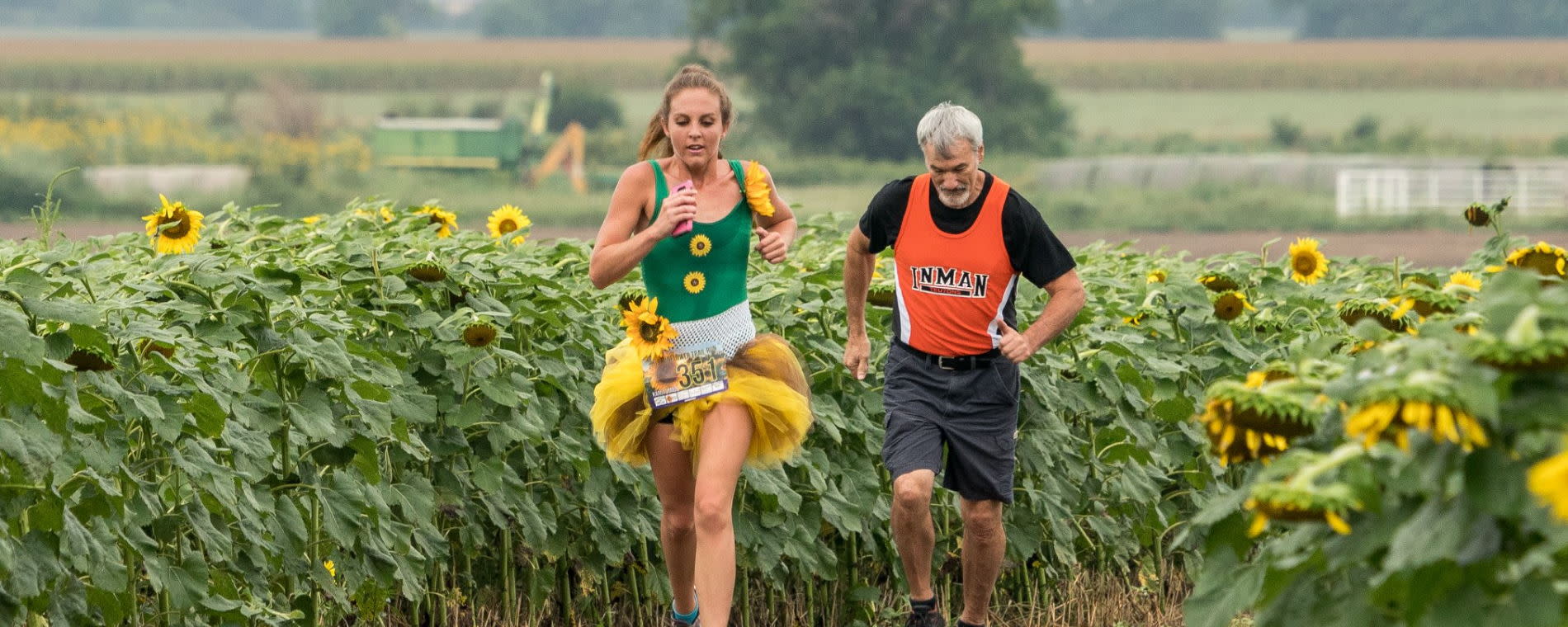 Back to Previous
3rd Annual Sunflower Trail Run 5K and 1 Mile
7:00am, August 28, 2021 | Kansas Maze Farm
The Sunflower Trail Run 5K and 1 Mile is a unique trail run immersing runners, joggers and walkers in more than 20 acres of gorgeous sunflowers! It's an experience like none other!
All participants will receive an original Sunflower Run Finisher t-shirt (not guaranteed if registered after Aug 1), Sunflower Run finisher medal, free 1-day admission to the Kansas Maze Sunflower Festival for participant and guest and a gift bag of coupons from generous local businesses.
This trail course is in a sunflower field. Pathways will be cut out and runners will be expected to stay on the pathways. Violators will be eliminated from the race. All attempts will be made to keep the trails as safe as possible but uneven ground should be expected. Please wear appropriate shoes and attire. *Pollinating bees will be present!
7:00am - On-site registration and check-in opens
8:00am - 5K Competitive Division: Runners only, No strollers allowed
8:30am - 5K Non-competitive Division: Run/Walk, Strollers welcome
9:15am - 1 Mile: Run/Walk, Strollers welcome
Prizes will be awarded in the 5K Competitive Division race only to the top 2 finishers in each age category. Categories for both male/female are: 10 & under, 11-17, 18-35, 36-50, 51-65. 65+. Free pancakes will be served following the races!
Spectators will not be allowed on the course or in the sunflower field during either race. A water station will be available. Views of the runners will be available from our lookout bridge or other platforms. No pets please.
** Kansas Maze reserves the right to cancel or change the date of this event at their discretion based on inclement weather or conditions. All efforts will be made to honor this date but safety of our guests is our #1 priority. For further information or questions please contact the race director at info@kansasmaze.com or call Tonya at 620-543-3073.
Admission:

5K starts at $35 (+ sign-up fee); 1 Mile starts at $30 (+ sign-up fee) | Prices increase closer to race

Register Now
Days:

August 28, 2021

2021-08-28 2021-08-28 10:00:00 3rd Annual Sunflower Trail Run 5K and 1 Mile <p>The Sunflower Trail Run 5K and 1 Mile is a unique trail run immersing runners, joggers and walkers in more than 20 acres of gorgeous sunflowers! It's an experience like none other!</p> <p>All participants will receive an original Sunflower Run Finisher t-shirt (not guaranteed if registered after Aug 1), Sunflower Run finisher medal, free 1-day admission to the <a title="2021 Sunflower Festival" href="https://www.visitwichita.com/event/kansas-maze-sunflower-festival/32972/"><strong>Kansas Maze Sunflower Festival</strong></a> for participant and guest and a gift bag of coupons from generous local businesses.</p> <p>This trail course is in a sunflower field. Pathways will be cut out and runners will be expected to stay on the pathways. Violators will be eliminated from the race. All attempts will be made to keep the trails as safe as possible but uneven ground should be expected. Please wear appropriate shoes and attire. *Pollinating bees will be present!</p> <p>7:00am - On-site registration and check-in opens<br />8:00am - 5K Competitive Division: Runners only, No strollers allowed<br />8:30am - 5K Non-competitive Division: Run/Walk, Strollers welcome<br />9:15am - 1 Mile: Run/Walk, Strollers welcome</p> <p>Prizes will be awarded in the 5K Competitive Division race only to the top 2 finishers in each age category. Categories for both male/female are: 10 &amp; under, 11-17, 18-35, 36-50, 51-65. 65+. Free pancakes will be served following the races!</p> <p>Spectators will not be allowed on the course or in the sunflower field during either race. A water station will be available. Views of the runners will be available from our lookout bridge or other platforms. No pets please.</p> <p><em>** Kansas Maze reserves the right to cancel or change the date of this event at their discretion based on inclement weather or conditions. All efforts will be made to honor this date but safety of our guests is our #1 priority. For further information or questions please contact the race director at info@kansasmaze.com or call Tonya at 620-543-3073.</em></p> <p><strong><br /></strong></p> 13209 E 82nd Ave Buhler, KS America/Chicago
Back To Previous