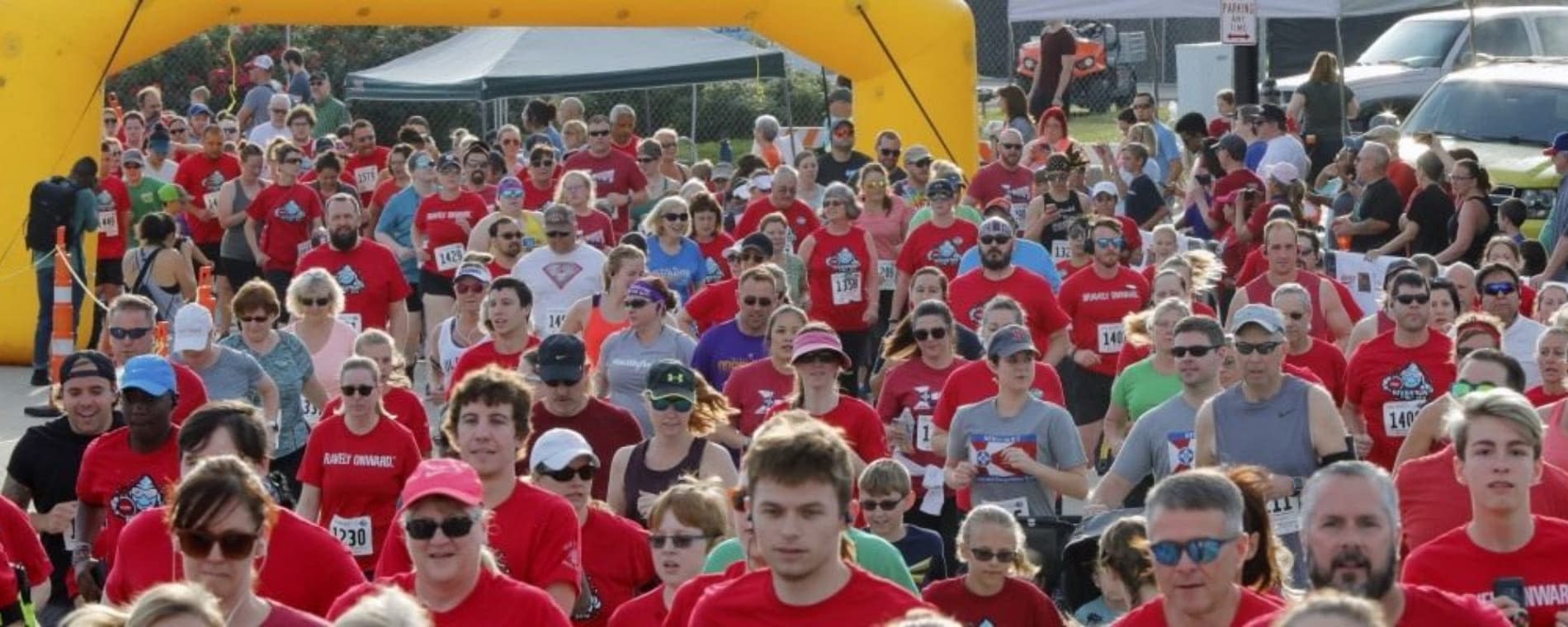 Back to Previous
44th Annual River Run
Various Times November 7, 2020 | Downtown Wichita
The Fidelity Bank River Run features a downtown route adjacent to the Arkansas River, finish line party at the AccuWeather Runners' Village. Get your game face on and challenge family and friends as you GO FOR THE GOLD in the 44th annual River Run!
Races

| | |
| --- | --- |
| 7:15am | Marriott International 10K Race |
| 7:40am | WaterWalk Presents the Katie Partridge Memorial 5K Race |
| 9:15am | YMCA 2-Mile Walk/Jog |
| 10:30am | Lane Enterprises Tot Trot |
All registrants receive a button and commemorative T-shirt. All finishers receive a medallion and complimentary finish line breakfast. An awards ceremony will take place on the RedGuard Stage immediately following completion of the 5K.
*This event was originally scheduled for 5/30 as part of the 2020 Wichita Riverfest*
Admission:

Registration $15-$50

Days:

November 7, 2020

2020-11-07 2020-11-07 07:15:00 44th Annual River Run <p>The Fidelity Bank River Run features a downtown route adjacent to the Arkansas River, finish line party at the AccuWeather Runners' Village. Get your game face on and challenge family and friends as you GO FOR THE GOLD in the 44th annual River Run!</p> <table style="width: 325px;" border="0" align="center"><caption><strong>Races</strong></caption> <tbody> <tr> <td style="width: 80px;">7:15am</td> <td style="text-align: left;">Marriott International 10K Race</td> </tr> <tr> <td style="width: 80px;">7:40am</td> <td style="text-align: left;">WaterWalk Presents the Katie Partridge Memorial 5K Race</td> </tr> <tr> <td style="width: 80px;">9:15am</td> <td style="text-align: left;">YMCA 2-Mile Walk/Jog</td> </tr> <tr> <td style="width: 80px;">10:30am</td> <td style="text-align: left;">Lane Enterprises Tot Trot</td> </tr> </tbody> </table> <p><a title="Register Now" href="https://runsignup.com/Race/KS/Wichita/WichitaRiverRun" rel="nofollow" target="_blank"><strong>Register Now</strong></a></p> <p>All registrants receive a button and commemorative T-shirt. All finishers receive a medallion and complimentary finish line breakfast. An awards ceremony will take place on the RedGuard Stage immediately following completion of the 5K.</p> <p>*This event was originally scheduled for 5/30 as part of the 2020 Wichita Riverfest*</p> 515 S. Main Wichita, KS America/Chicago
Back To Previous