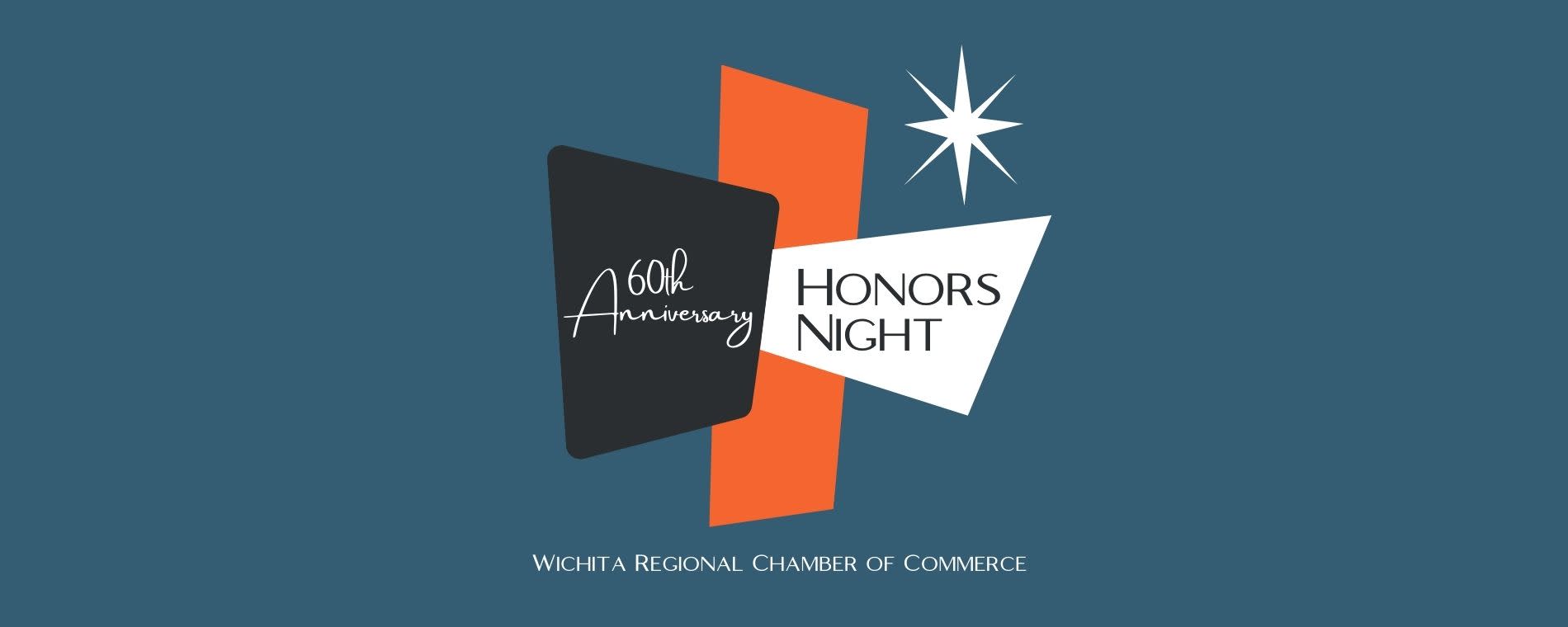 Back to Previous
60th Anniversary Honors Night
6:00 - 9:30 PM, April 20, 2023 | Textron Aviation Activity Center
Join us for the 60th Anniversary Honors Night presented by Fidelity Bank on April 20 at the Textron Aviation Activity Center, 9710 East Central Avenue. Tickets start at $140 and corporate table sponsorships are available by contacting Chelsea Dyer. Ticket prices increase April 1.
Wichita has many outstanding people and organizations. The Chamber's Honors Night recognizes some of our community's finest, following a tradition started 60 years ago in 1963. 
Honors Night celebrates an outstanding individual, an exceptional young professional, exemplary corporate citizens, exceptional commitment to the community, and a striking architectural achievement. All of the honors have special meaning because each contributes to the greater well-being of our community.
On this special night, the business community gathers to say "thank you" to our honorees. In recognition of this fact, their names are enshrined on the "Wall of Honor" in the Chamber building, forming another stitch in the historic fabric of the Wichita area.
2023 Honorees
Uncommon Citizen | Junetta Everett
Established in 1974, this award recognizes individuals who have served their community year after year in an extraordinary capacity - making outstanding contributions to the civic and cultural institutions in Wichita.
Exceptional Young Leader | Jacob Wayman
Established in 2017, the award provides premiere recognition of extraordinary young talent who have a history of demonstrated leadership within their job and philanthropic involvement.
Spirit of Wichita | Sedgwick County Zoo
Established in 2002, this award is given to an organization or not-for-profit organization that received the Over the Years award at least 20 years ago, in recognition of its continued strength of employment, leadership, innovation and community involvement.
Over the Years | Hoidale Co., Inc. and Monarch
The Over the Years award is given to companies and organizations that have exhibited a long-standing performance as good business citizens and are major contributors to our area's economic well-being.
Keeper of the Plains | Hutton
The requirements for this architectural award include aesthetic quality, improvement to the physical environment, visibility to the general public and a well-maintained appearance.
Admission:

$140 for Chamber members through March 31 $175 for not-yet Chamber members and after March 31 Corporate tables are available.

Days:

April 20, 2023

>

2023-04-20 2023-04-20 09:30:00 60th Anniversary Honors Night <p>Join us for the 60th Anniversary Honors Night presented by Fidelity Bank on April 20 at the Textron Aviation Activity Center, 9710 East Central Avenue. Tickets start at $140 and corporate table sponsorships are available by contacting <a href="mailto:cdyer@wichitachamber.org?subject=Honors%20Night%20table%20sponsorship">Chelsea Dyer</a>. Ticket prices increase April 1.</p> <p>Wichita has many outstanding people and organizations. The Chamber's Honors Night recognizes some of our community's finest, following a tradition started 60 years ago in 1963. </p> <p>Honors Night celebrates an outstanding individual, an exceptional young professional, exemplary corporate citizens, exceptional commitment to the community, and a striking architectural achievement. All of the honors have special meaning because each contributes to the greater well-being of our community.</p> <p>On this special night, the business community gathers to say "thank you" to our honorees. In recognition of this fact, their names are enshrined on the "Wall of Honor" in the Chamber building, forming another stitch in the historic fabric of the Wichita area.</p> <p><strong>2023 Honorees</strong></p> <p><strong>Uncommon Citizen | Junetta Everett</strong><br>Established in 1974, this award recognizes individuals who have served their community year after year in an extraordinary capacity - making outstanding contributions to the civic and cultural institutions in Wichita.</p> <p><strong>Exceptional Young Leader | Jacob Wayman</strong><br>Established in 2017, the award provides premiere recognition of extraordinary young talent who have a history of demonstrated leadership within their job and philanthropic involvement.</p> <p><strong>Spirit of Wichita | Sedgwick County Zoo</strong><br>Established in 2002, this award is given to an organization or not-for-profit organization that received the Over the Years award at least 20 years ago, in recognition of its continued strength of employment, leadership, innovation and community involvement.</p> <p><strong>Over the Years | Hoidale Co., Inc. </strong>and<strong> Monarch</strong><br>The Over the Years award is given to companies and organizations that have exhibited a long-standing performance as good business citizens and are major contributors to our area's economic well-being.</p> <p><strong>Keeper of the Plains | Hutton</strong><br>The requirements for this architectural award include aesthetic quality, improvement to the physical environment, visibility to the general public and a well-maintained appearance.</p> 9710 E Central Ave Wichita, KS America/Chicago
Back To Previous