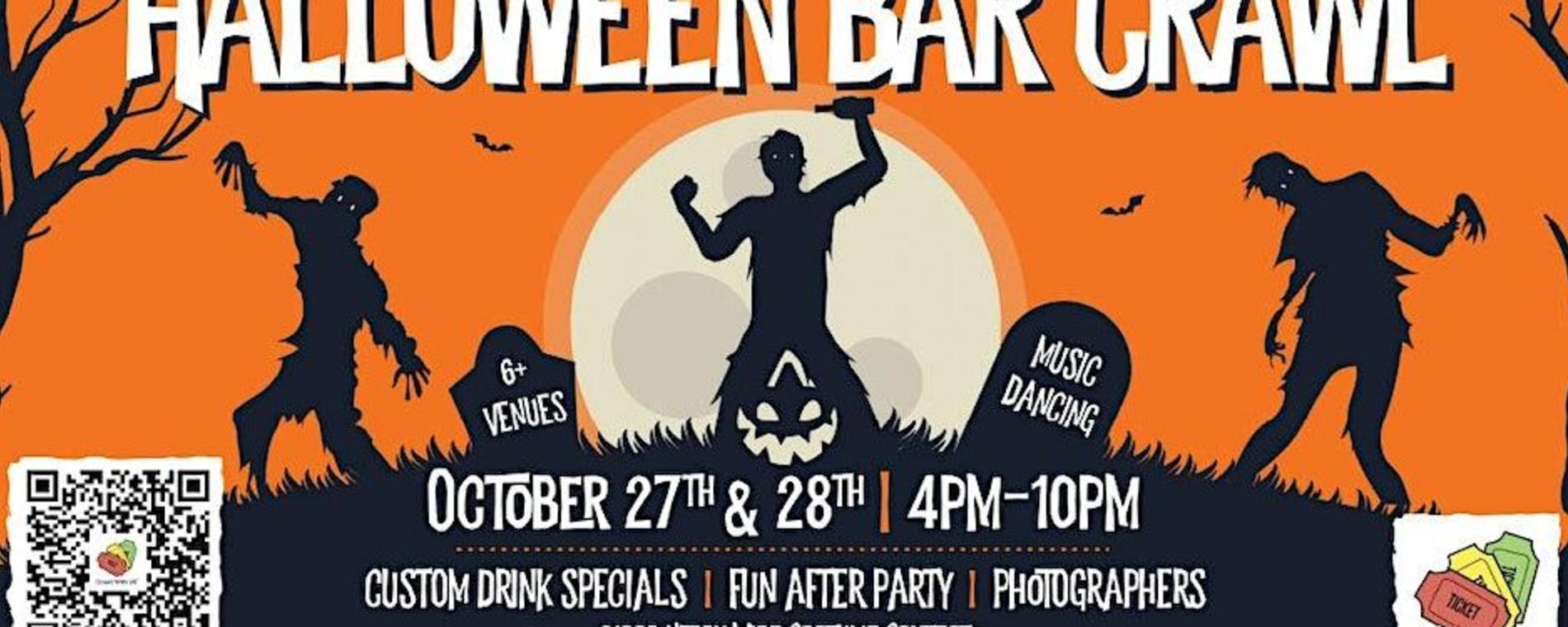 6th Annual Halloween Bar Crawl
04:00 PM, October 27, 2023 | Peerless
Your ticked to the Halloween Bar Crawl is valid Friday, Saturday or both days! 
Tickets include: 
$1,000 Grand Prize Costume Contest Entry*
2 Days Full Of Bar Crawl Adventures (Friday AND Saturday)
2-3 Drink Or Shot Included With Ticket!
Crawl With US Stadium Cup And Bottle Opener Lanyard! (First 400 Check Ins)
Food Specials At Partner Venues!
Waived Cover At All Venues ($5-$15 at Some Venues Without Ticket)
Professional Photographers (Saturday Only)!
Awesome After Party!
Custom Halloween Badge with Vouchers
Chek the FB event listing for more details and updates. 
Admission:

$9

Buy Tickets

Days:

October 27, 2023

>

2023-10-27 2023-10-27 23:59:00 6th Annual Halloween Bar Crawl <p>Your ticked to the Halloween Bar Crawl is valid Friday, Saturday or both days! </p> <p><strong>Tickets include: </strong></p> <ul> <li>$1,000 Grand Prize Costume Contest Entry*</li> <li>2 Days Full Of Bar Crawl Adventures (Friday AND Saturday)</li> <li>2-3 Drink Or Shot Included With Ticket!</li> <li>Crawl With US Stadium Cup And Bottle Opener Lanyard! (First 400 Check Ins)</li> <li>Food Specials At Partner Venues!</li> <li>Waived Cover At All Venues ($5-$15 at Some Venues Without Ticket)</li> <li>Professional Photographers (Saturday Only)!</li> <li>Awesome After Party!</li> <li>Custom Halloween Badge with Vouchers</li> </ul> <p>Chek the <a href="https://www.facebook.com/events/2859340500877598/">FB event listing</a> for more details and updates. </p> 919 East Douglas Avenue Wichita, KS America/Chicago
Back To Previous