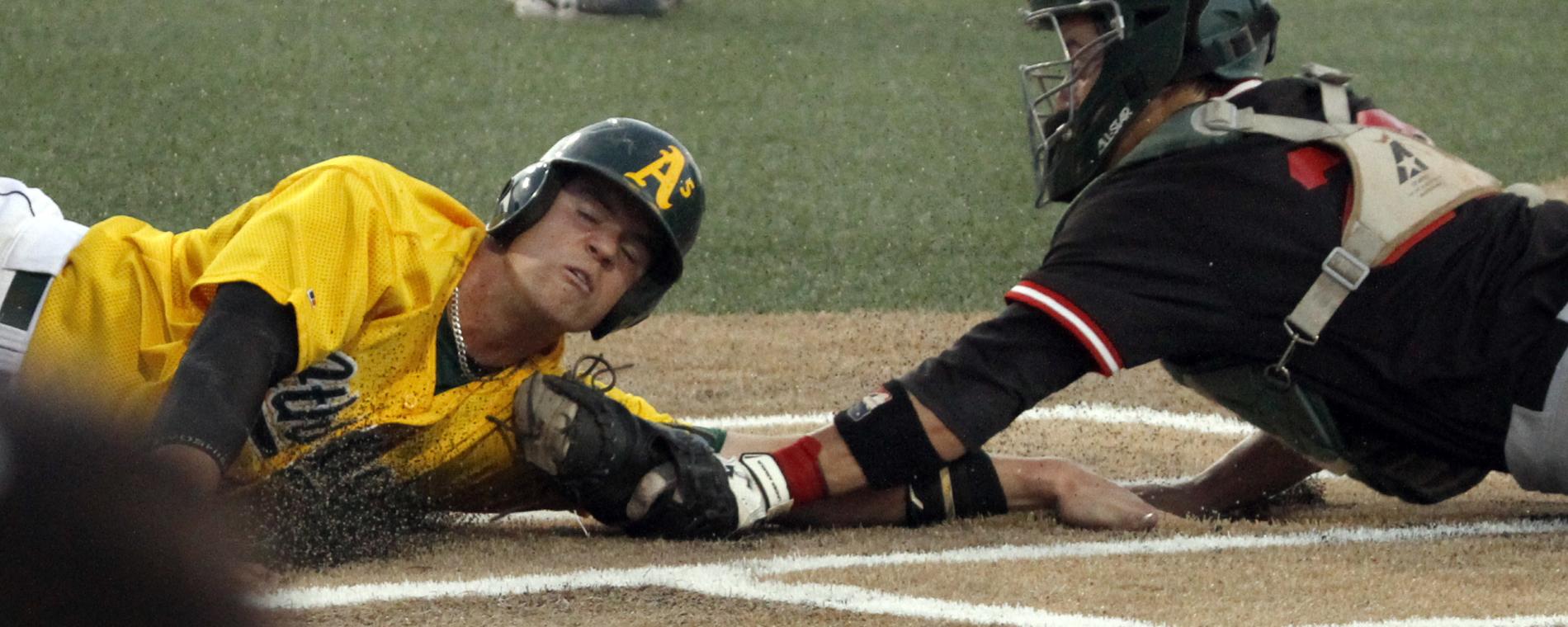 Back to Previous
86th NBC World Series - 2020
The dates for this event have already occurred, please check back again for new dates.
For the 86th consecutive year, Wichita will host the National Baseball Congress World Series. This year's event will be a little different, starting with shortening the event to eight days instead of the normal two weeks. The 13-team tournament will be played at Wichita State University's Eck Stadium, with some games held at Hutchinson's Hobart-Detter Field.
Fans must wear a face mask and must sanitize their hands before entering the stadiums. Playing at two stadiums will allow for distancing among players, staff and fans. Every other row of seating will be blocked off at Eck Stadium and groups of people will be sat at least six feet away from other groups. Restrooms will be open and limited to two people at a time.
Monday, August 3
3pm (Hutchinson) - Colorado Cyclones v Hattiesburg, Miss. Black Sox (Game 5)
6pm (Hutchinson) - Rose Hill Sluggers v Denver Cougars (Game 1)
6pm (WSU) - Hays Larks v Kansas City All-Stars (Game 4)
8:30pm (Hutchinson) - Liberal Bee Jays v Houston Express (Game 2)
8:30pm (WSU) - Lonestar (Texas) Baseball Club v Houston MVP Prospects (Game 3)
Tuesday, August 4
3pm (Hutchinson) - Loser of Game 3 v Loser of Game 4 (Game 10)
6pm (Hutchinson) - Winner of Game 2 v Hutchinson Monarchs (Game 7)
6pm (WSU) - Winner of Game 5 v Cheney Diamond Dawgs (Game 8)
8:30pm (Hutchinson) - Winner of Game 3 v Winner of Game 4 (Game 9)
8:30pm (WSU) - Santa Barbara, Calif. Foresters v Winner of Game 1 (Game 6)
Wednesday, August 5
TBD (WSU) - Loser of Game 5 v Loser of Game 6 (Game 11)
TBD (Hutchinson) - Loser of Game 1 v Loser of Game 8 (Game 12)
TBD (WSU) - Loser of Game 2 v Loser of Game 9 (Game 13)
TBD (Hutchinson) - Loser of Game 7 v Winner of Game 10 (Game 14)
Thursday, August 6
TBD (WSU) - Winner of Game 6 v Winner of Game 7 (Game 15)
TBD (WSU) - Winner of Game 9 v Winner of Game 8 (Game 16)
TBD (Hutchinson) - Winner of Game 14 v Winner of Game 11 (Game 17)
TBD (Hutchinson) - Winner of Game 12 v Winner of Game 13 (Game 18)
Friday, August 7
TBD (WSU) - Loser of Game 19 v Winner of Game 17 (Game 19)
TBD (WSU) - Loser of Game 15 v Winner of Game 18 (Game 20)
Saturday, August 8
TBD (WSU) - Winner of Game 15 v Winner of Game 16 (Game 21)
TBD (WSU) - Winner of Game 19 v Winner of Game 20 (Game 22)
Sunday, August 9
6pm (WSU) - Loser of Game 21 v Winner of Game 22 (Game 23)
Monday, August 10
6pm (WSU) - Winner of Game 21 v Winner of Game 23 (Game 24)
8:30pm (WSU) - If undefeated team loses Game 24
*Schedule subject to change
Admission:

$10 for All-day Ticket

Recurrence:

Recurring daily

Days:

August 3, 2020 - August 10, 2020

86th NBC World Series - 2020 <p>For the 86th consecutive year, Wichita will host the National Baseball Congress World Series. This year's event will be a little different, starting with shortening the event to eight days instead of the normal two weeks. The 13-team tournament will be played at <a title="Eck Stadium" href="https://www.visitwichita.com/listing/eck-stadium-wichita-state-university/32073/"><strong>Wichita State University's Eck Stadium</strong></a>, with some games held at <a title="Hobart-Detter Field in Hutchinson" href="https://goo.gl/maps/DBPSAksvavunsoXo9" rel="nofollow" target="_blank"><strong>Hutchinson's Hobart-Detter Field</strong></a>.</p> <p><a title="Get Tickets" href="https://www.eventbrite.com/e/86th-nbc-world-series-tickets-113924571460" rel="nofollow" target="_blank"><strong>Get Tickets</strong></a></p> <p>Fans must wear a face mask and must sanitize their hands before entering the stadiums. Playing at two stadiums will allow for distancing among players, staff and fans. Every other row of seating will be blocked off at Eck Stadium and groups of people will be sat at least six feet away from other groups. Restrooms will be open and limited to two people at a time.</p> <p><strong>Monday, August 3</strong><br />3pm (Hutchinson) - Colorado Cyclones v Hattiesburg, Miss. Black Sox (Game 5)<br />6pm (Hutchinson) - Rose Hill Sluggers v Denver Cougars (Game 1)<br />6pm (WSU) - Hays Larks v Kansas City All-Stars (Game 4)<br />8:30pm (Hutchinson) - Liberal Bee Jays v Houston Express (Game 2)<br />8:30pm (WSU) - Lonestar (Texas) Baseball Club v Houston MVP Prospects (Game 3)</p> <p><strong>Tuesday, August 4</strong><br />3pm (Hutchinson) - Loser of Game 3 v Loser of Game 4 (Game 10)<br />6pm (Hutchinson) - Winner of Game 2 v Hutchinson Monarchs (Game 7)<br />6pm (WSU) - Winner of Game 5 v Cheney Diamond Dawgs (Game 8)<br />8:30pm (Hutchinson) - Winner of Game 3 v Winner of Game 4 (Game 9)<br />8:30pm (WSU) - Santa Barbara, Calif. Foresters v Winner of Game 1 (Game 6)</p> <p><strong>Wednesday, August 5</strong><br />TBD (WSU) - Loser of Game 5 v Loser of Game 6 (Game 11)<br />TBD (Hutchinson) - Loser of Game 1 v Loser of Game 8 (Game 12)<br />TBD (WSU) - Loser of Game 2 v Loser of Game 9 (Game 13)<br />TBD (Hutchinson) - Loser of Game 7 v Winner of Game 10 (Game 14)</p> <p><strong>Thursday, August 6</strong><br />TBD (WSU) - Winner of Game 6 v Winner of Game 7 (Game 15)<br />TBD (WSU) - Winner of Game 9 v Winner of Game 8 (Game 16)<br />TBD (Hutchinson) - Winner of Game 14 v Winner of Game 11 (Game 17)<br />TBD (Hutchinson) - Winner of Game 12 v Winner of Game 13 (Game 18)</p> <p><strong>Friday, August 7</strong><br />TBD (WSU) - Loser of Game 19 v Winner of Game 17 (Game 19)<br />TBD (WSU) - Loser of Game 15 v Winner of Game 18 (Game 20)</p> <p><strong>Saturday, August 8</strong><br />TBD (WSU) - Winner of Game 15 v Winner of Game 16 (Game 21)<br />TBD (WSU) - Winner of Game 19 v Winner of Game 20 (Game 22)</p> <p><strong>Sunday, August 9</strong><br />6pm (WSU) - Loser of Game 21 v Winner of Game 22 (Game 23)</p> <p><strong>Monday, August 10</strong><br />6pm (WSU) - Winner of Game 21 v Winner of Game 23 (Game 24)<br />8:30pm (WSU) - If undefeated team loses Game 24</p> <p><em>*Schedule subject to change</em></p> America/Chicago
Back To Previous