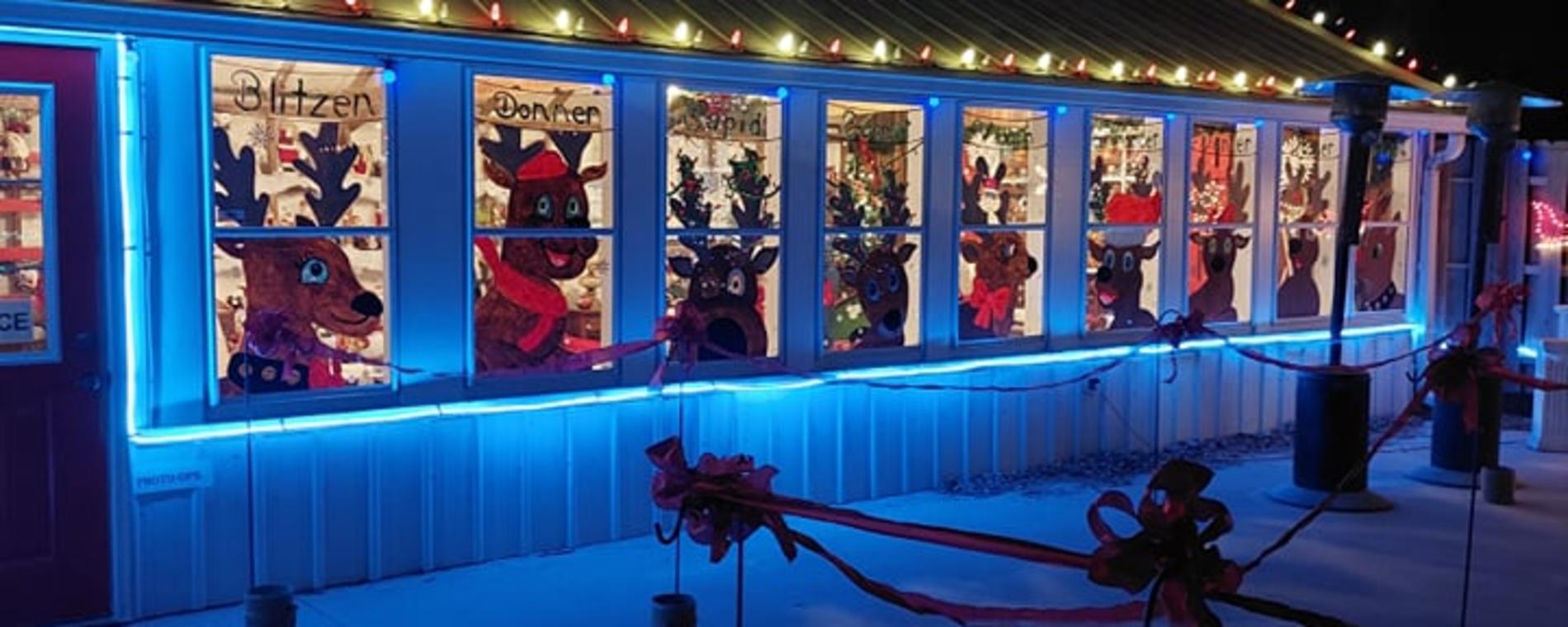 A Country Christmas
From: 05:30 PM to 09:00 PM, December 8, 2023 | Fulton Valley Farms
The beautiful Fulton Valley Farms will present A Country Christmas for the 10th year!  All taking place at 5079 SW Fulton Rd, Towanda, KS.  We will be open every Friday, Saturday and Sunday, November 24, 2023 through December 10 and nightly December 15 through December 23 from 5:30 to 9:00 p.m.
Christmas is approaching fast. We want to make great memories and be an annual tradition for families around the region. Activities include sleigh rides with Clydesdale, LIVE reindeer, hay maze, live nativity, Santa Station, Jingle Bell Emporium, paths of lights, (more than 1 million), hidden elves, concessions, and much more. Concessions include cocoa, hot cider, popcorn, decorated Christmas cookies and homemade fudge. There is fun to be had by all as you laugh your way through the farm of Christmas spirit and joy.   
Plus, we have many opportunities for additional Holiday Fun!
Supper with Santa - Nov. 24 (Opening Night)
Christmas Dinners - Fridays in December
Pancakes with Santa - Saturdays in December & Christmas Eve
Admission:

$10 Adult General Admission

Buy Tickets

Days:

11/26/2023, 12/1/2023, 12/2/2023, 12/3/2023, 12/8/2023, 12/9/2023, 12/10/2023, 12/15/2023, 12/16/2023, 12/17/2023, 12/18/2023, 12/19/2023, 12/20/2023, 12/21/2023, 12/22/2023, 12/23/2023

>

2023-12-08 2023-12-23 21:00:00 A Country Christmas <p>The beautiful Fulton Valley Farms will present A Country Christmas for the 10th year!  All taking place at 5079 SW Fulton Rd, Towanda, KS.  We will be open every Friday, Saturday and Sunday, November 24, 2023 through December 10 and nightly December 15 through December 23 from 5:30 to 9:00 p.m.</p> <p>Christmas is approaching fast. We want to make great memories and be an annual tradition for families around the region. Activities include sleigh rides with Clydesdale, LIVE reindeer, hay maze, live nativity, Santa Station, Jingle Bell Emporium, paths of lights, (more than 1 million), hidden elves, concessions, and much more. Concessions include cocoa, hot cider, popcorn, decorated Christmas cookies and homemade fudge. There is fun to be had by all as you laugh your way through the farm of Christmas spirit and joy.   </p> <div class="elementor-element elementor-element-445d61a6 elementor-widget elementor-widget-heading" data-id="445d61a6" data-element_type="widget" data-widget_type="heading.default"> <div class="elementor-widget-container"><strong>Plus, we have many opportunities for additional Holiday Fun!</strong> <p>Supper with Santa - Nov. 24 (Opening Night)</p> <p>Christmas Dinners - Fridays in December</p> <p>Pancakes with Santa - Saturdays in December &amp; Christmas Eve</p> </div> </div> 5079 SW Fulton Towanda, KS America/Chicago
Back To Previous