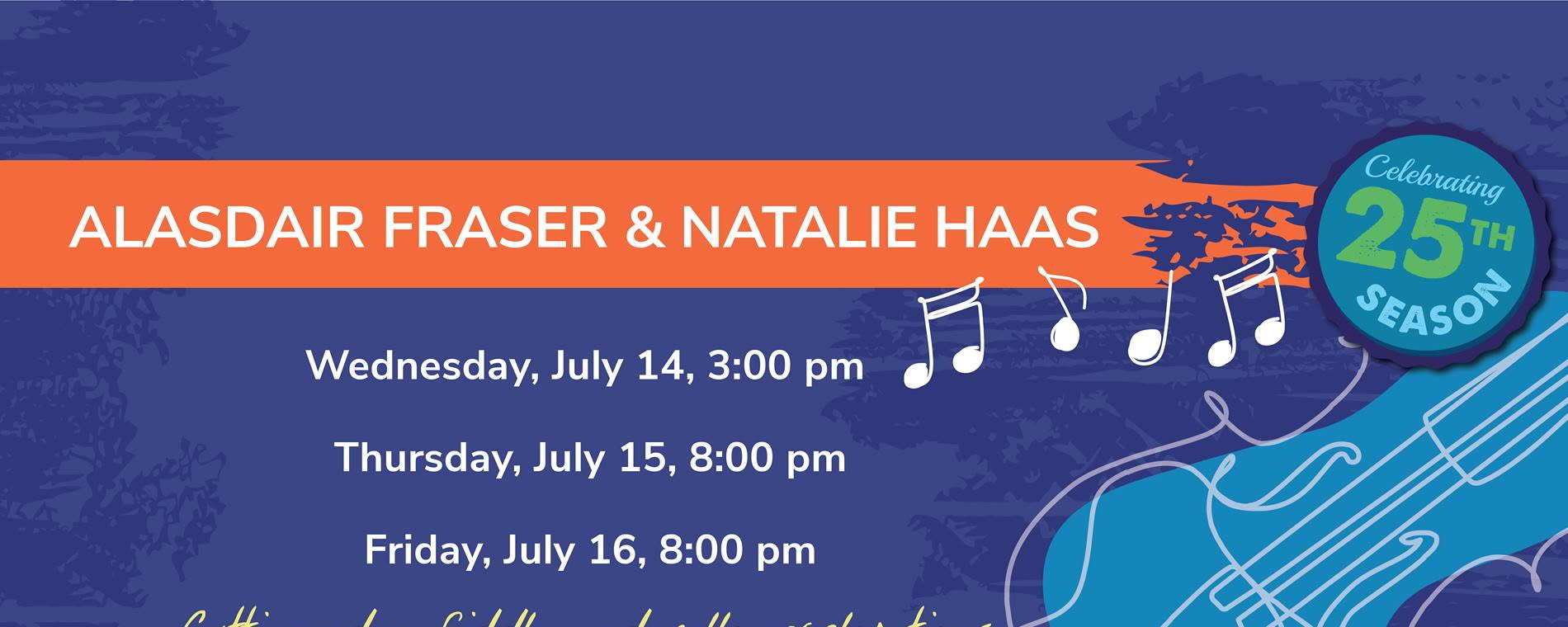 Back to Previous
Alasdair Fraser and Natalie Haas - Chamber Music at The Barn
Various Times, July 14, 2021 | Prairie Pines
Join Chamber Music at The Barn for cutting-edge fiddle and cello explorations of Scottish and global music with Alasdair Fraser and Natalie Haas, part of their Summer Concert Series.
The musical partnership between Alasdair Fraser, long regarded as Scotland's premier fiddle ambassador, and the sizzlingly-talented Californian cellist Natalie Haas may not seem an obvious one, but the duo's dazzling teamwork, driving rhythms, and their shared passion for improvising on the melody and the groove of Scottish tunes has helped reconstruct and revive the Scottish tradition of playing dance music on violin and cello.
They have toured internationally for over twenty years, wowing audiences at festivals and concerts worldwide with their unique sound and have released six critically acclaimed and award-winning albums along the way.
| | |
| --- | --- |
| July 14 | 3:00pm |
| July 15 | 8:00pm |
| July 16 | 8:00pm |
Afternoon Delight Concerts
Begin at 3:00pm. All seating is inside The Barn. Non-reserved seating opens at 2:15pm prior to the concert. Afternoon Delights are a one-hour concert format with comments from musicians. No intermission. Tickets are $20.
Evening Concerts
The stunning gardens open at 6:30pm. There are two options for seating: inside air-conditioned seating (Barn tickets - $40) and outside seating (Garden tickets - $20). Bring a picnic basket and dine with friends at tables and chairs throughout the garden. Pre-concert discussion Inside Scoop starts at 7:15pm inside The Barn. Patrons need to be seated by 7:45pm for the performance.
Wine and beer are for sale through intermission. You must be 21 with valid ID. No outside alcohol is allowed. Some Garden seating allows you to view the concert from a 50″ projection screen. The audio is heard from multiple stereo speakers. Many other garden locations can be chosen to hear the music surrounded by nature without visual access to the concert.
Admission:

$20-$40

Get Tickets
Recurrence:

Recurring daily

Days:

July 14, 2021 - July 16, 2021

2021-07-14 2021-07-16 Alasdair Fraser and Natalie Haas - Chamber Music at The Barn <p>Join Chamber Music at The Barn for cutting-edge fiddle and cello explorations of Scottish and global music with Alasdair Fraser and Natalie Haas, part of their Summer Concert Series.</p> <p>The musical partnership between Alasdair Fraser, long regarded as Scotland's premier fiddle ambassador, and the sizzlingly-talented Californian cellist Natalie Haas may not seem an obvious one, but the duo's dazzling teamwork, driving rhythms, and their shared passion for improvising on the melody and the groove of Scottish tunes has helped reconstruct and revive the Scottish tradition of playing dance music on violin and cello.</p> <p>They have toured internationally for over twenty years, wowing audiences at festivals and concerts worldwide with their unique sound and have released six critically acclaimed and award-winning albums along the way.</p> <table style="width: 275px;" border="0" align="center"> <tbody> <tr> <td>July 14</td> <td>3:00pm</td> </tr> <tr> <td>July 15</td> <td><span>8:00pm</span></td> </tr> <tr> <td>July 16</td> <td><span>8:00pm</span></td> </tr> </tbody> </table> <p><span style="text-decoration: underline;"><strong>Afternoon Delight Concerts</strong></span><br />Begin at 3:00pm. All seating is inside The Barn. Non-reserved seating opens at 2:15pm prior to the concert. Afternoon Delights are a one-hour concert format with comments from musicians. No intermission. Tickets are $20.</p> <p><span style="text-decoration: underline;"><strong>Evening Concerts</strong></span><br />The stunning gardens open at 6:30pm. There are two options for seating: inside air-conditioned seating (Barn tickets - $40) and outside seating (Garden tickets - $20). Bring a picnic basket and dine with friends at tables and chairs throughout the garden. Pre-concert discussion Inside Scoop starts at 7:15pm inside The Barn. Patrons need to be seated by 7:45pm for the performance.</p> <p>Wine and beer are for sale through intermission. You must be 21 with valid ID. No outside alcohol is allowed. Some Garden seating allows you to view the concert from a 50″ projection screen. The audio is heard from multiple stereo speakers. Many other garden locations can be chosen to hear the music surrounded by nature without visual access to the concert.</p> 4055 N Tyler Rd Maize, KS America/Chicago
Back To Previous