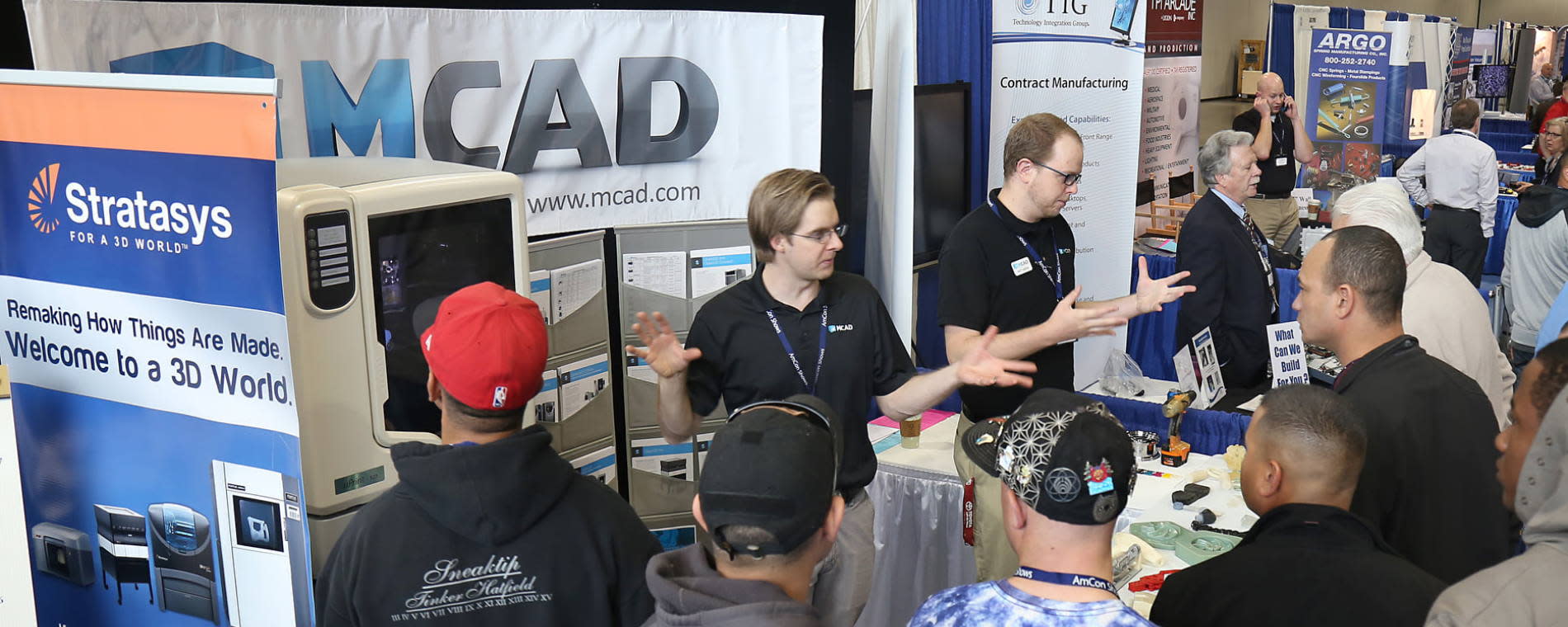 Back to Previous
AmCon Wichita Advanced Design and Manufacturing Expo
9:30am-3pm, September 1, 2021 | Century II Performing Arts & Convention Center
Meet face-to-face with some of the finest job shops and contract manufacturers from throughout the U.S. and Canada.
Your one stop source for: 3D Printing, Additive Manufacturing, Robotics, Forming, Fabricating, Machining, Engineering, Prototyping, Finishing, Fasteners, Assembly, Electronic Manufacturing, Design, Castings, and more…
Find solutions for your most difficult design and production problems.
LEARN about the latest in cutting edge manufacturing technologies & innovations. See, touch, interact with new products & processes.
MEET face-to-face with suppliers of hundreds of custom parts and components all in one day.
FIND multiple sources to take your project from concept to finished product.
QUOTE current projects that can improve quality, cost, and time to market.
ATTEND FREE seminars on the most current technologies.
Admission:

Free

Recurrence:

Recurring daily

Days:

September 1, 2021 - September 2, 2021

2021-09-01 2021-09-02 15:00:00 AmCon Wichita Advanced Design and Manufacturing Expo <p>Meet face-to-face with some of the finest job shops and contract manufacturers from throughout the U.S. and Canada.</p> <p>Your one stop source for: 3D Printing, Additive Manufacturing, Robotics, Forming, Fabricating, Machining, Engineering, Prototyping, Finishing, Fasteners, Assembly, Electronic Manufacturing, Design, Castings, and more…</p> <p>Find solutions for your most difficult design and production problems.</p> <p>LEARN about the latest in cutting edge manufacturing technologies &amp; innovations. See, touch, interact with new products &amp; processes.</p> <p>MEET face-to-face with suppliers of hundreds of custom parts and components all in one day.</p> <p>FIND multiple sources to take your project from concept to finished product.</p> <p>QUOTE current projects that can improve quality, cost, and time to market.</p> <p>ATTEND FREE seminars on the most current technologies.</p> 225 W. Douglas Ave. Wichita, KS America/Chicago
Back To Previous