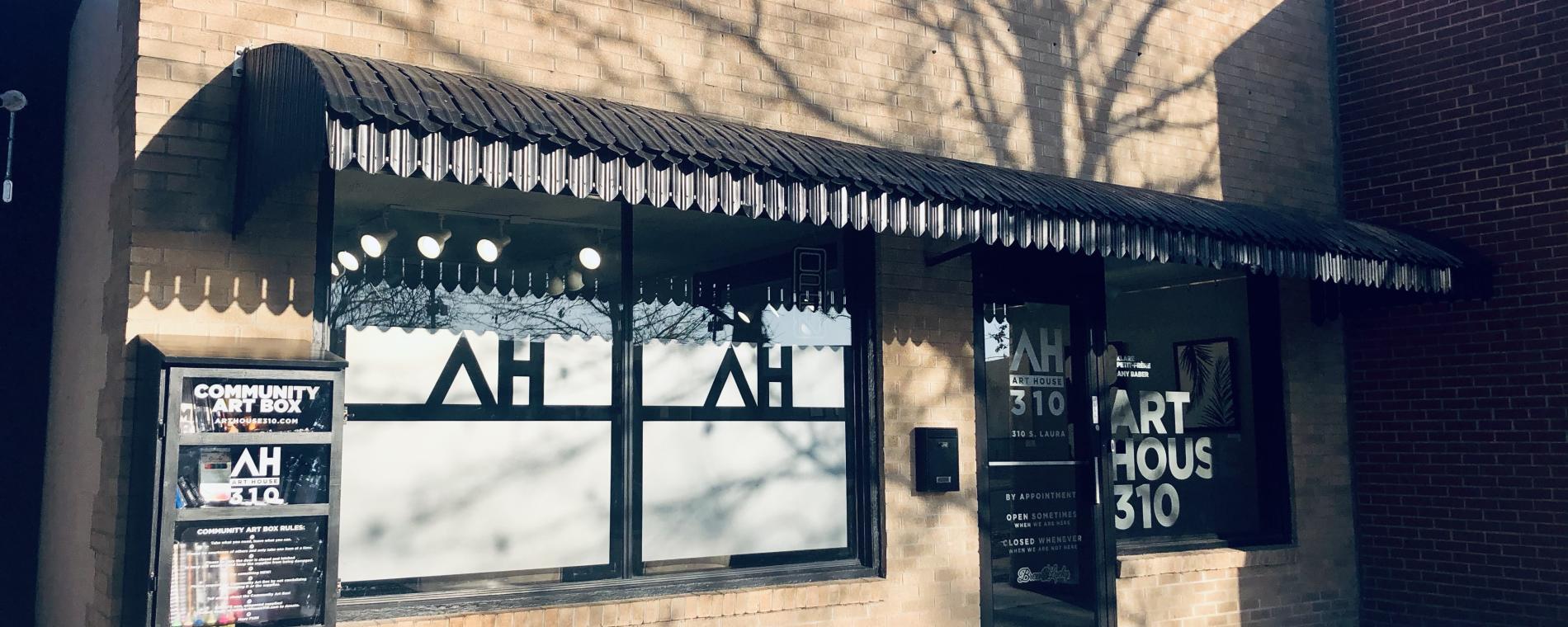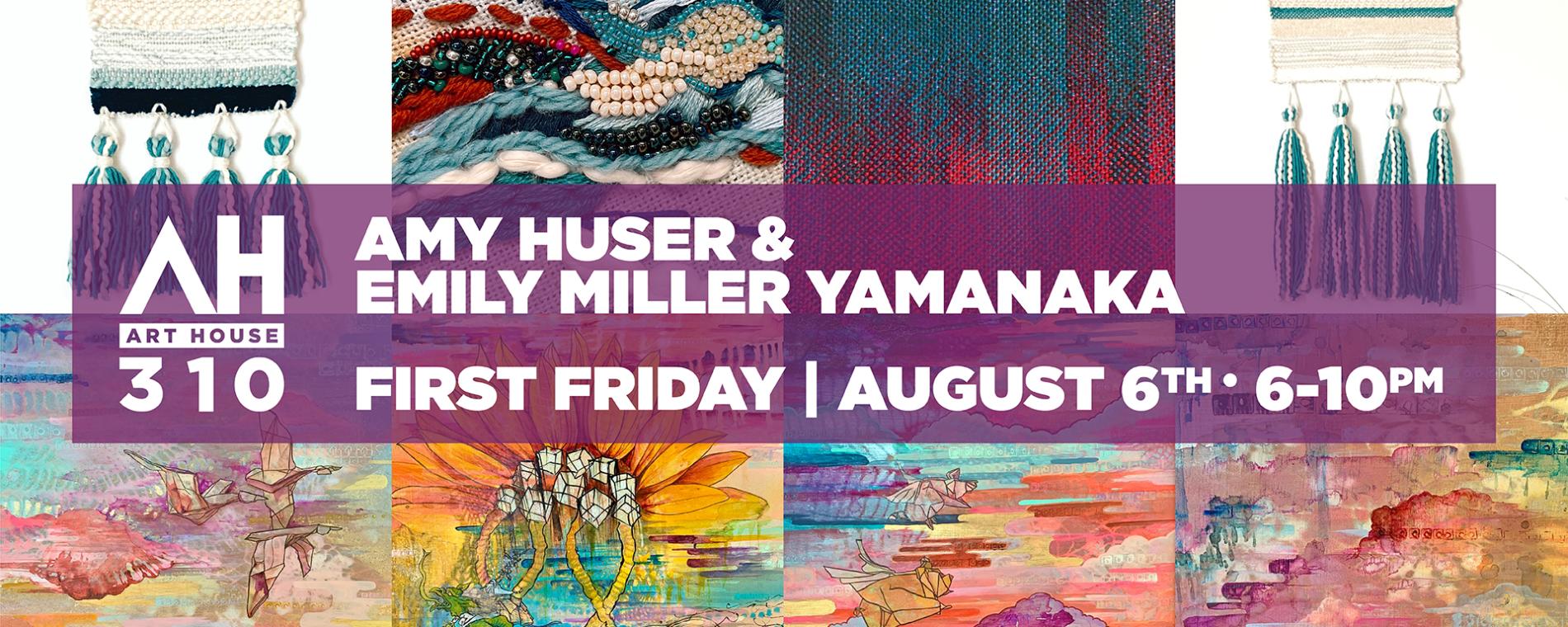 Back to Previous
Amy Huser & Emily Miller Yamanaka Opening Reception - First Friday
6-10pm, August 6, 2021 | Art House 310
AMY HUSER is a textile installation artist and painter from Wichita, KS. She received her Bachelor of Fine Arts in Art History from the University of Kansas in 2014 and Master of Fine Arts in Painting in 2020 from Wichita State University. While at KU, Amy's studio emphasis was textile design. It was during that time that she fell in love with weaving. Over the past few years, her work has evolved into hand-woven and painted textile installations.
Repetitive, meditative movement in both weaving and walking is tied to renewing the mind and processing emotion. In this way, the process of making matches the activity through which I gather images—photographs from along those paths. These walks or runs often take me near bodies of water or through remote trails in the mountains or desert when I can travel. In this body of work, I abstract the images I've gathered in nature to represent the abstract emotions evoked in those moments of letting go.
EMILY MILLER YAMANAKA is a Japanese painter, textile artist, and tattoo artist. She lived in Japan for 10 years, where she studied traditional ink painting and received her MFA in Japanese Painting from Musashino Art University in Tokyo. Emily also has a BFA in Textile Design from the University of Kansas.
"No Room for Sky"
Inspired by the natural beauty of Kansas, I am always most fascinated by its expansive sky and the inherently ever-changing beauty. The layered surfaces of my paintings are unique histories, like my own artistic journey, with traditional Japanese inks and pigments, neons of Tokyo, textile textures, and gradations of change that are all charged with the positive energy of loving what I do.
But I noticed a distinct change in my art recently, as the energies that I put into it have evolved with the current socio-political Coronavirus-influenced environment. I noticed that even though I am painting skies, there is no longer any room for open sky; it has become increasingly layered clouds. There are even clouds within clouds. These newest pieces have been my borderline obsessive response to the recent stressors, to translate it all into layers of beautiful technicolor clouds.
Show hangs through August 22nd, 2021.
Admission:

Free

Days:

August 6, 2021

2021-08-06 2021-08-06 22:00:00 Amy Huser & Emily Miller Yamanaka Opening Reception - First Friday <p>AMY HUSER is a textile installation artist and painter from Wichita, KS. She received her Bachelor of Fine Arts in Art History from the University of Kansas in 2014 and Master of Fine Arts in Painting in 2020 from Wichita State University. While at KU, Amy's studio emphasis was textile design. It was during that time that she fell in love with weaving. Over the past few years, her work has evolved into hand-woven and painted textile installations.</p> <p>Repetitive, meditative movement in both weaving and walking is tied to renewing the mind and processing emotion. In this way, the process of making matches the activity through which I gather images—photographs from along those paths. These walks or runs often take me near bodies of water or through remote trails in the mountains or desert when I can travel. In this body of work, I abstract the images I've gathered in nature to represent the abstract emotions evoked in those moments of letting go.</p> <p>EMILY MILLER YAMANAKA is a Japanese painter, textile artist, and tattoo artist. She lived in Japan for 10 years, where she studied traditional ink painting and received her MFA in Japanese Painting from Musashino Art University in Tokyo. Emily also has a BFA in Textile Design from the University of Kansas.</p> <p>"No Room for Sky"<br />Inspired by the natural beauty of Kansas, I am always most fascinated by its expansive sky and the inherently ever-changing beauty. The layered surfaces of my paintings are unique histories, like my own artistic journey, with traditional Japanese inks and pigments, neons of Tokyo, textile textures, and gradations of change that are all charged with the positive energy of loving what I do.</p> <p>But I noticed a distinct change in my art recently, as the energies that I put into it have evolved with the current socio-political Coronavirus-influenced environment. I noticed that even though I am painting skies, there is no longer any room for open sky; it has become increasingly layered clouds. There are even clouds within clouds. These newest pieces have been my borderline obsessive response to the recent stressors, to translate it all into layers of beautiful technicolor clouds.</p> <p>Show hangs through August 22nd, 2021.</p> 310 S. Laura Wichita, KS America/Chicago
Back To Previous