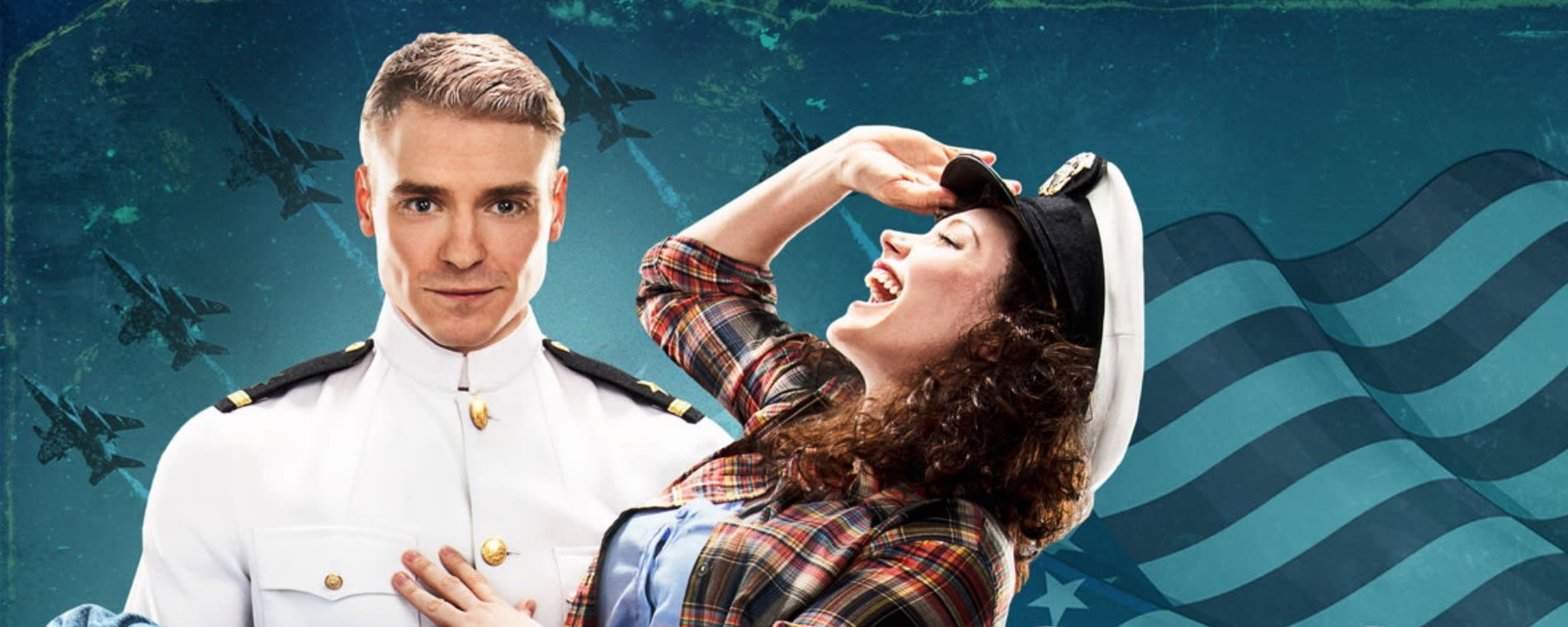 Back to Previous
An Officer and A Gentleman
7:30pm, March 23, 2022 | Century II Performing Arts & Convention Center
An Officer and A Gentleman is a sweeping romance that will lift you up where you belong! Based on the 1982 Academy® Award-winning film starring Richard Gere, this show begins touring North America with a premiere in the fall of 2020. Featuring the Grammy® Award-winning, #1 hit single "Up Where We Belong," AN OFFICER AND A GENTLEMAN is a breathtaking production that celebrates triumph over adversity and includes one of the most iconic and romantic endings ever portrayed on screen. Part of the Broadway in Wichita series.
Zack Mayo's got smarts and a body built for US Navy pilot boot camp, but he also has too much swagger… until he meets a drill sergeant who's determined to drill his arrogance out of him.  Zack finds comfort in the arms of a local factory girl. But it isn't until tragedy befalls a fellow candidate that Zack learns the importance of love and friendship, and finds the courage to be his best self and win the heart of the woman he loves.
| | |
| --- | --- |
| ACT I | 1 hour 15 minutes |
| INTERMISSION | 15 minutes |
| ACT II | 1 hour |
| RUNNING TIME | 2 hours 30 minutes |
The performance will begin promptly at the advertised curtain time. Latecomers will be held outside of the theater until the tour approved entrance time.
Admission:

TBD

Recurrence:

Recurring daily

Days:

March 23, 2022 - March 25, 2022

2022-03-23 2022-03-25 19:30:00 An Officer and A Gentleman <p>An Officer and A Gentleman is a sweeping romance that will lift you up where you belong! Based on the 1982 Academy® Award-winning film starring Richard Gere, this show begins touring North America with a premiere in the fall of 2020. Featuring the Grammy® Award-winning, #1 hit single "Up Where We Belong," AN OFFICER AND A GENTLEMAN is a breathtaking production that celebrates triumph over adversity and includes one of the most iconic and romantic endings ever portrayed on screen. Part of the Broadway in Wichita series.</p> <p>Zack Mayo's got smarts and a body built for US Navy pilot boot camp, but he also has too much swagger… until he meets a drill sergeant who's determined to drill his arrogance out of him.  Zack finds comfort in the arms of a local factory girl. But it isn't until tragedy befalls a fellow candidate that Zack learns the importance of love and friendship, and finds the courage to be his best self and win the heart of the woman he loves.</p> <table style="width: 325px;" border="0" align="center"> <tbody> <tr> <td>ACT I</td> <td>1 hour 15 minutes</td> </tr> <tr> <td>INTERMISSION</td> <td>15 minutes</td> </tr> <tr> <td>ACT II</td> <td>1 hour</td> </tr> <tr> <td>RUNNING TIME</td> <td>2 hours 30 minutes</td> </tr> </tbody> </table> <p><strong><a title="Get Tickets" href="https://americantheatreguild.com/wichita/shows/officer/" target="_blank">Get Tickets</a></strong></p> <div class="fl-module fl-module-rich-text fl-node-5c38e784c9cbe border" data-node="5c38e784c9cbe"> <div class="fl-module-content fl-node-content"> <div class="fl-rich-text"> <p><em>The performance will begin promptly at the advertised curtain time. Latecomers will be held outside of the theater until the tour approved entrance time.</em></p> </div> </div> </div> 225 W. Douglas Ave. Wichita, KS America/Chicago
Back To Previous